Kombucha Floats
Jump to recipe
Make your summer days extra sweet by scooping some coconut ice cream and letting the kombucha flow. These kombucha floats are THE perfect replacement of a root beer float for everyone that doesn't drink soda (which is hopefully everyone most of the time!). They really hit the spot on a hot summer day when you are in the mood for something sweet. Pour a few glasses and enjoy the benefits of the healthy little strains of bacteria plus the sweetness combined with the refreshing carbonation of the float. I love when I can work a few extra nutritional benefits into a sweet treat! Cheers to that! 
Favorite Treats
Two of my favorite treats growing up were blue raspberry slushy floats and root beer floats. Incase you aren't familiar with slushy floats, they are the processed food industry's gift to the world. The ice cream shop puts vanilla ice cream in an empty cup and then fills the rest with the slush. While the name makes it sound very natural, there are in fact no real blue raspberries. It's just straight up artificial coloring and flavoring! The other treat that I liked occasionally was root bear floats. I wasn't a big fan of root beer but I did love the combination of vanilla ice cream with carbonation. Growing up my parents didn't let us drink pop but we were allowed to drink it if we went to a friends house or social event. So there were a few times that I indulged in a root beer float and loved it every time. So I guess you could say the common thread is that I like anything with ice cream (which is very true)!
Taste Buds Are Always Changing
When I tried dairy-free rice ice cream for the first time after I started seeing a functional medicine doctor in my early teens, I cried. I was so disappointed because I expected it to taste just like the real thing (even though I was skeptical that you could make ice cream from rice). Fast forward many years later and I honestly think that dairy-free ice cream tastes amazing. This is because of two things: my tastebuds have completely changed overtime and the dairy-free industry has come a long way (thank you coconut ice cream). Today I would not choose to have a blue raspberry slushi float or a root beer float but I would be genuinely excited to drink this kombucha float. You may not be at the same point on your food journey but remember: tastebuds change over time. Now it is worth mentioning that I do still eat regular ice cream occasionally because dairy doesn't bother me like gluten does. But if dairy-free is available that's usually what I choose because I am certain that I digest it better.
So for everyone looking for a dairy-free summer treat, load up on these kombucha floats. You can choose any kombucha of your liking. I typically recommend kombucha that is less than 2 grams of sugar. Now some of my clients don't love kombucha with less than 2 grams. Choose whichever brand works for you. For dairy-free ice cream I would advise coconut because of the smooth mouthfeel. Just remember even though it's a healthier option, it's not "guilt-free" meaning don't drink five of them because they are still high in sugar! Happy fourth of July! Wishing you a safe and fun holiday!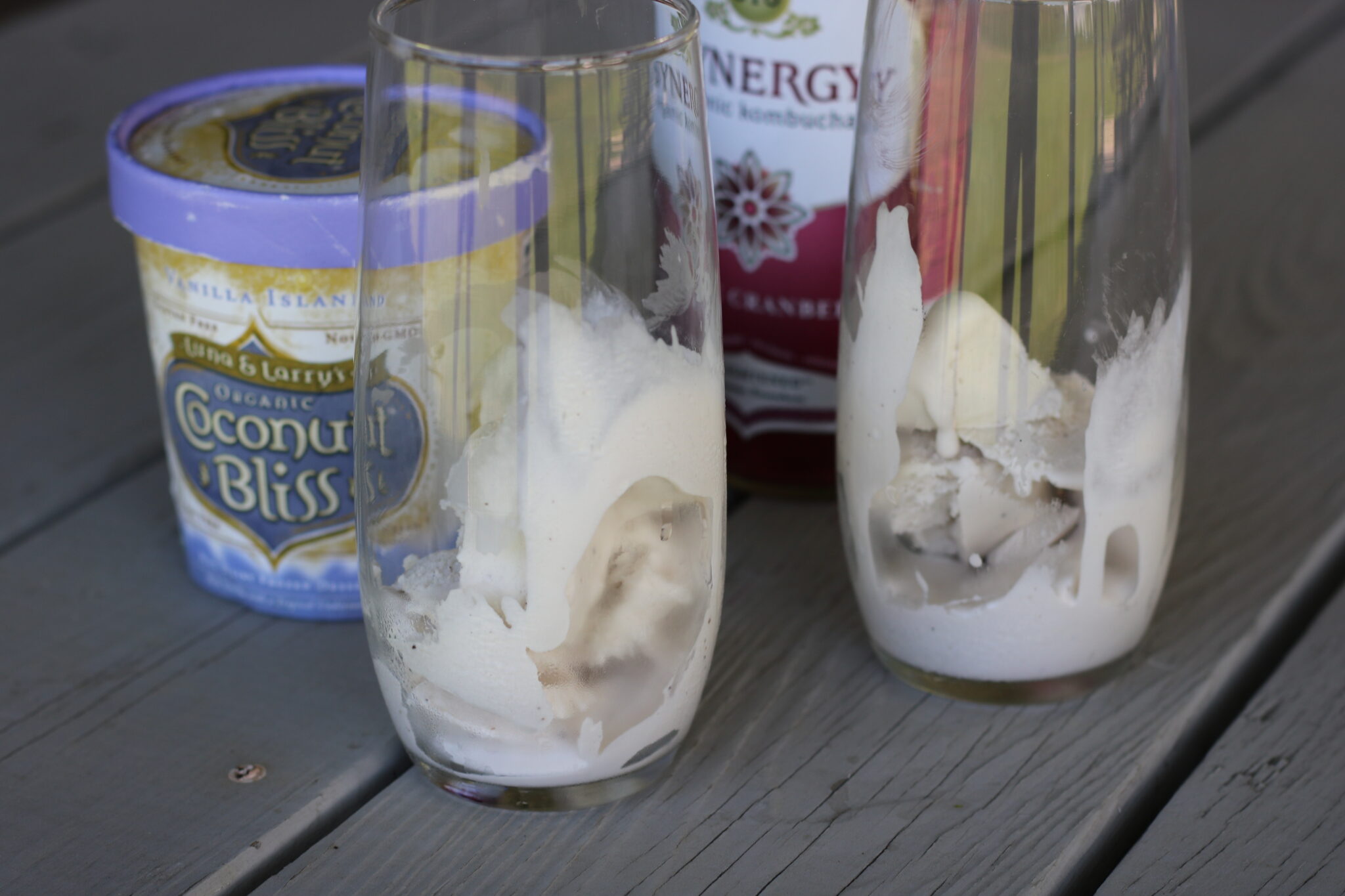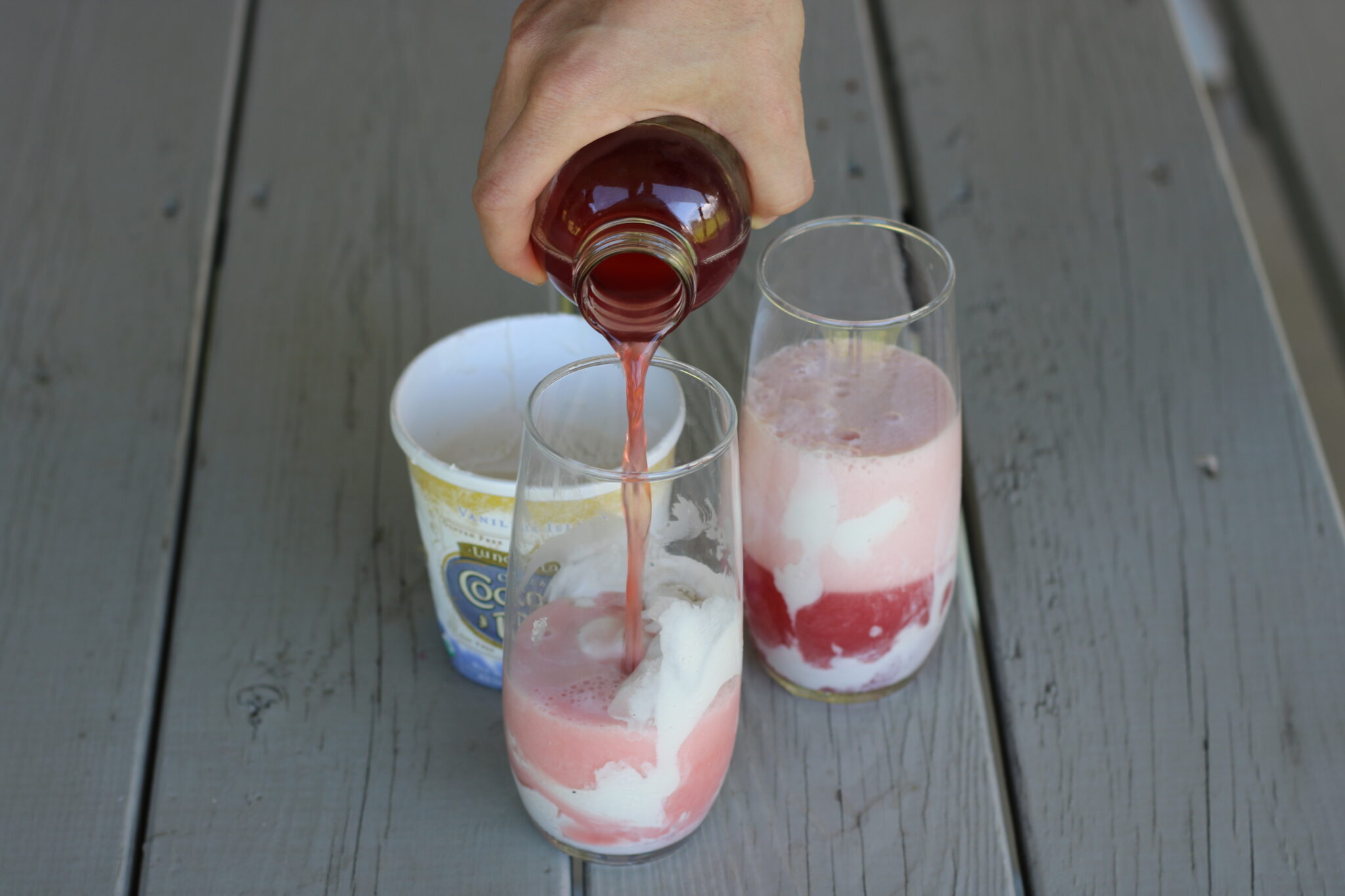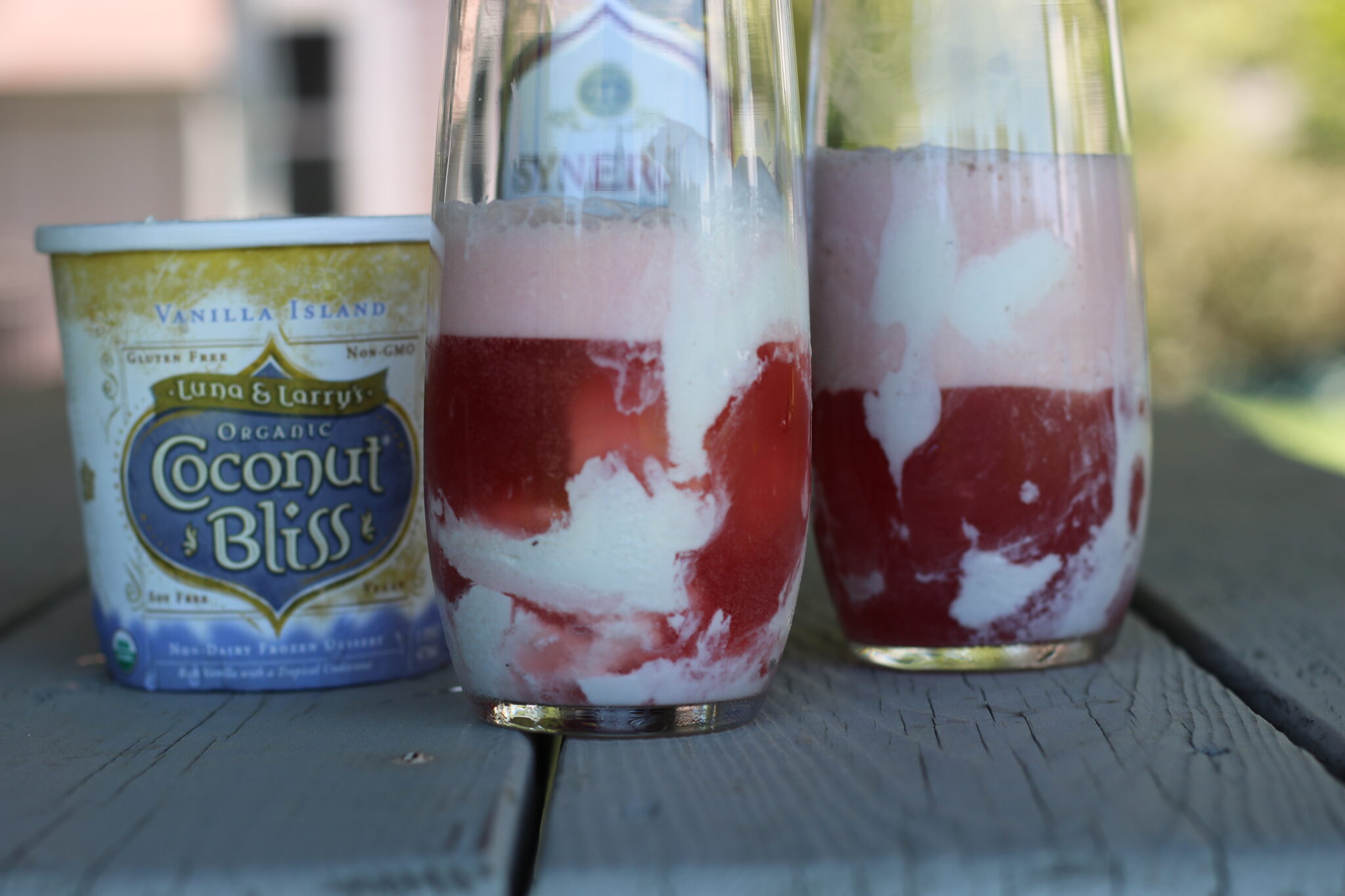 [Tweet "Celebrating a healthy gut with these kombucha floats! Cheers! "]
Kombucha Floats
By Brigid Titgemeier, MS, RDN, LD
Ingredients
1 pint coconut vanilla ice cream
16 fl oz kombucha (brand and flavor of your choice)
Instructions
Scoop two large scoops of ice cream for each glass.
Pour 8 fl oz kombucha on top of ice cream in each glass.
Sip with a large straw or use a spoon to scoop ice cream as you drink.
Nutrition Facts
Kombucha Floats
Serves: 2
Amount Per Serving:
Calories
444.7kcals
% Daily Value*
Total Fat 32.5g
50%
Saturated Fat 28.7g
143.5%
Trans Fat 0g
Cholesterol 0mg
0
Sodium 80.1mg
3.3%
Total Carbohydrate 39.1g
13%
Dietary Fiber 1.7g
6.8%
Sugars 34.4g
Protein 2.9g
| | |
| --- | --- |
| Vitamin A 0% | Vitamin C 13% |
| Calcium 1% | Iron 8% |
* Percent Daily Values are based on a 2,000 calorie diet. Your daily values may be higher or lower depending on your calorie needs.
BeingBrigid
© 2023 Copyright BeingBrigid