Paleo Ice Cream Sandwiches
Jump to recipe
When the heat is on, there's nothing better than enjoying a big scoop of ice cream. Here's a cool summertime treat that Paleo eaters can enjoy featuring frozen, honey-sweetened coconut cream between two buttery, pecan-studded shortbread cookies. Be sure to watch the video—there's a bit of flipping and turning for the filling to turn out just right—but the results are worth it! 
*This article was originally published on Thrivemarket.com/blog
As many of you know I am a huge fan of thrivemarket.com because they carry all of the top healthy and organic food, beauty and home products that I usually buy from a grocery store. Unlike your typical organic & non-GMO products that are marked up to premium prices, Thrive Market sells the same products but at wholesale prices! Thrive is also an amazing option for those that live in more remote areas and don't have access to many grocery stores Click here to signup for a free trial to see what you think!
In the meantime I am sharing this paleo ice cream sandwich recipe in honor of summer. Sometimes we all have to live a little and allow for a sweet treat on these warm summer nights. And these paleo ice cream sandwiches are one of the perfect ways to do just that!
Paleo Ice Cream Sandwiches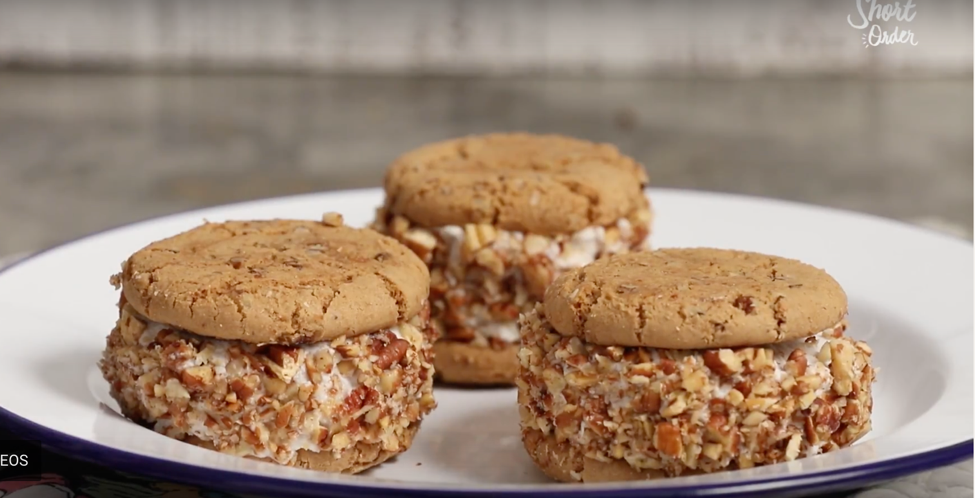 [Tweet "Paleo ice cream treat recipe via @thrivemarket are perfect for these summer nights! "]
Notes
Recipe credit: Angela Gaines

Ingredients
For the ice cream:
For the sandwiches:
Instructions
Flip the can of coconut cream upside down and remove the bottom lid with a can opener (reserve the lid); drain excess liquid, about ¼ cup.
With a fork, stir cream until smooth, then add honey and vanilla extract; stir well.
Chill in the freezer for at least 8 hours.
Remove and let sit at room temperature for 1 hour, or run the bottom of the can under hot water for 15 to 30 seconds.
Place can right side up and pop off the lid from the top (now both the top and bottom lids should be removed).
Flip can over again and, using the bottom lid you reserved earlier, push it down gently along the inside of the can while while simultaneously lifting the can up, until the coconut slides through to a cutting board. If coconut seems too loose, place it on a plate and re-freeze for 30 minutes.
Using a sharp knife, carefully slice the frozen coconut ice cream into 4 thick slices.
Place 1 piece between 2 cookies. Roll the edges of the sandwich on top of a plate scattered with the chopped pecans.
Repeat with remaining 3 sandwiches. Serve immediately.
Nutrition Facts
Paleo Ice Cream Sandwiches
Serves: 4 sandwiches
Amount Per Serving:
Calories
503.3
% Daily Value*
Total Fat 38.1g
58.6%
Saturated Fat 17g
85%
Trans Fat 0g
Cholesterol 0mg
0
Sodium 169.9mg
7.1%
Total Carbohydrate 40.8g
13.6%
Dietary Fiber 2.3g
9.2%
Sugars 26.6g
Protein 7.1g
| | |
| --- | --- |
| Vitamin A 0% | Vitamin C 0% |
| Calcium 5% | Iron 6% |
* Percent Daily Values are based on a 2,000 calorie diet. Your daily values may be higher or lower depending on your calorie needs.
BeingBrigid
© 2023 Copyright BeingBrigid