Is it Too Much To Ask for Foods without Synthetic Dyes?
When will food companies get that if given the choice, most people don't want to consume synthetic food dyes like blue 1, blue 2, citrus red 2, green 3, orange b, red 3, red 40, yellow 5 and yellow 6? Take for instance the commonly used birthday party staple among families in America, Pillsbury Vanilla Frosting. If you scan the ingredient list you will find the two most commonly used food dyes in our food supply–Red 40 and Yellow 5. Not only is the safety of food dyes understudied in the United States but in the limited research that has been done, researchers have drawn an association with artificial dyes and behavioral changes in children. This prompted the British government to request the removal of most artificial food dyes from their products in December of 2009. I can only hope that the United States will one day make similar recommendations but until then, it's up to us to vote with our forks.
Yellow 5 and Red 40 in Pillsbury Vanilla Frosting
This blog post is prompted by an instagram picture that I posted last week about the food dyes (Yellow 5 and Red 40) in Pillsbury Vanilla Frosting (probably the most common brand used in baked goods in every kitchen in America). This is how the post went…."So last night I was at Heinen's Downtown CLE? trying to buy frosting for the paleo cupcakes that I made for my moms bday. I told myself not to be a nutrition diva Bc it was late and they only had Pillsbury?. I told myself to get passed the added sugar (20g per 2 tbsp ?) but as I kept reading the ingredient list I pretty much lost it….Sugar, Palm Oil, Water, Corn Syrup, Corn Starch, Canola Oil…(and then it gets better)…Contains 2% Or Less Of: Salt, Mono And Diglycerides, Artificial Flavor, Artificial Color Including Yellow 5 And Red 40, Polysorbate 60, Modified Corn Starch, Potassium Sorbate (Preservative), Soy Lecithin, Xanthan Gum, Citric Acid, Antioxidants (Ascorbyl Palmitate, Mixed Tocopherols, Chamomile And Rosemary Extracts). Come again?! Yellow 5 and Red 40 are actually known carcinogens AND have also been linked to ADHD in kids. This is according to one of the most reputable sources of science based nutrition info, Center for Science in the Public Interest (CSPI)! Thankfully my awesome brother Jack Titgemeier agreed to go to Whole Foods Market today to buy Simple Mills frosting (even though he thinks I'm so insane!). Ingredients: organic palm shortening, organic powdered sugar, organic coconut oil, organic tapioca, vanilla, sea salt, rosemary extract and monk fruit extract! I'm DYING to know…in what world is it ok to add carcinogens to frosting that is caked onto every child's birthday cake in America?! It's like…happy birthday, we got you a cake filled with dyes that have been linked to ADHD and cancer…and don't forget to take your adderall! #sonotok"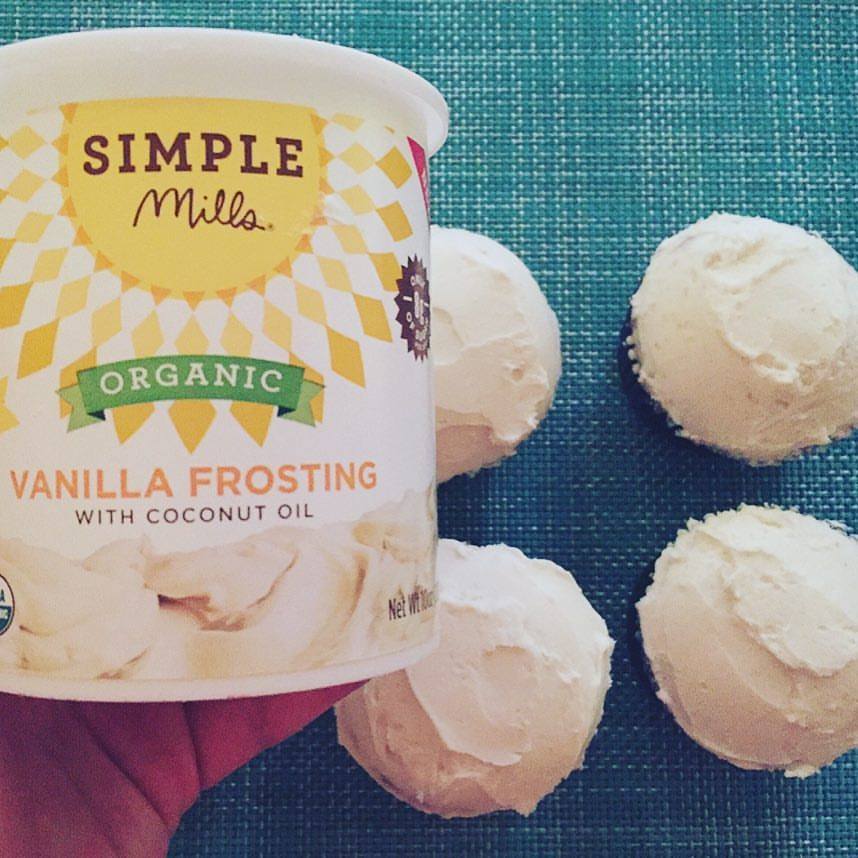 CSPI's Chemical Cuisine List
The Center for Science in the Public Interest is a nutrition non-profit organization in Washington D.C. They are one of the very few that don't accept any outside funding from food companies or lobbyists. Their unbiased, science based approach to nutrition is the exact reason that I sought out an internship with them during my last semester of graduate school. Among many helpful resources CSPI has a Chemical Cuisine list that includes a number of food ingredients and the research behind their safety. There are about 25 foods that they encourage consumers avoid all together–among those 25 ingredients are artificial food dyes. This is what they have to say about Yellow 5 and Red 40…
Yellow 5: CSPI states that this dye "causes allergy-like hypersensitivity reactions, primarily in aspirin-sensitive persons, and triggers hyperactivity in some children. It may be contaminated with such cancer-causing substances as benzidine and 4-aminobiphenyl (or chemicals that the body converts to those substances)."
Red 40: CSPI acknowledges that this is the most well studied food dye but that the research is flawed. They also indicate that "An FDA review committee acknowledged problems, but said evidence of harm was not "consistent" or "substantial.""
Two Ground Breaking Studies
In an additional Fact Sheet on food dyes CSPI references two double blind, placebo-controlled studies that were conducted in free living children and published in 2004 and 2007. The 2007 study concluded that "Artificial colours or a sodium benzoate preservative (or both) in the diet result in increased hyperactivity in 3-year-old and 8/9-year-old children in the general population." The results prompted the British government to send a clear message to food manufacturers to stop including food dyes in their products.
The FDA
As far as the United States is concerned the Food and Drug Administration stated that: "Exposure to food and food components, including AFC (artificial food colors) and preservatives, may be associated with behavioral changes, not necessarily related to hyperactivity, in certain susceptible children with ADHD and other problem behaviors, and possibly in susceptible children from the general population." While they acknowledge that there may be an association, nothing further has been done to improve our food supply. They continue to say that it "is not due to an inherent neurotoxic property of the food or food components, including AFC and preservatives,". They state that only certain predisposed children will have an intolerance to food items and color additives but it depends on the individual. They are not sure of the etiology behind the intolerance but throw out that it could involve genetics or endocrine or immunologic pathways.
Thank God for Simple Mills Frosting
The research does not state that removing food dyes from a child's diet will cure them of ADHD so that is not what I am implying. What it does suggest is an association between behavior and symptoms linked to hyperactivity and the impossibility of improved symptoms. It means that proper nutrition can be the first line of intervention and prevention. To me, the potential risks of consuming artificial colors are not worth it. Fortunately there is more of a demand than ever for food with integrity, thanks to consumers becoming more aware of the foods they are eating. This has led to the emergence of new food brands that provide products that don't contain harmful ingredients. As more and more companies come out with awesome food products, it makes you wonder why ingredients like Yellow 5 and Red 40 were ever included in our food supply to begin with. Until our government develops more of an interest in protecting the health of Americans, I will be sticking with Simple Mills frosting for birthday cakes.