Almond Butter Turmeric Stir-Fry
Jump to recipe
Making a big stir-fry for lunch or dinner is a fantastic way to add more vegetables to your diet without spending hours in the kitchen. This Almond Butter Turmeric Stir-Fry is quick, delicious, anti-inflammatory and packed with protein, vegetables, and fat to support optimal metabolic health and gut health. It is free of gluten and dairy. You can choose whether to use sprouted rice or cauliflower rice as the base. If you have insulin resistance and are looking for a low carb dinner then cauliflower rice would be a great swap.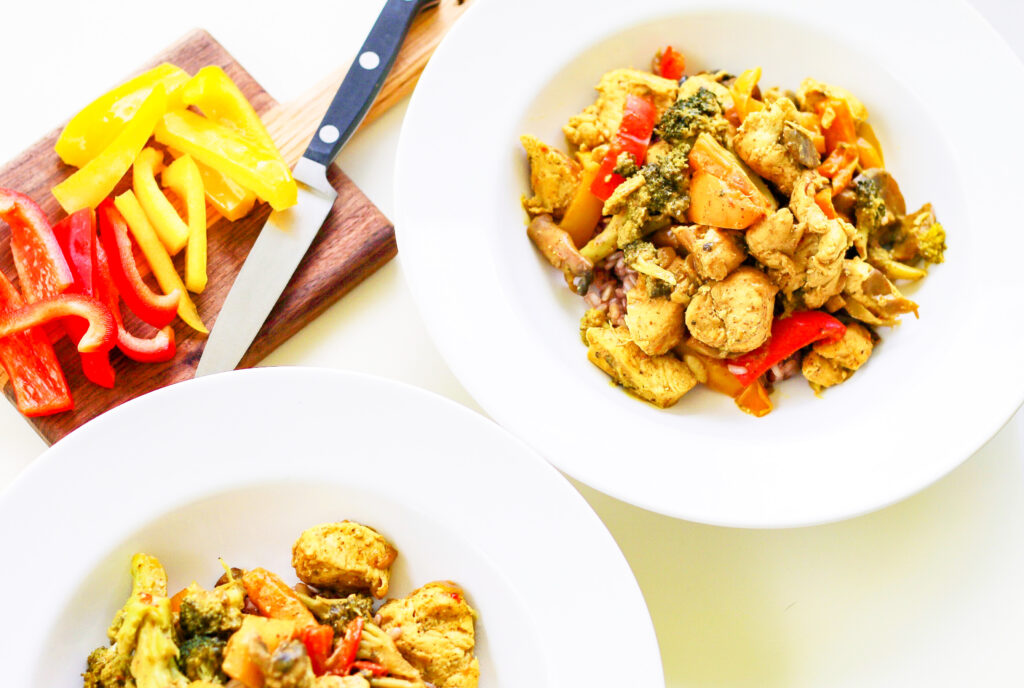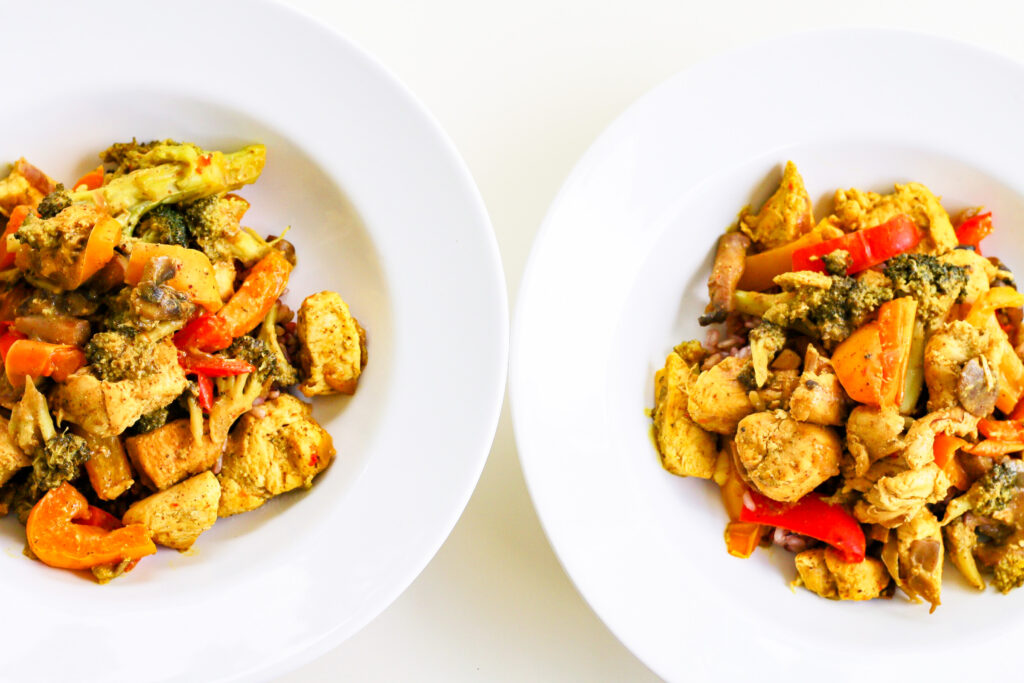 Ingredients
Stir-fry
1 tbsp avocado oil
3 garlic cloves, minced
½ cup red onion, diced
2 cups white button mushrooms, sliced
1 head of broccoli florets, sliced into 1 inch pieces
½ red bell pepper, sliced
½ yellow bell pepper, sliced
½ orange bell pepper, sliced
1 ½ lbs organic chicken breasts, chopped into 2 inch pieces
1 tsp extra virgin olive oil
Dash of salt
Dash of black pepper
Sauce
3 tbsp almond butter
½ lemon
2 tbsp tamari gluten-free soy sauce
½ cup hot water
¼ tsp turmeric powder
Rice
1 ¼ cup sprouted brown rice with 2 cups water
OR 4 cups cauliflower rice, sauteed in a medium pan
Instructions
Add almond butter, lemon juice, tamari soy sauce, hot water and turmeric powder to a medium sized mason jar. Shake vigorously and then let sit.
Heat avocado oil in a large wok, over medium heat.
Once the oil has heated, add garlic and red onion and cook for 3 minutes, stirring constantly.
Add mushrooms, broccoli and bell pepper slices and sauté for an additional 5-6 minutes.
Turn heat to simmer and cover.
In a separate pan, heat extra virgin olive oil over medium heat.
Add chicken pieces and top with a dash of salt and pepper.
Cook chicken for 10-12 minutes, or until fully cooked, flipping every few minutes.
On a separate burner in a medium sauce pot, start to cook the rice, according to the directions on the bag.
Drain any water from the chicken and then add chicken to the wok with vegetables.
Shake the mason jar one more time and pour the sauce over the vegetables and chicken.
Serve on top of rice or cauliflower rice for a low glycemic swap.
© 2023 Copyright BeingBrigid