Arugula Crustless Quiche
Jump to recipe
Starting your day with a protein-rich low glycemic breakfast like this arugula crustless quiche can set the tone for the day. Having a protein rich breakfast helps to decrease blood sugar fluctuations throughout the rest of the day, increases satiety and helps to improve energy. Even if you are incorporating an overnight fast, you want to break your fast with a meal and packed with additional nutrients!
This recipe has a delicious flavor profile with the caramelized vegetables and basil combination. It can be perfect for a weekend brunch with family or something that you can meal prep on the weekends for a quick grab and go breakfast during the week. The recipe is gluten-free and dairy-free and rich in vegetables!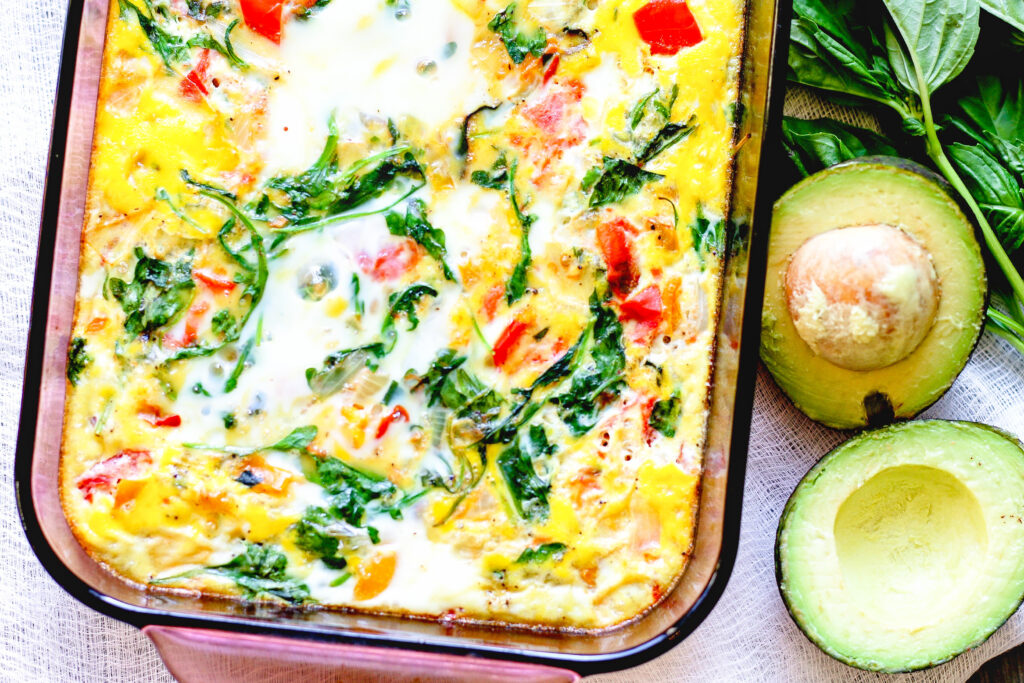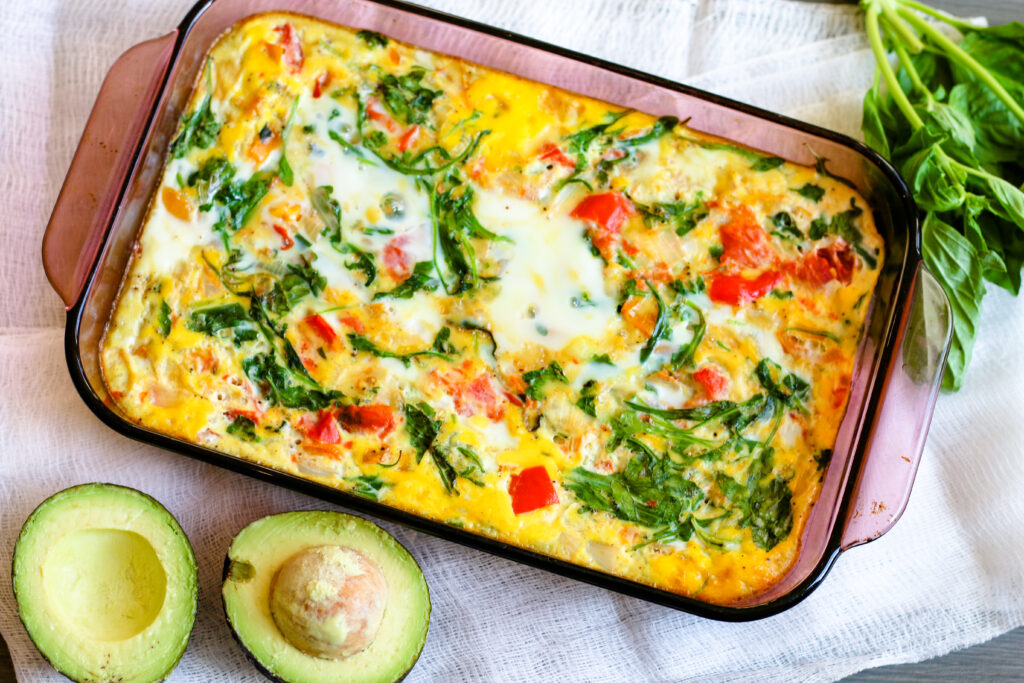 Ingredients
1 tbsp avocado oil
½ yellow onion, diced
1 garlic clove, minced
1 cup bell peppers, chopped
1 heirloom tomato, diced
2 cups arugula
1 tbsp basil
10 large eggs
¼ cup nut milk, unsweetened
½ tsp red pepper flakes
1 tbsp garlic powder
1 avocado, large
dash of salt
dash of black pepper
Instructions
Preheat oven to 350 F.
In a large skillet add avocado oil and heat over medium heat.
Add onion, garlic and bell peppers.
Once the onion starts to caramelize, add tomatoes.
After 2 minutes, add arugula and basil and cook all vegetables for another 3 minutes.
Pour vegetable mixture into a 9x11 baking dish.
Pat vegetables with a paper towel to remove excess water.
In a medium size bowl, whisk eggs, nut milk, red pepper flakes, garlic powder, salt, and black pepper.
Pour egg mixture over the vegetables in the baking dish.
Place in the oven for 25-30 minutes. Serve each quiche with 1/4 of an avocado.
Nutrition Facts
Arugula Crustless Quiche
Serves: 4 persons
Amount Per Serving:
Calories
313kcals
% Daily Value*
Total Fat 22.2g
34.2%
Saturated Fat 5.2g
26%
Trans Fat 0g
Cholesterol 466.3mg
155.4%
Sodium 223.2mg
9.3%
Total Carbohydrate 510.8g
170.3%
Dietary Fiber 3.6g
14.4%
Sugars 4.4g
Protein 17.8g
| | |
| --- | --- |
| Vitamin A 16% | Vitamin C 62% |
| Calcium 12% | Iron 13% |
* Percent Daily Values are based on a 2,000 calorie diet. Your daily values may be higher or lower depending on your calorie needs.
BeingBrigid
© 2023 Copyright BeingBrigid