Pegan Blueberry Ice Cream Pie
Jump to recipe
My Mom has been making this Blueberry Ice Cream Pie as my "birthday cake" every year and now my husband has taken over the tradition! It's so special to us that it was also our wedding cake! My Mom made five of them for our wedding instead of going the traditional wedding cake route. It tastes delicious and is made from the simplest ingredients! It is low in added sugar, gluten-free, grain-free and dairy-free. Also, loaded with naturally occurring antioxidants and polyphenols from the blueberries. At the end of the day, you don't want to eat the whole thing because it is still dessert but this is as close as it gets to a nutritionally balanced treat.
The original recipe was created by Chef Scott Peacock. It was posted in the June 2011 Better Homes and Gardens magazine. My mom found the recipe there and has since adapted it several times into our very own Pegan Blueberry Ice Cream Pie! This recipe is gluten-free, dairy-free (except grass-fed butter/ghee), grain-free, and very low in sugar. The only sugar in the entire recipe actually comes from the vegan ice cream!
There is no better summer ice cream pie! I hope it becomes a staple for your family like it has for us over the years.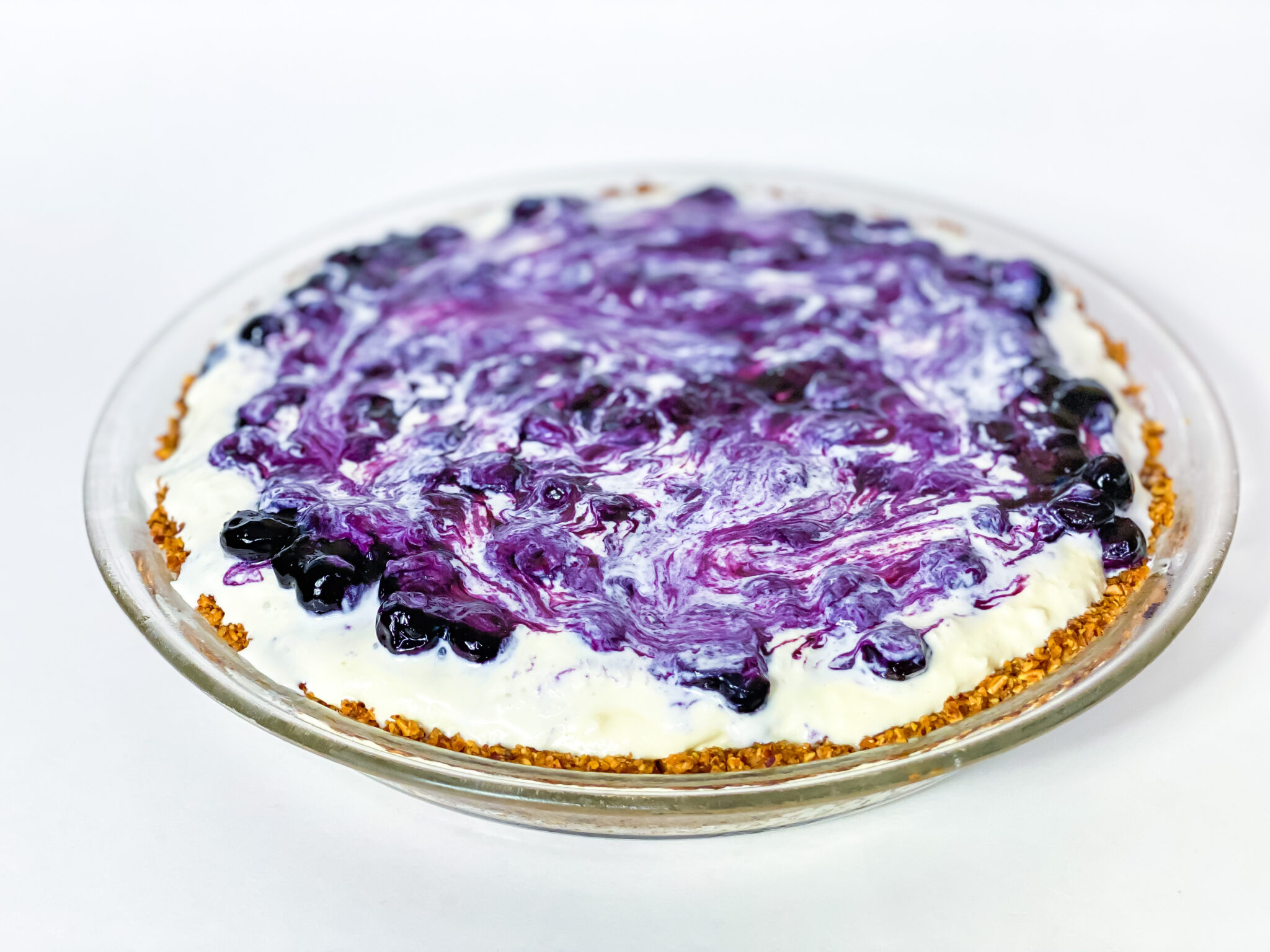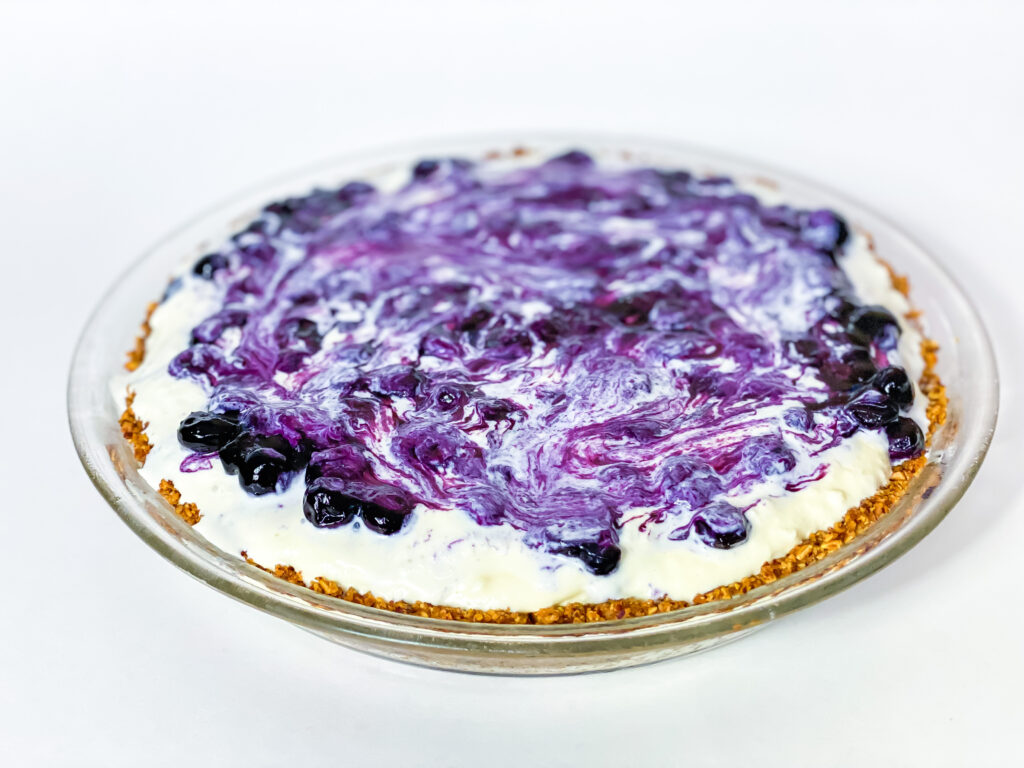 Pegan Blueberry Ice Cream Pie

Ingredients
Almond Crust
1 cups slivered raw almonds
1/2 cup pecans
1/2 tsp himalayan salt
3 Tbsp grass-fed butter or ghee, melted
Blueberry Sauce
3.5 cups organic blueberries
1 tsp arrowroot powder
Pie Filling
2 pints dairy-free vanilla ice cream
Instructions
Preheat the oven to 350 F.
Add almonds to a food processor and pulse until coarsely ground.
In a medium size bowl, mix ground almonds, melted butter and salt.
Pour into a 9 inch pie plate and use your fingers to form a firm, even crust. Try to make the pie edges thick enough.
Bake for 10-12 minutes until lightly golden.
Transfer pie dish to freezer to cool the crust.
In a large pan, over medium heat, add blueberries and arrowroot powder.
Cook and stir blueberries, making sure the blueberry sugar does not burn.
Continue to heat for 5 minutes, as the blueberries pop and give off more juice.
Use potato masher to help pop the rest of the blueberries.
Simmer the blueberry saue for an additional 2 minutes, until it is lightly thickened.
Pour into a mason jar and refrigerate until it is completely chilled.
After a minimum of 30 minutes, remove pie crust from freezer and fill with 1/2 of the blueberry sauce.
Top blueberry sauce with 2 pints of ice cream, best if slightly softened.
Top with another layer of blueberry sauce.
Nutrition Facts
Pegan Blueberry Ice Cream Pie
Serves: 8 servings
Amount Per Serving:

1 slice

Calories
383.5
% Daily Value*
Total Fat 22.9g
35.2%
Saturated Fat 9.4g
47%
Trans Fat 0g
Cholesterol 11.3mg
3.8%
Sodium 70mg
2.9%
Total Carbohydrate 43.7g
14.6%
Dietary Fiber 5.5g
22%
Sugars 21.3g
Protein 8.7g
| | |
| --- | --- |
| Vitamin A 6% | Vitamin C 0% |
| Calcium 4% | Iron 6% |
* Percent Daily Values are based on a 2,000 calorie diet. Your daily values may be higher or lower depending on your calorie needs.
BeingBrigid
© 2023 Copyright BeingBrigid