Cherry Chocolate Energy Bars
Jump to recipe
These cherry chocolate energy bars are essentially a homemade RX Bar and instead of egg whites, we add collagen for protein. Let's just say that they are super moist, nutty, sweet and salty–lots of great flavors in one bar! Enjoy the convenience, deliciousness and affordability of these gluten-free, dairy-free and egg-free bars for nutrition on the go!
Making Nutrition Easy As Pie (Without the Pie)
In today's fast pace and busy lifestyle, most of you are short on time. And if you are short on total time in the day that means you are short on cooking time too. The good news is that you don't have to settle for a sugar-laden, protein-depleted energy bar like Nature Valley or Pure Bar. The problem with "energy" bars is that they contain too much sugar and not enough fats and protein. That means that they cause blood sugar levels to spike and then crash soon after, sending your energy levels crashing too. Despite being called 'energy bars' many bars can actually reduce energy rather than increase it.
Your Homemade RX Bar
This recipe takes 15 minutes of total prep time an 25 minutes spent in the freezer and then you are good to go! This is essentially like a homemade RX Bar that includes nothing but nutrient-boosting ingredients such as cacao powder (raw form of 100% chocolate), chia seeds, almond butter, dried dark cherries and more! If you are short on time and cannot bare the thought of spending an additional 15 minutes preparing a recipe then stick with RX Bars or any other bar that fits my nutritional standards which generally at least 5 grams of fats, 3 grams of dietary fiber and 10 grams of protein.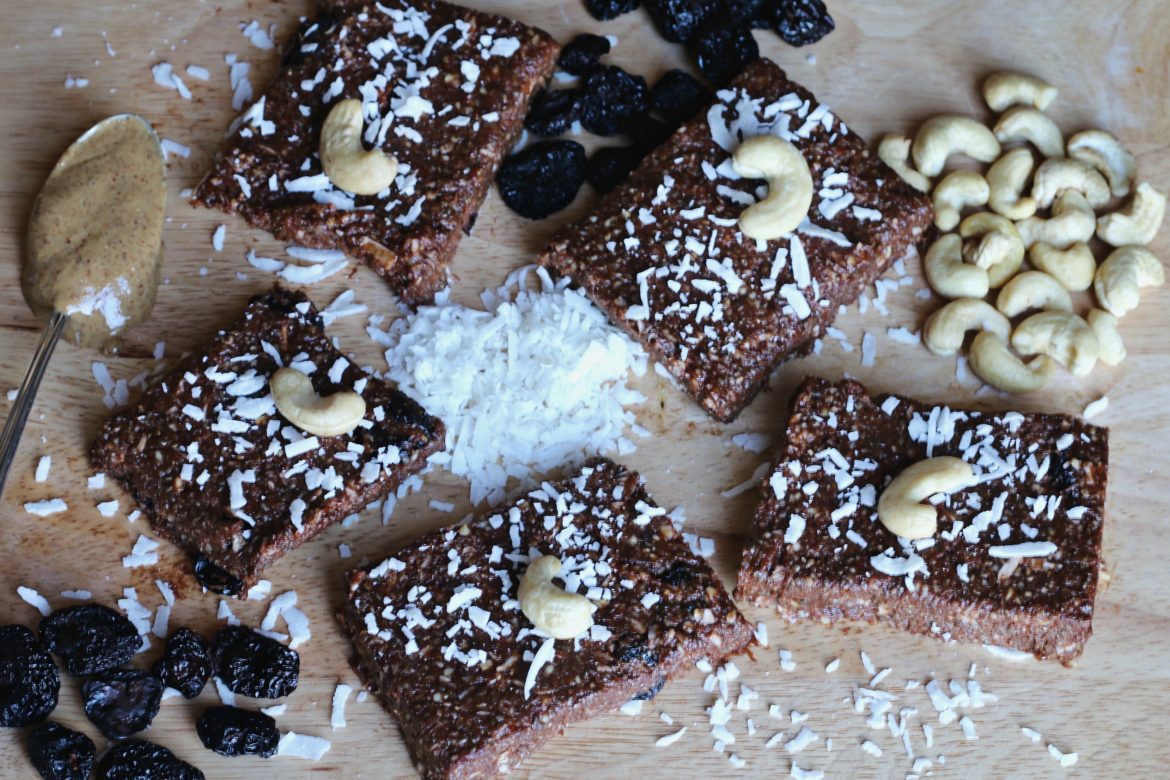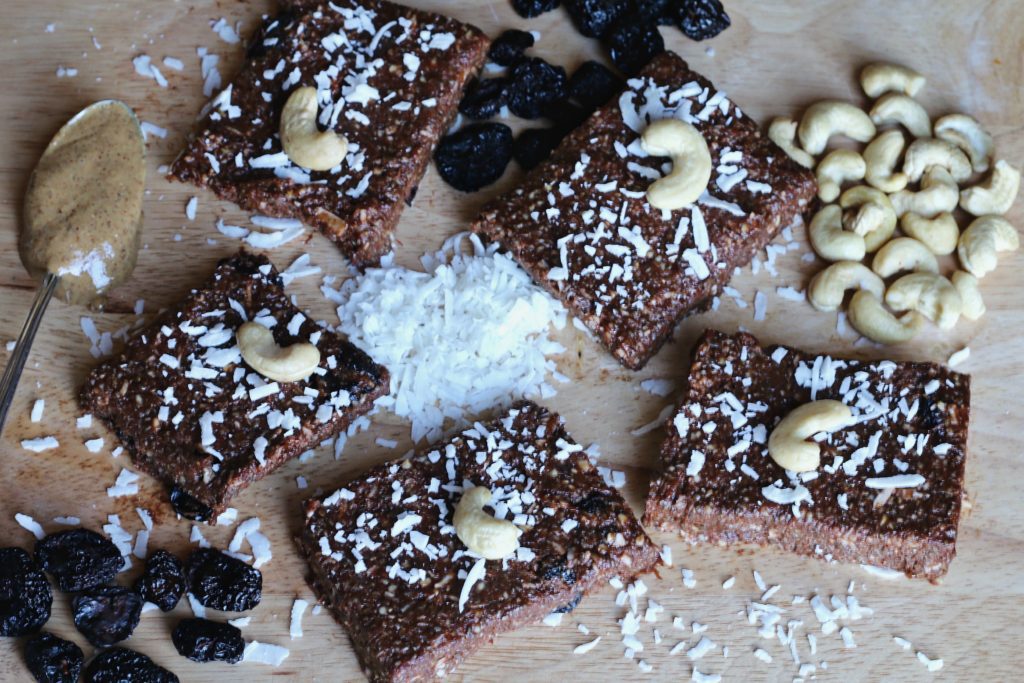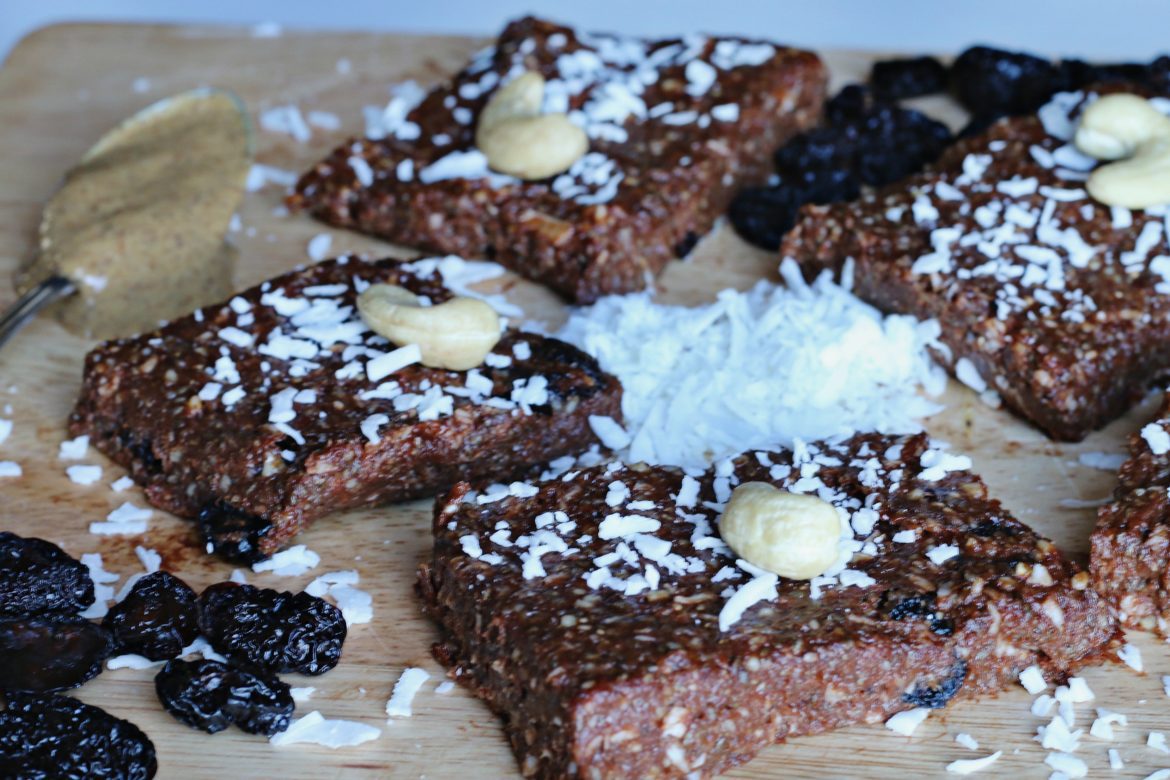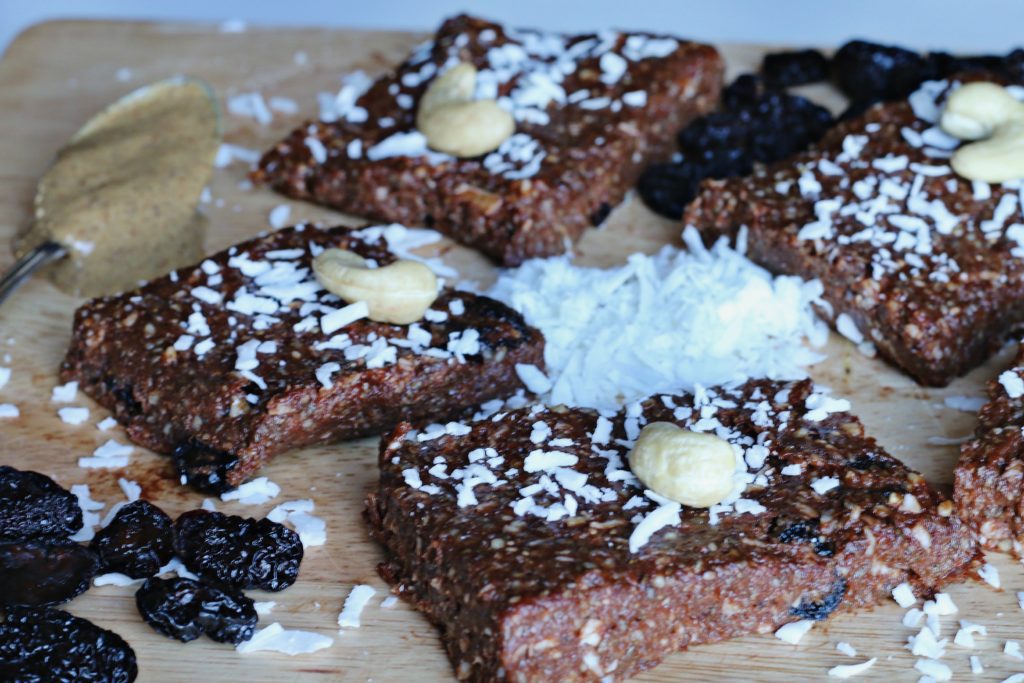 Ingredients
1/4 cup chia seeds
1/2 cup almond milk, unsweetened 
1/2 cup medjool dates, pitted 
1 cup raw cashews
1/4 cup cacao powder 
6 tbsp collagen powder 
1/4 tsp himalayan salt 
1/4 cup almond butter 
2 tbsp unrefined coconut oil, melted 
1 tbsp vanilla extract 
1/2 cup shredded coconut, unsweetened
1/3 cup dried dark cherries 
Instructions
Soak chia seeds in almond milk for 1-2 hours. 
Pulse dates in food processor until chopped. 
Add cashews, soaked chia seeds, cacao powder, collagen protein powder, and himalayan salt and pulse all ingredients. 
Add almond butter, coconut oil, and vanilla extract and continue to pulse for 30-45 seconds. 
Transfer ingredients to a medium size mixing bowl and stir in shredded coconut and dried cherries. 
Line 8x8 baking dish with parchment paper and spread mixture evenly throughout. 
Freeze for 25-30 minutes, until hardened.
Cut into eight squares.  
Nutrition Facts
Cherry Chocolate Energy Bars
Serves: 8
Amount Per Serving:

1/8 of recipe

Calories
309.4kcals
% Daily Value*
Total Fat 20.3g
31.2%
Saturated Fat 7.7g
38.5%
Trans Fat 0g
Cholesterol 0mg
0
Sodium 70.9mg
3%
Total Carbohydrate 26.1g
8.7%
Dietary Fiber 6.2g
24.8%
Sugars 13.8g (0g Added Sugar)
Protein 10.3g
| | |
| --- | --- |
| Vitamin A 0% | Vitamin C 0% |
| Calcium 11% | Iron 18% |
* Percent Daily Values are based on a 2,000 calorie diet. Your daily values may be higher or lower depending on your calorie needs.
BeingBrigid
© 2023 Copyright BeingBrigid