Grass-fed Beef Fajitas
Jump to recipe
Dinner is served in less than 30 minutes with this well-balanced, nutrient-dense, grass-fed beef fajita recipe. Get the scoop on the controversy around red meat and how you can still include it as a part of a well-balanced diet. Also take advantage of an exclusive discount from ButcherBox, one of my favorite sources of grass-fed, organic meats!
Animal Meat Controversy
There is a lot of controversy around animal meat–some say it causes heart disease, cancer and obesity while others argue that meat has been eaten for centuries by our ancestors. The problem with saying that all animal meat or all red meat causes chronic disease is that all meat is not created equal. While large research studies do indicate that a high intake of red meat is associated with an increased risk of cancer and heart disease, most do not specify whether the study included grain-fed, factory farmed animals or grass-fed, grazing animals.
Omega 3 Profile
Grass-fed beef has a much better fatty acid profile compared to grain-fed beef as demonstrated by a recent research study that indicated approximately 50% greater omega-3 fat levels in grass-fed compared to grain-fed beef. Omega 3 fats are essential for lower inflammation, reduced risk of heart disease and improved cognitive function. Unfortunately the American diet is that it is very high in omega 6 polyunsaturated fats which interfere with the absorption of omega 3 fatty acids. A healthy diet should consist of one to four times more omega 6s than omega 3s but the typical American diet contains 11 to 30 times more omega 6s than omega 3s. Compared to grain-free beef, research shows that grass-fed beef not only has higher omega 3 fats but it also has a significantly lower ratio of omega 6 fats to omega 3s.
Red Meat Takeaways
The best takeaway is to eat grass-fed red meat and limit your consumption to 1-2 times per week. You can ensure that the animals are fed only grass throughout their lifetime by purchasing from a trustworthy company like ButcherBox. This company provides meat from animals that have been raised humanely and free from antibiotics and hormones. Their beef is 100% grass-fed and grass-finished, the pork is heritage breed and the chicken is free-range and organic. The other huge advantage of ordering through ButcherBox is that they deliver the high quality meat right to your door! You can't beat that level of convenience. Interested in trying out their grass-fed beef for my Grass-Fed Beef Fajitas recipe?
Click here to get two free grass-fed ribeye steak, $10 off your order and free shipping. You can't beat this deal! Offer is good until March 31st so order soon!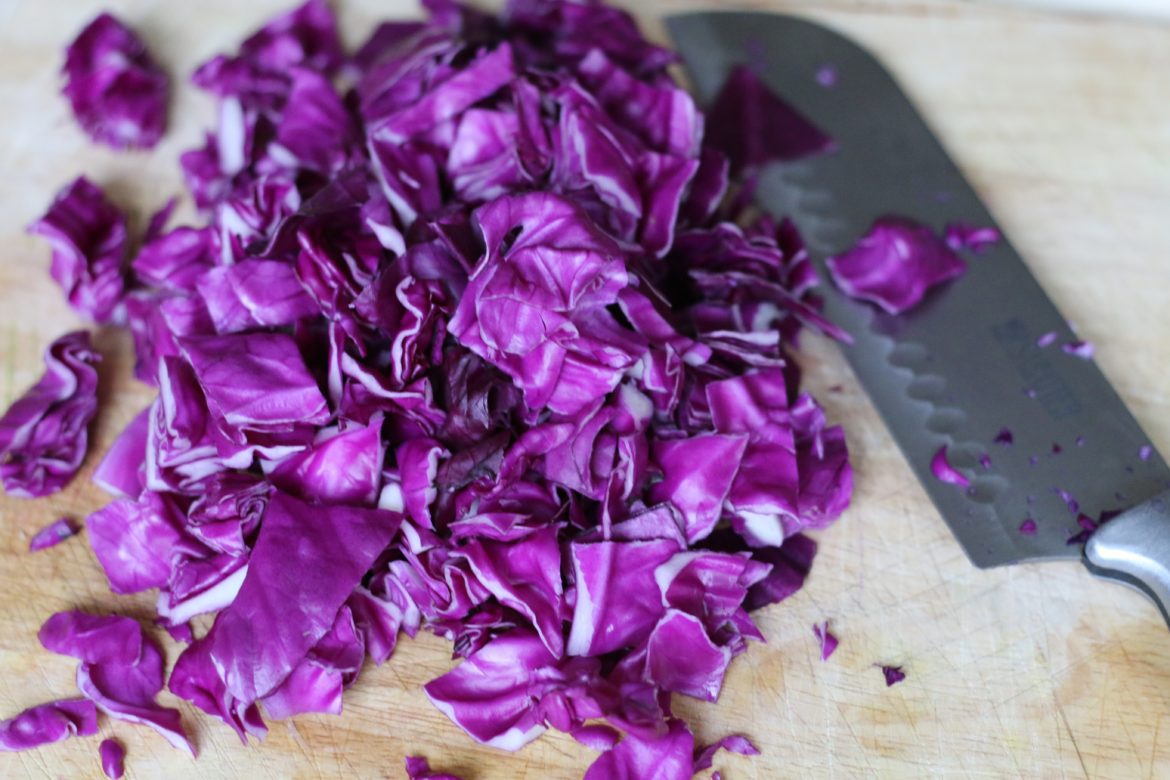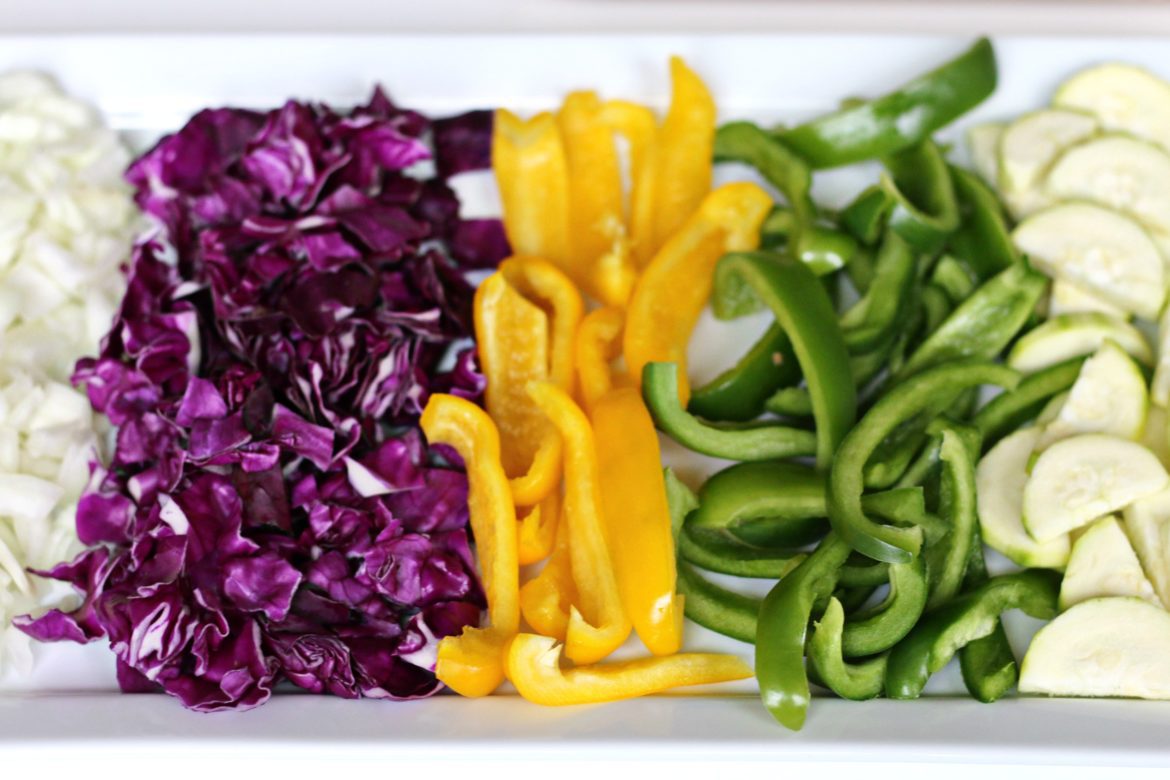 Ingredients
4 garlic cloves, minced
¼ cup extra virgin olive oil
½ tsp himalayan salt
1 tbsp cumin
¼ tsp red chili pepper
1 tsp onion powder
¼ cup cilantro, finely chopped
Juice from 2 limes
1 lb ribeye steak from Butcher Box
Dash himalayan salt
Dash black pepper
1 green bell pepper, diced
1 yellow bell pepper, diced
2 cups red cabbage, shredded
1 large onion, diced
Juice from 1/2 lime
1 avocado, mashed
1/8 cup cilantro
Instructions
In a large dish, mix together garlic, olive oil, himalayan salt, cumin, red chili powder, cilantro, and lime juice.
Add steak to the dish, turning over once to coat it.
Cover the dish and let marinade in refrigerator for 1-2 hours.
Heat a large skillet over medium heat and cook steak for 2 minutes on each side until medium rare.
Assemble green bell pepper, yellow bell pepper, red cabbage and 3/4 onion in a medium size bowl.
Pour any remaining marinade from beef on top of the vegetables.
In a large pan over medium heat, sauté vegetables for 10 minutes uncovered.
Place the lid on the pan, stirring occasionally, for an additional 6-8 minutes or until the peppers soft.
In a separate bowl combine the mashed avocado with 1/4 onion, 1/8 cup cilantro, juice from 1/2 lime and dash of himalayan salt.
Place vegetables at the base, topped with beef strips and guacamole.
Nutrition Facts
Grass-Fed Beef Fajitas
Serves: 4
Amount Per Serving:

4

Calories
552.9kcals
% Daily Value*
Total Fat 49.9g
76.8%
Saturated Fat 14.8g
74%
Trans Fat 0g
Cholesterol 81.1mg
27%
Sodium 244mg
10.2%
Total Carbohydrate 20.6g
6.9%
Dietary Fiber 6.2g
24.8%
Sugars 7.3g (added sugar: 0g)
Protein 22.3g
| | |
| --- | --- |
| Vitamin A 3% | Vitamin C 263% |
| Calcium 7% | Iron 27% |
* Percent Daily Values are based on a 2,000 calorie diet. Your daily values may be higher or lower depending on your calorie needs.
BeingBrigid
© 2023 Copyright BeingBrigid