Artificial Flavors: 7 Carcinogens used to Flavor Candy, Ice Cream, Beer, and More
The words 'artificial flavor' are listed in ingredient lists on thousands of processed foods that fill grocery store shelves in the United States. Perhaps you've noticed the term. If you're like most people then you probably read it and just trust that it can't be that bad. Think again. Seven of the ingredients that are listed under the term 'artificial flavor' are known carcinogens. This is not just another health blog trying to make everything out to be a carcinogen. These seven ingredients have been determined to be carcinogens by internationally recognized authorities on cancer. But the United States government has allowed companies to add these cancer-causing ingredients into your food–for years. What makes this especially disturbing is that these seven carcinogens are not even listed on the ingredient list because they are hidden under the blanket of 'artificial flavor'. Read more to find out how you can take action.
Artificial Flavor
Food companies are given the power to serve Americans carcinogens that are disguised as candy, ice cream, beer and other indulgences. The Food and Drug Administration (FDA) states on its website that "Food manufacturers are required to list all ingredients in the food on the label….But some ingredients can be listed collectively as "flavors," "spices," "artificial flavoring," or in the case of color additives exempt from certification, "artificial colors", without naming each one. In the Code of Federal Regulations the FDA defines artificial flavor or artificial flavoring as: "any substance, the function of which is to impart flavor, which is not derived from a spice, fruit or fruit juice, vegetable or vegetable juice, edible yeast, herb, bark, bud, root, leaf or similar plant material, meat, fish, poultry, eggs, dairy products, or fermentation products thereof."
Seven Carcinogens
Unfortunately the government continues to fail to the health of Americans and food companies take advantage of that by incorporating cancer-causing chemicals in their foods. This time it's in the form of the following seven carcinogens:
Benzophenone (also known as diphenylketone)
Ethyl acrylate
Eugenyl methyl ether (also known as 4-allylveratrole or methyl eugenol)
Myrcene (also known as 7-methyl-3-methylene-1,6-octadiene)
Pulegone (also known as p-menth-4(8)-en-3-one)
Pyridine
Styrene
You probably don't recognize ANY of these chemicals (unless you are a scientist) because they are vaguely listed as 'Artificial Flavor' on a food label. That means there is no way for a consumer to be able to tell whether their food contains carcinogens or not. Take Skittles for instance…they list natural and artificial flavors in their ingredient list but it's too hard for us to know whether that includes one of the seven carcinogens.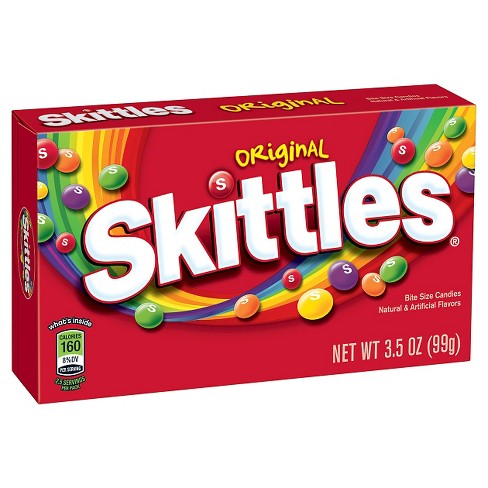 Ingredients: Sugar, corn syrup, hydrogenated palm kernel oil; less than 2% of: Citric Acid, Tapioca Dextrin, Modified Corn Starch, Natural and Artificial Flavors, Colors (Red 40 Lake, Titanium Dioxide, Red 40, Yellow 5 Lake, Yellow 5, Yellow 6 Lake, Yellow 6, Blue 2 Lake, Blue 1, Blue 1 Lake), Sodium Citrate, Carnauba Wax.
Unfortunately this is not new news for the FDA who has known for years that these chemicals cause cancer. They turned a blind eye to a petition that spelled out the association between these chemicals and risk of cancer. The petition also highlighted the obligation that the FDA has to safely monitor the food supply and prohibit the use of carcinogens. It's enough to make you want to grow all your own food and never shop in a grocery store again. But before you buy your land, there is good news for consumers. The Center for Science in the Public Interest (CSPI), one of my favorite nutrition organizations is taking the FDA to court regarding these seven carcinogens that they have allowed in our food supply. (Read more about them in this post: The Future of Evidence-Based Nutrition: Artificial Cool Whip or a Ketogenic Diet for Diabetes?). But they are asking for your support. See the message that they sent below.
What Can you Do?
I ask you to do three things as a way to voice to the FDA that they cannot continue to be so irresponsible when it comes to our food supply. It is far from acceptable for parents to be blindly feeding their kids a bowl of ice cream that's filled with carcinogens! The first thing is to send the following tweet on behalf of CSPI and myself. The second thing is to spread the word to your friends and family so that they can participate too. We all have a responsibility to fight for a safer food supply that sell carcinogens on grocery store shelves!
[Tweet "I stand w/ @CSPI & @Earthjustice: Please @US_FDA & @SGottliebFDA, act to keep carcinogenic flavorings out of our food supply! @beingbrigid"]
Lastly, continue voting with your fork. Every dollar that you spend on foods that do not contain 'artificial flavor' helps. There is a grass-roots movement currently happening in food and nutrition as more consumers become educated on what they put into their bodies. The best investment you can make in your own health and in the health of our community is to vote with your fork and support transparent food companies.
Letter from the Center for Science in the Public Interest
Dear Consumer,
---
I'm sure you find it as shocking as we do that the Food and Drug Administration allows manufacturers to use seven cancer-causing chemicals to flavor candy, ice cream, beer, and other foods.

So CSPI—with the help of lawyers at Earthjustice and a coalition of consumer groups—is hauling the FDA into federal court to force it to decide whether these carcinogens really belong in our food.

Benzophenone. Eugenyl methyl ether. Myrcene. Even if consumers knew about the risks, they would not be able to avoid them because the seven carcinogens are not named on labels. You can see why food manufacturers prefer to obscure the presence of these chemicals by blandly describing them as "artificial flavors." All seven have been determined to be carcinogens by internationally recognized authorities on cancer, and U.S. law is quite clear in preventing the addition of carcinogens to food.

Some of these chemicals supposedly convey notes of mango or citrus to foods; others add "sweet woody notes" to beer. One, ethyl acrylate, is marketed for adding an "ethereal character reminiscent of ripe pineapple, rum and whiskey, roasted onion and garlic" to foods and beverages. Ethereal or not, it has been linked to cancer.

We can't bring these cases alone. We rely on the support and help of supporters like you to raise the volume when the government disappoints us.

Demonstrate your support for our work by taking to Twitter.Click here to send this Tweet to the administration:

I stand with @CSPI and @Earthjustice: Please, @US_FDA and @SGottliebFDA, act to keep carcinogenic flavorings out of our food supply!

Thank you for reading. If enough of us make our voices heard, the FDA will be more likely to act. Please Tweet now.

Sincerely,


Peter G. Lurie, MD, MPH
President
Center for Science in the Public Interest