Happy 2nd Birthday Functional Medicine!
This week marks the second anniversary of the Center for Functional Medicine, which is the first functional medicine clinic to ever exist in an academic institution (and you better believe that we aren't celebrating with cake). We started with a very small, ambitious team in October of 2014, led by functional medicine pioneers Dr. Mark Hyman and Dr. Patrick Hanaway. Our clinical team of four clinicians was led by our fearless full-time physician, Dr. Dirk. Parvus.
This was a small team with a big mission to revolutionize healthcare and help patients identify their root cause of disease. We had no idea how the process would work, if patients would show up or how other clinicians at the hospital would respond. We embraced these uncertainties and hit the ground running. Now two years later we have a team of 40+ employees, two locations, thousands of patients getting better and so much more! The last two years feel like a blur. An amazing blur that has turned out to be the most successful, fulfilling and enlightening experience imaginable.
Flashback to the Beginning
Our team spent the first week of work at AFMCP (Applying Functional Medicine in Clinical Practice) in Scottsdale, Arizona. This is a five-day training for functional medicine practitioners, led by the Institute for Functional Medicine, who played an integral role in setting up our functional medicine center. Going through the training is like gaining a whole new (and somewhat overwhelming) perspective on life because it is completely different from what is taught in medical and dietetic school. I remember someone saying at the conference that "functional medicine is basically just medicine that makes sense" which is the most perfect way to explain it. In addition to learning an entirely different approach to seeing patients, we also spent a lot of time laughing at everything and anything imaginable. This was a team that didn't previously know each other at all but we found ourselves racing each other in the airports, obsessing over Dr. Andrew Weil's True Food Kitchen, and soaking up every crazy moment of the experience.
The next week we went to Dr. Hyman's Ultra Wellness Institute in Lenox, MA to train with his talented team who provided much of the foundation that we used for our own clinic. The first night we went to Dr. Hyman's house to make dinner together. We went out to his garden and picked a ton of kale and brought it inside to make dinner. Dr. Hanaway gave the kale a gentle massage with coconut oil while Laura and I prepped the broccolini and Dr. Hyman flew around the kitchen covering the eggplant with an entire bottle of extra virgin olive oil (no surprise). We each stationed up at different ends of the kitchen counter while listening/singing to music and drinking Dr. Hyman's alcohol of choice—tequila. It's hard to say whether there was more learning or laughter on that trip. We made it back to Cleveland after surviving hours of a plane delay (where we almost rented a car and drove to Cleveland from our connecting flight) and opened our clinic the next day.
Day 1 of the Center for Functional Medicine
We had two patients on the schedule on October 2nd. Typically each appointment is about 3-4 hours because the patient meets with the doctor, then the dietitian, the nurse, and then the health coach. But it took us the whole first day to see two patients and from there our volumes steadily increased. The first few months were a learning process as we figured out work flow, charting in the electronic medical record, adding supplements to the electronic medical record, ordering non-traditional labs (like stool tests, nutrition panels, heavy metals, etc.), getting patients to the lab, and so many countless details. We slowly figured out the logistics and within a few months our schedules were packed like sardines as we tried to meet the growing functional medicine demand.
Expansion at it's Finest!
Our team met at a small table in Dr. Hyman and Hanaway's office to discuss ways to improve the patient flow. Dr. Hanaway said that we would eventually outgrow the table that we were meeting at as we brought on more staff. This was hard to imagine at the time but after the first nine months, we slowly started to bring on more providers. Within the first year we outgrew our small table. Two years later we can hardly fit our entire team in a conference room with our 40+ employees (7 doctors, 2 nurse practitioners, 5 dietitians, 2 health coaches and a large, amazing support staff that has taken everything to the next level). Despite doing basically no marketing, our list of interested patients continues to grow, faster than an ant farm. In one month we will move into a beautiful custom built space. Doctors and dietitians from other areas of the hospital continue to reach out and express interest in incorporating functional medicine into their practice. They are also currently in the process of completing six research studies. It's success like you've never seen.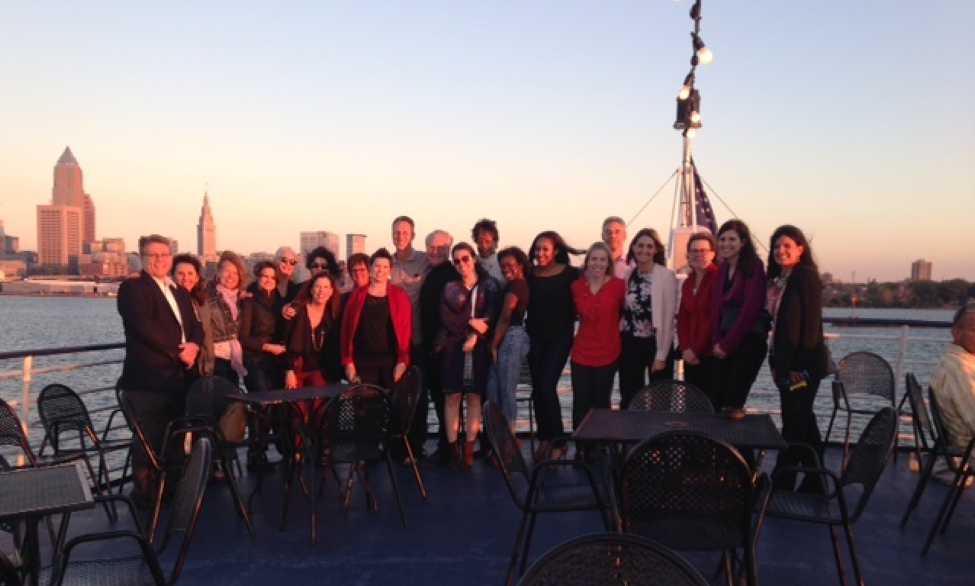 The Most Magical Part
The most magical part of the entire experience is connecting with our patients and seeing them transform their health and drastically improve their quality life. I've seen people with arthritis swing a golf club for the first time in 20 years, people with debilitating migraines who are now migraine-free, patients who have struggled with weight loss for their entire lives who have lost 60+ pounds, people with pre-diabetes get off their metformin, people with chronic insomnia who are now sleeping—and those are only a few examples. Even when the details of the practice weren't completely figured out, patients were still getting better.
Seeing people reclaim their lives, gain more functionality, find purpose and connection, and feed their bodies with the right foods is unexplainably rewarding and fulfilling. Many people come to functional medicine as a last resort after feeling like the current medical model of seeing a million specialists for 5 minutes has failed them. By drilling down to the basic needs of the human body—sleep, nutrition, exercise, less stress, happiness, positive relationships, less toxic environmental exposure—we can create health. And at the core of it is eating whole foods and optimizing nutrition. Dr. Hyman always says that when we create health, disease goes away as a side effect.
A Functional Medicine Movement
The last two years have been filled with so much learning that it hurts my brain, growing pains like you can't imagine, transforming for both our patients and our staff, and connecting on a very deep level. Two years ago we started as a tiny little mangrove tree that has expanded its roots to any surface possible. There is a functional medicine movement happening and it's not just in Cleveland, OH. It's happening everywhere as more and more people seek answers to their health that don't always involve medication and as the Institute for Functional Medicine and the Integrative and Functional Nutrition Academy train more practitioners. The possibilities for functional medicine have only just begun. Based on all that has happened in the last two years, the opportunities for the future are endless and bright!