Keto Grainless Granola is just another way of saying that this granola recipe does not include any grains or added sugars. Did you ever think that you would find something so great!? Most granolas, even paleo granolas, contain some form of added sugar. Even if it's in the form of pure maple syrup or raw honey, it's still technically added sugar. This would mean that if you are trying to eat ketogenic or high in fats then you may want to consider doing a DIY grainless granola. This recipe is not exclusive to those eating ketogenic, it's perfect for anyone that is looking to enjoy lots of rich, nutty flavors without an sweetener! 
Why is it So Hard to Find Portable Snacks?
For a person that eats a clean diet and pays attention to ingredient lists, it becomes clear pretty fast that there aren't a whole lot of snack/protein bars on the market with stellar quality. It's difficult to find any bars that aren't packed with added sugars, dried fruits, or stevia/monk fruit and artificial sweeteners. But they are so tempting because they are tasty, fast, convenient, delicious and ideal for any person living a fast paced life.
The Perfect Snack
Don't worry, I have good news for you! This is the exact reason that I created this Keto Grainless Granola recipe for the Functional Feed (more on that in a second)–to provide a delicious, quick and convenient snack to pack on the road. It's completely free of any sweeteners and artificial sweeteners, which I especially love!
The Functional Feed
This recipe comes from the Functional Feed, which is a subscription based program that I run with Dani Urcuyo, MD and Julie Foucher, MD, MS. Together we focus on functional medicine, movement and nutrition. If you are interested in learning more about the Functional Feed, click here! And until then, here is a little sneak peak of one of the recipes from the month of November, my Keto Grainless Granola.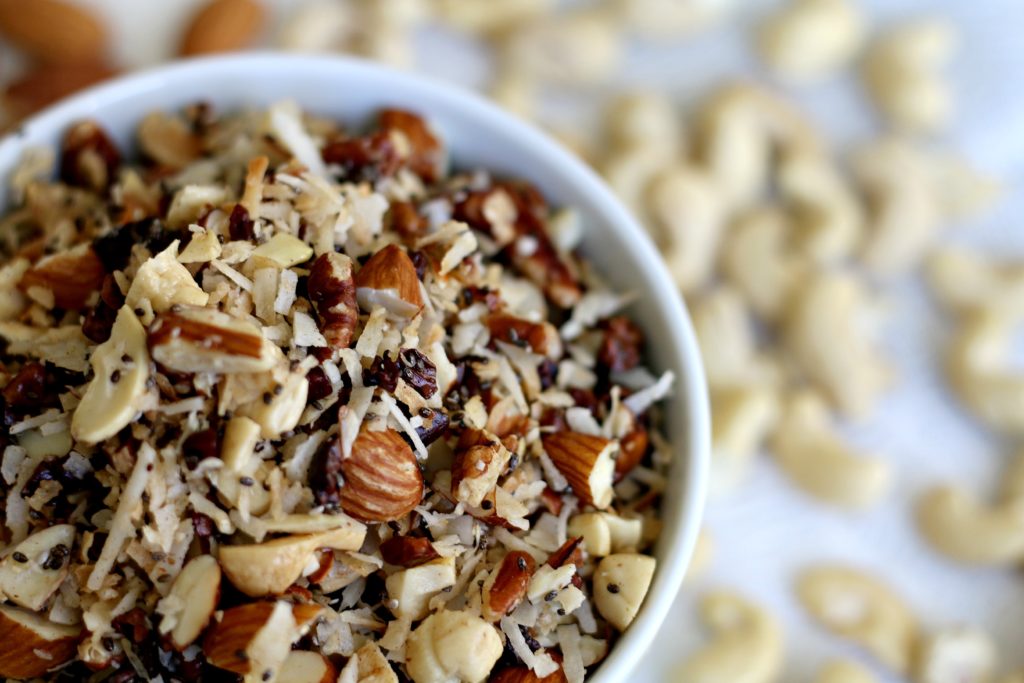 Ingredients
1 cup shredded coconut, unsweetened
½ cup raw almonds, chopped
½ cup raw cashews, chopped
½ cup raw pecans, chopped
2 tbsp chia seeds
¼ cup cacao nibs
1 tsp cinnamon
2 tbsp grass-fed ghee, melted
1 tbsp vanilla extract
Instructions
Preheat oven to 300 F.
Place the following ingredients on the baking sheet: shredded coconut, almonds, cashews, pecans, chia seeds, and cacao nibs.
In a small bowl mix together the ghee, vanilla, and cinnamon.
Pour the ghee mixture over the nuts and use your hands to spread and mix evenly across the baking sheet.
Place in the oven for 10-12 minutes.
https://beingbrigid.com/keto-grainless-granola/