When following a strict ketogenic diet for six weeks, I developed this delicious bread recipe. It really made a keto lifestyle much easier and more enjoyable! This gluten-free, grain-free, and added sugar-free bread is a ketogenic game changer! One slice brings in an astonishingly low four grams of carbohydrates per serving and two grams of fiber, also known as only two grams of net carbohydrates (1.6g to be very precise). I can't wait for you to experience the simplicity and deliciousness in every last bite.
Ketogenic Diets
Ketogenic diets are becoming more and more popular. This is thanks to self-reported and research-based improvements in symptoms such as energy levels, mental clarity, weight loss, etc. Research is also being published on the benefits that a ketogenic diet can have on cancer treatment and type 2 diabetes. The reason that I did a six week strict ketogenic diet was to improve my narcolepsy symptoms. Eating higher fat can help stabilize my energy levels and lead to improvements in my concentration. The only catch is finding a quick ketogenic breakfast or snack that is actually satisfying. Which is exactly how this bread was born!
Magnesium & Potassium Rich
If we are talking nutritional information, this grain-free loaf of Keto Macadamia Bread is a dream! As I mentioned, one slice contains only two grams of net carbohydrates in addition to other important nutrients. Eating ketogenic can make it difficult to get enough potassium and magnesium (more on that later). The upside of this bread is that one slice provides 42mg of magnesium (10.5% of the RDA) and 167mg of potassium (8% of the RDA).
Get In On the Toppings
If you top a slice of bread with the right ingredients it can truly be the perfect breakfast replacement. On top of being low in carbohydrates, you will get 12 grams of protein per slice (thanks to the whey protein powder) and 23 grams of fat for an all around hearty slice of bread. Top it with ricotta cheese and sauerkraut (if you eat dairy), avocado slices with lemon juice and broccoli sprouts (as pictured), or even almond butter with cinnamon (so addicting). Explore all of the amazingness of this loaf of Keto Macadamia Bread and let me know what you think!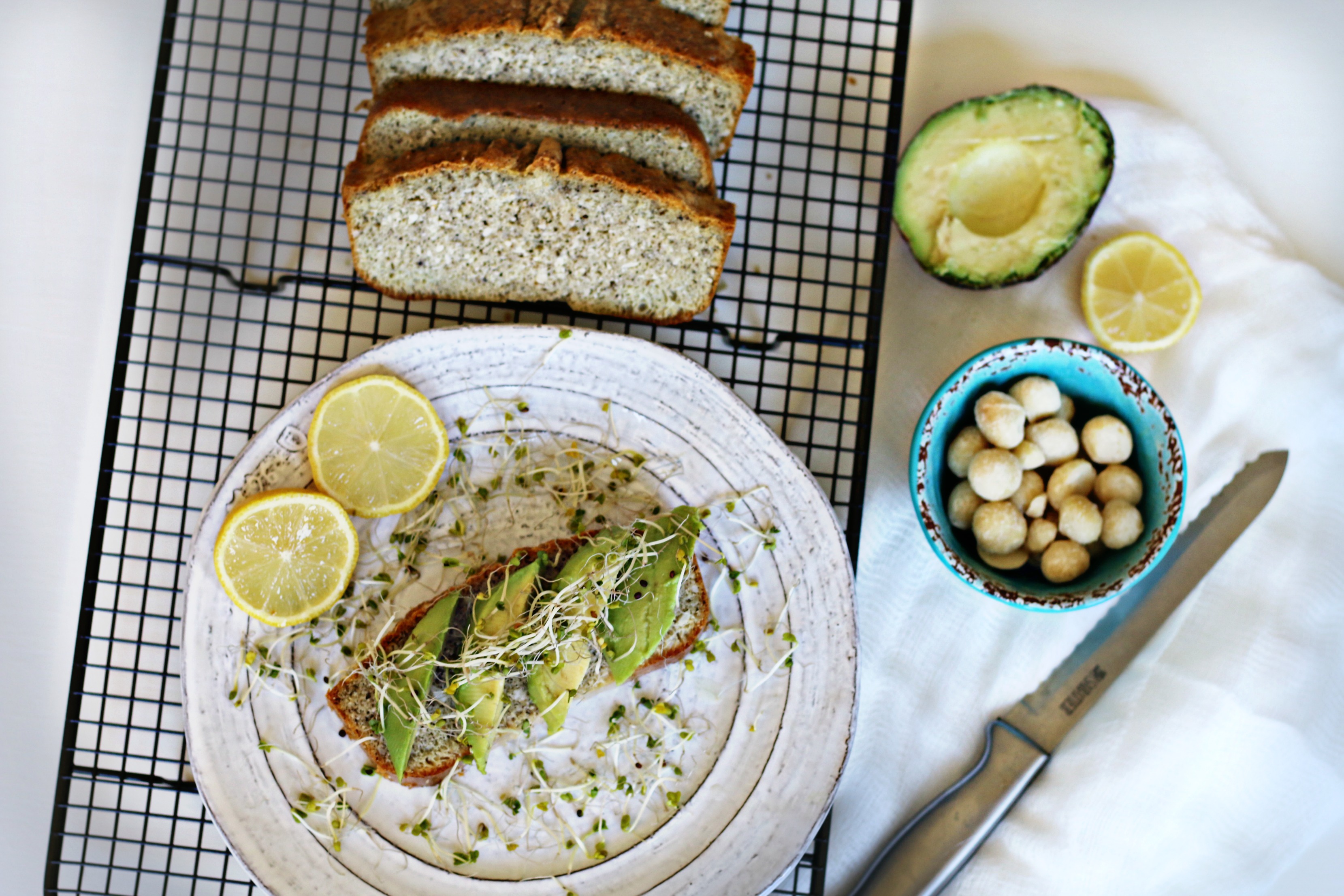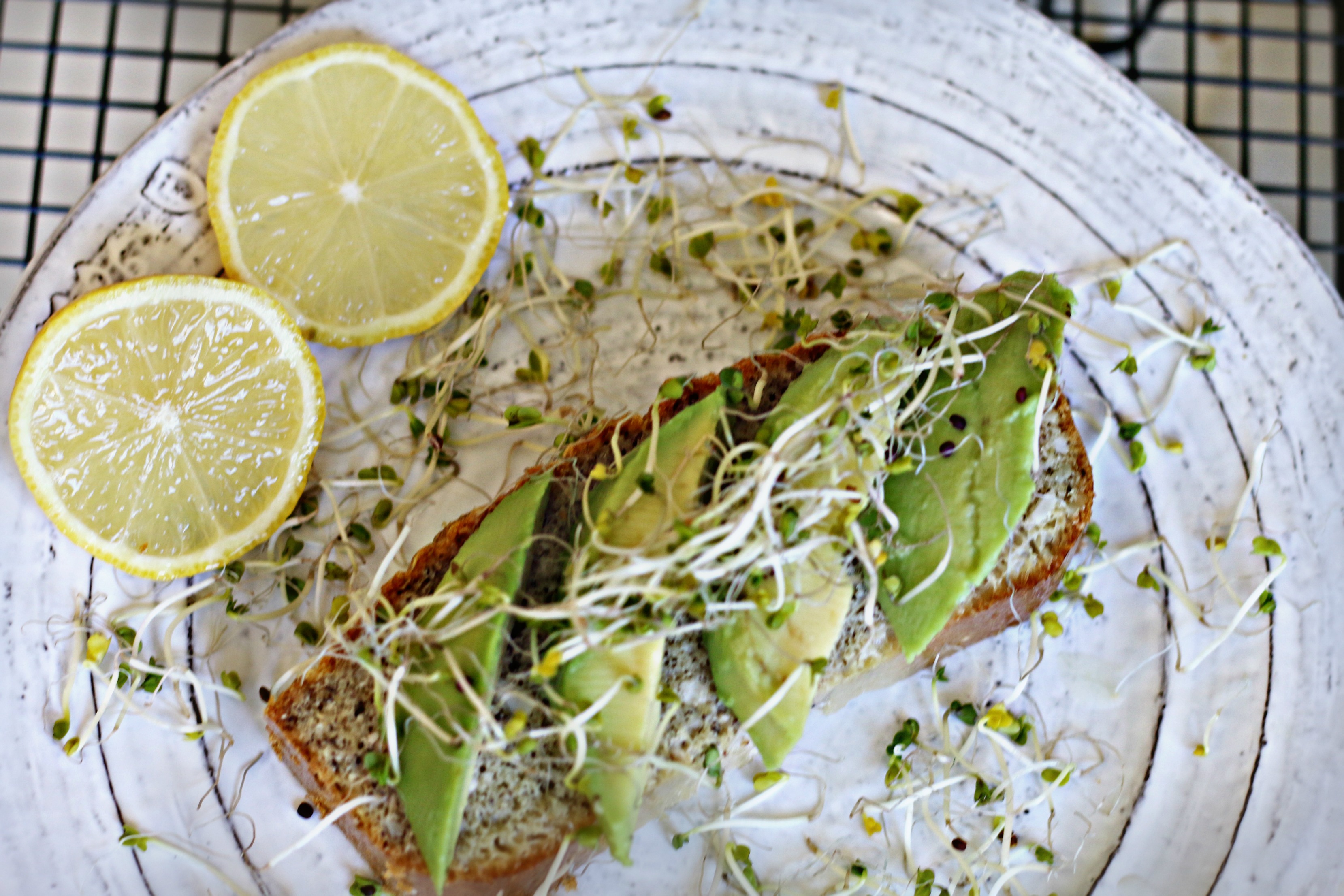 Ingredients
1 cup macadamia nuts
1/4 cup almond flour
2 scoops grass-fed whey protein powder
2 tbsp ground flax seeds
1 tsp baking soda
3/4 tsp himalayan salt
4 eggs
2 egg whites
1/4 cup grass-fed ghee, melted
1 tbsp apple cider vinegar
Instructions
Preheat the oven to 350 F. Rub the bottom of your loaf pan with ghee or extra virgin olive oil to prevent sticking.
In a food processor, pulse the macadamia nuts for about 30-45 seconds or until it creates a flour consistency.
Add the almond flour, whey protein, flax seeds, baking soda, and himalayan salt to the food processor. Continue to pulse until ingredients are mixed well.
In a medium size bowl beat eggs, egg whites, melted ghee and apple cider vinegar with a whisk.
Fold in dry ingredients.
Pour into a greased loaf pan and bake for approximately 45 minutes.
https://beingbrigid.com/keto-macadamia-bread/