Zoodles with Turkey Sausage and Sun Dried Tomatoes
Jump to recipe
When it comes to incorporating more vegetables into your meals, it doesn't get easier than this Zoodles with Turkey Sausage and Sun Dried Tomatoes recipe. This dish allows for you to move beyond your traditional white or whole wheat pastas and experiment with a vegetable-based pasta (aka zoodles). Top your zucchini noodles off with some warm Italian turkey sausage (preferably organic), cannellini beans, sun dried tomatoes and the best blend of flavors!
The Benefits of Zoodles
Spiral a fresh batch of zucchini and yellow squash noodles to bump up your vegetable game while decreasing your intake of heavy, refined grain pastas that drive inflammation and increase risk of cardiovascular disease. Zucchini is a fresh and nutritious summer squash vegetable that is known for having a high water content (about 95%) like it's cucumber and melon families. Vegetables like zucchini can make you feel more full and satiated because of the higher water content PLUS it's rich source of soluble fiber. What's even more impressive is that zucchini packs in antioxidants such as beta-carotene, lutein, and zeaxanthin—two of which can help improve eye health.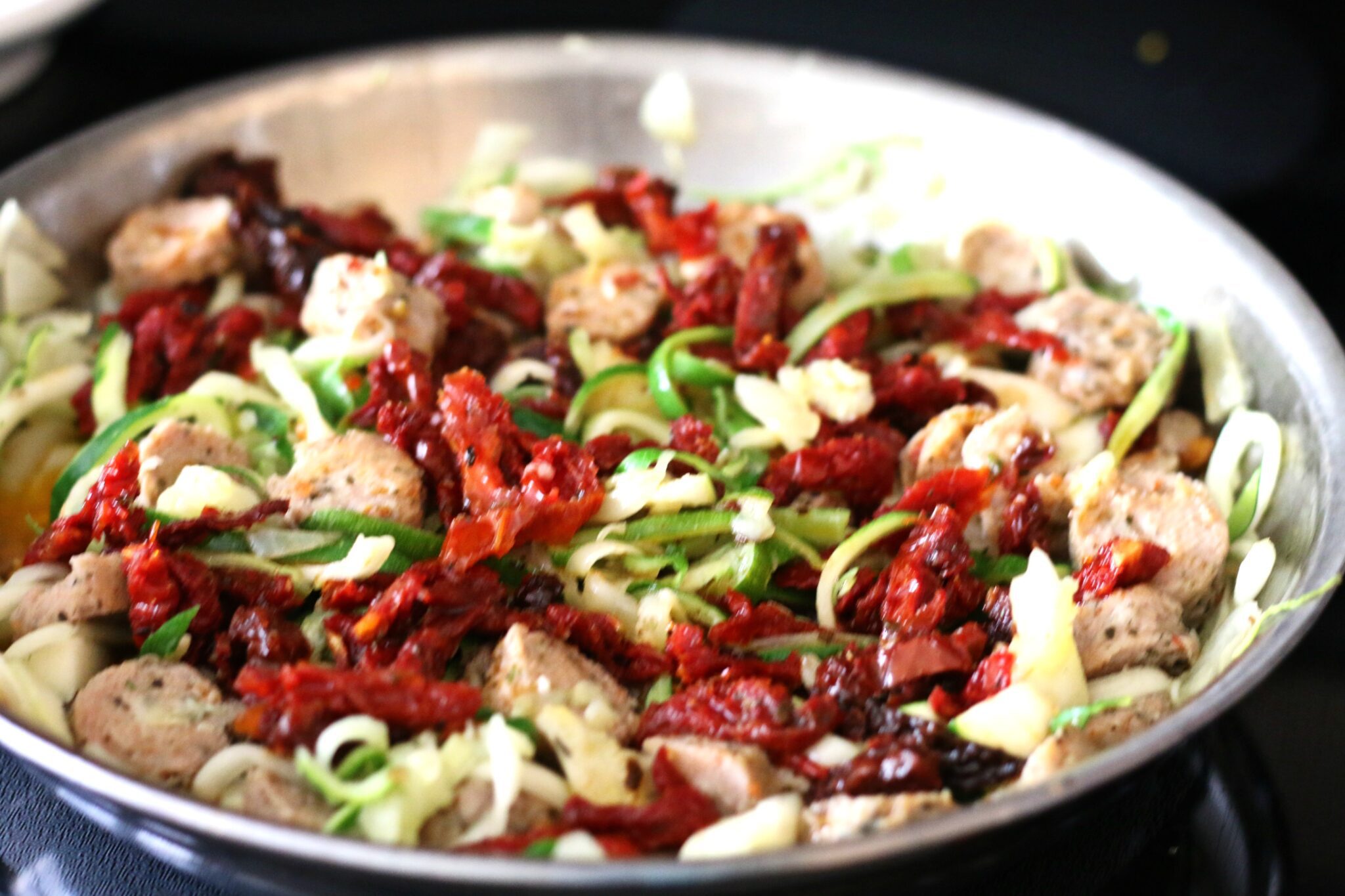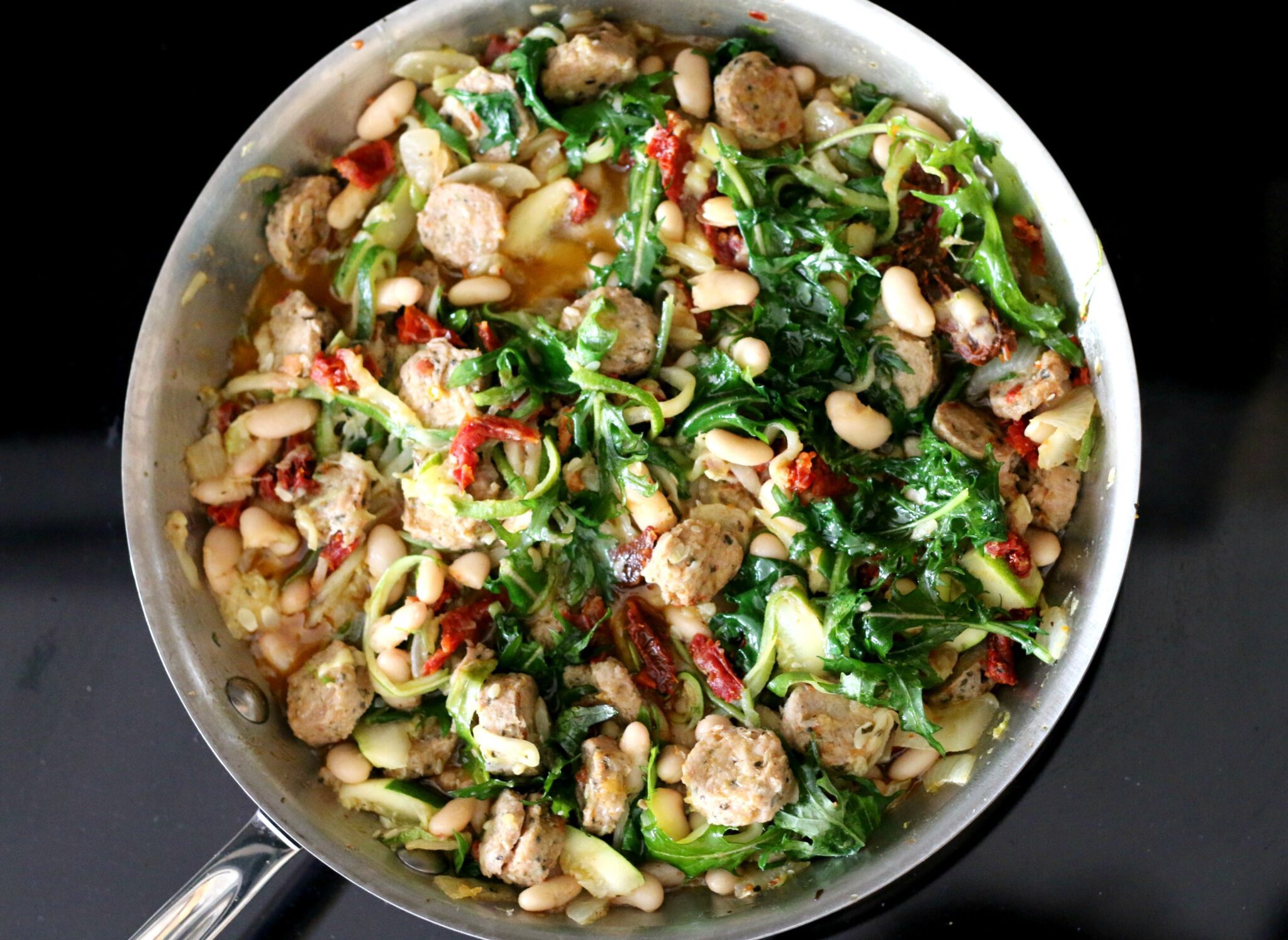 Ingredients
2 zucchini
2 yellow squash
8.5 ounces sun dried tomatoes in extra virgin olive oil (in a glass jar)
1 can cannellini beans, rinsed and drained
2 packages italian chicken & turkey sausage, remove from casing and cut into 1 inch pieces
(Applegate brand is recommended or any other brand that is gluten-free and organic)
2 cups spinach
2 Tbsp extra virgin olive oil
Dash of sea salt
Dash of black pepper
Instructions
Insert the zucchini and yellow squash into a spirilizer or spiral slicer to create zucchini noodles/zoodles.
In a large pan heat the extra virgin olive oil over medium heat.
Add the chicken/turkey to pan and saute for about 6-8 minutes, or until sausage is cooked well.
Pour the zucchini/yellow squash noodles, sun dried tomatoes and liquid, cannellini beans, spinach, salt and pepper into the pan. Saute for an additional 5 minutes.
Mix ingredients together and portion into meals for the rest of the week.
Nutrition Facts
Zoodles with Turkey Sausage and Sun Dried Tomatoes
Serves: 6 servings
Amount Per Serving:
Calories
395.5
% Daily Value*
Total Fat 20.5g
31.5%
Saturated Fat 3.4g
17%
Trans Fat 0g
Cholesterol 100mg
33.3%
Sodium 1150 mg
47.9%
Total Carbohydrate 31.3g
10.4%
Dietary Fiber 7.2g
28.8%
Sugars 9.7g (Added Sugar: 0 g)
Protein 28g
| | |
| --- | --- |
| Vitamin A 9% | Vitamin C 64% |
| Calcium 8% | Iron 62% |
* Percent Daily Values are based on a 2,000 calorie diet. Your daily values may be higher or lower depending on your calorie needs.
BeingBrigid
© 2023 Copyright BeingBrigid