Top 10 Best Food Buys at Thrive Market
Several year ago my life changed for the better when I learned about Thrive Market. The best way to describe it is an online version of Costco that sells healthy food and lifestyle products that aren't in bulk. I first learned about Thrive when we opened the Center for Functional Medicine and I started working for Dr. Mark Hyman and have continued using it in my own practice. Dr. Hyman raved about Thrive and promised that it was the best way to purchase nutritious foods. It turns out he was 100% spot on. As a consumer of Thrive and a dietitian, I have become one of their biggest advocates. Through ordering from Thrive I have found certain foods that I cannot scoop up in health food stores that are more affordable. In this article, I am sharing my top 10 food purchases from Thrive!
Two of the biggest obstacles that prevent people from stocking up on nutritious foods are lack of accessibility and cost. Our society is not conducive to an eating environment that makes healthy food accessible at the grocery store, especially in rural areas. When it is accessible, healthy food often has a higher price tag, making it difficult to value the accessibility. Thrive Market has figured out how to improve these issues, providing a way to sell high quality food that is more affordable and much more convenient than going to 10 grocery stores (it literally shows up on your doorstep!).
When I completed my masters in public health nutrition, I spent a semester in Washington DC at the Center for Science in the Public Interest. While at CSPI one of my mentors in nutrition policy, Margo Wootan, said to me, "In order to help people improve their diets on a large scale we need a two pronged approach that includes both education and access. Without access to nutritious foods it doesn't matter how many nutrition facts you know and without education, no one would choose the nutritious options over junk food." Thrive Market very clearly identified the same issues and has committed to improving our food environment. Ordering through companies like Thrive is not just about grocery shopping, it's also a way to take a stand for a more nutritious food environment.
As they say, the most powerful vote you have is your fork! Dig into my top 10 favorite products from thrivemarket.com, all of which are gluten-free and dairy-free!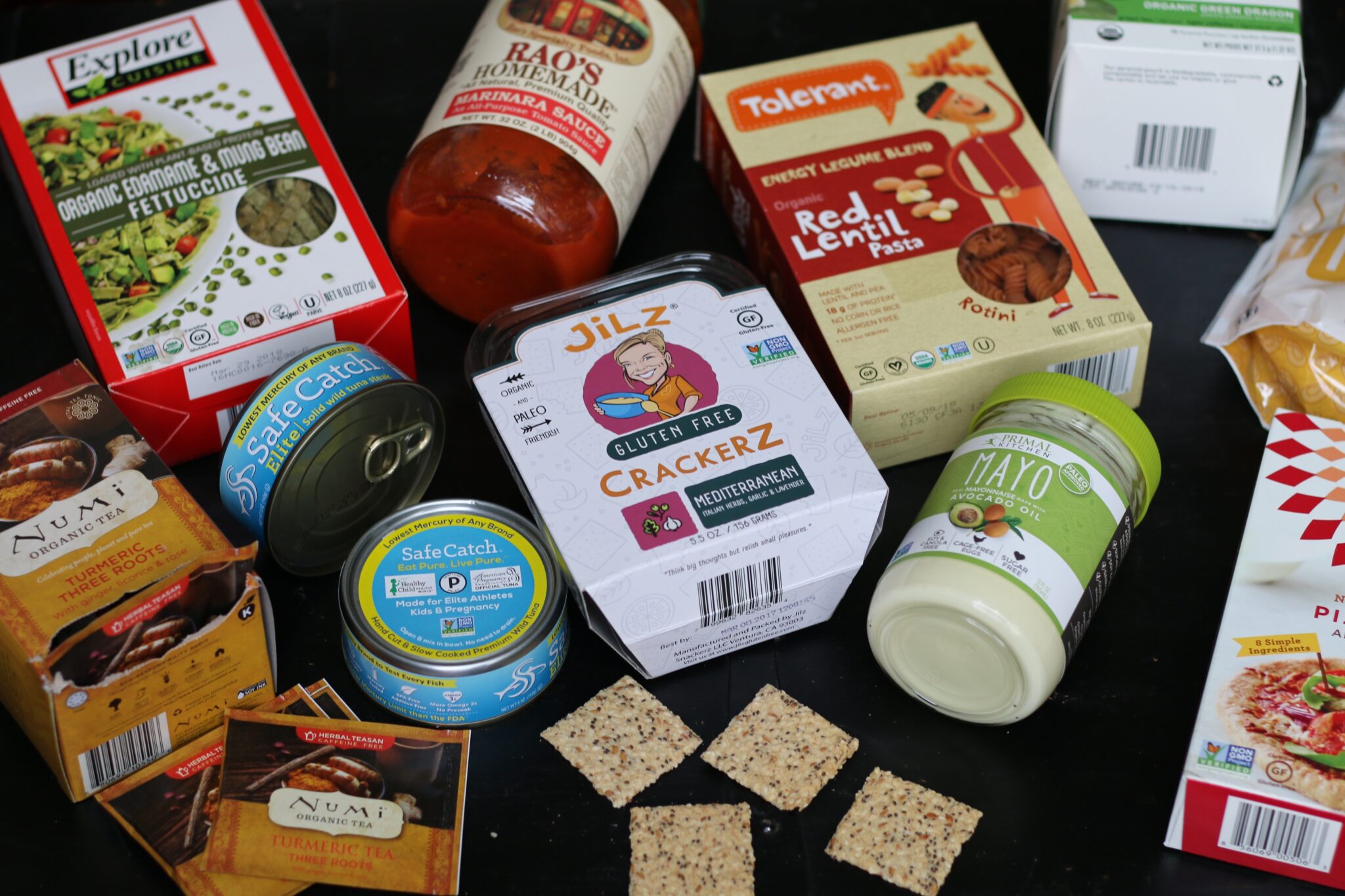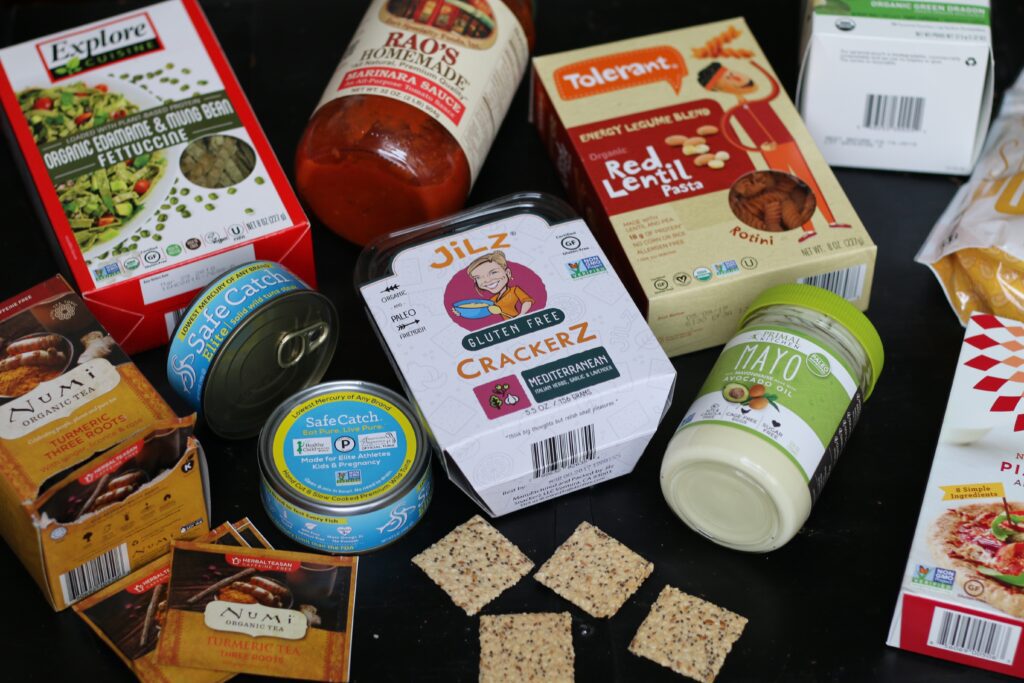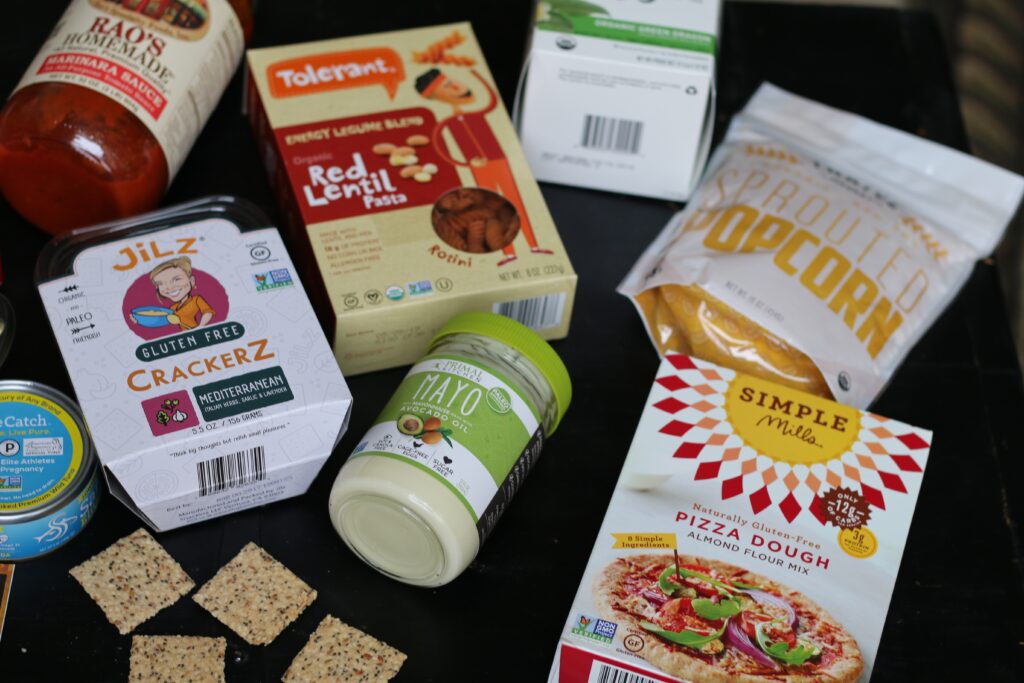 1. Tolerant Red Lentil Pasta $3.79
Lentil pastas like Tolerant's Organic Red Lentil Pasta are changing everything about the way we think of pasta! Most gluten-free pasta companies are made from corn and rice and have an unimpressive fiber and protein content. This Red Lentil Pasta has a much higher nutrient density with one serving providing 16 grams of dietary fiber and 18 grams of protein! Checkout my Arugula Lentil Pasta Salad for one of my favorite ways to prepare this pasta!
2. Explore Cuisine Organic Edamame & Mung Bean Fettuccini $4.29
My other favorite gluten-free pasta-alternative is the Organic Edamame & Mung Bean Fettuccini which is also packed with 11 grams of fiber and 22 grams of protein! This product is also stacked with potassium–36% of the daily value which is especially good for lowering blood pressure. Between this and Tolerant Lentil Pasta, I eat bean or lentil pasta a few times per week because it is so fast, easy and nutritious!
3. Simple Mills Fine Ground Sea Salt Crackers $4.49
Simple Mills produces some of the best grain-free, gluten-free, paleo-friendly crackers that I've ever experienced. It's a great solution to a crunchy snack that is not loaded with empty calories and refined carbohydrates. My favorite is the Fine Ground Sea Salt flavor–especially for dipping in guacamole or hummus!
4. Primal Kitchen Avocado Oil Mayonnaise $7.49
Primal Kitchen is rocking the avocado oil products that are exceptionally rich in healthy fats. Their Avocado Oil Mayonnaise is basically heaven on earth. Instead of using vegetable oils that are higher in pro-inflammatory omega 6 fats, the company uses avocado oil! Avocado oil is one of the most nutritious oils because it is a monounsaturated fat which means lots of heart-healthy, inflammation-fighting benefits. Avocado oil also has a high smoke point which means it is safe to cook at higher temperatures.
5. Rao's Homemade Marinara Sauce $7.49
The only thing that beats homemade marinara sauce is Rao's Homemade Marinara Sauce. After buying Rao's Marinara I cannot buy other brands because they do not compare to the amazing flavor. The other thing I love is that they have a very clean ingredient list: Imported italian tomato, imported olive oil, fresh onions, salt, fresh garlic, fresh basil, black pepper, oregano. Get in on this secret sauce!
6. Safe Catch Elite Wild Skipjack Tuna $3.79
Tuna can traditionally be high in mercury and for my patients that have heavy metal toxicity they cannot eat fish high in mercury. Safe Catch Elite Wild Skipjack Tuna is the perfect solution for all the tuna lovers because they test the level of mercury in all of their fish. Their mercury limit is 10 times lower than the FDAs so they guarantee that their tuna does not lead to high mercury exposure. They also are non-GMO certified and certified Paleo. Genius!
7. Lily's Stevia Sweetened Salted Almond Dark Chocolate Bar $3.79
I consider dark chocolate that is greater than 70% cacao to be a health food! Because you get a ton of those cacao-rich polyphenols that are beneficial for lowering inflammation, improving heart health, fueling brain health and more. My go to chocolate bar of choice is this Lily's Salted Almond Bar that is 70% cocoa. It is lower in sugar than other chocolate bars because it contains stevia and erythritol, a sugar alcohol.
8. Thrive Market Organic Ginger Turmeric Tea $3.49
Turmeric has extremely powerful anti-inflammatory effects and what better way to consume it than through tea?! The Thrive Market Organic Ginger Turmeric Tea blend of organic turmeric, organic ginger, organic licorice, and organic rose is the perfect afternoon pick-me-up. I drink hot tea throughout the entire day, especially in the winter because I find it to be soothing on my stomach.
9. Sprouted Organic Popcorn $4.99
Corn gets a bad rap because of GMO's and because it's more starchy than other vegetables. While I understand those concerns, homemade popcorn has always been one of my favorite snacks. I grew up with my parents and grandparents making popcorn on the stove from a Whirly Pop and this is something that I have continued to make for myself. You can imagine my excitement when Thrive started selling their digestive-friendly Non-GMO Sprouted Popcorn that I cook in coconut oil and top with himalayan salt and sometimes hot sauce!
10. Simple Mills Almond Flour Pizza Dough Mix $6.99
Simple Mills is another stellar company that provides creatively nutritious and tasty crackers and pizza dough. I love making their Almond Flour Pizza Dough Mix and topping it off with Rao's Homemade Marinara and fresh veggies! They have a super clean ingredient list and only 12 grams of carbohydrates per serving. Their ingredients speak for themselves: Almond Flour, Arrowroot, Flax Meal, Cauliflower, Baking Soda, Organic Oregano, Cream of Tartar, Organic Garlic.