Brigid Buddha Bowl
Jump to recipe
This buddha bowl is rich in orange and dark green vegetables to help you boost your vegetable consumption and get closer to your nutrient needs. The combination of roasted vegetables with the creamy zesty dressing makes eating vegetables more enjoyable than ever! It is gluten-free, dairy-free, sugar-free, vegan and pegan.
The Declining Trend of Vegetable Consumption
I'm loving the new Buddha Bowl trend since it's an amazing way to make vegetables trendy. There is a serious need for clever marketing, creativity and trend setting around the vegetable family in order to get us eating more of them! The 2015 Dietary Guidelines that were recently released by the USDA and the Department of Health and Human Services found that 87% of Americans are consuming too few vegetables. That means that most adults are struggling to eat somewhere between 2-4 cups of vegetables per day (recommendations depend on your age and gender) and children are failing to eat 1-3 cups per day. They also found that the average intake of dark green vegetables and red/orange vegetables was far below the recommendation for both males and females in every age group.
The lack of nutrient-dense foods like vegetables in our diet is what is driving our escalating healthcare costs and contributing to the leading causes of death in the United States. It all comes down to the power of your fork. Eating a variety of nutrient-rich vegetables everyday can effectively prevent many of the top leading causes of death such as heart disease, cancer, stroke, diabetes and Alzheimer's disease.
I'm put together my own spin on a Buddha Bowl that includes lots of nutrient-density and will help you meet your overall vegetable needs and is specifically targeting orange and green vegetables! The secret to eating vegetables is enjoying them! That requires a little creativity and delicious recipes like my Brigid Buddha Bowl.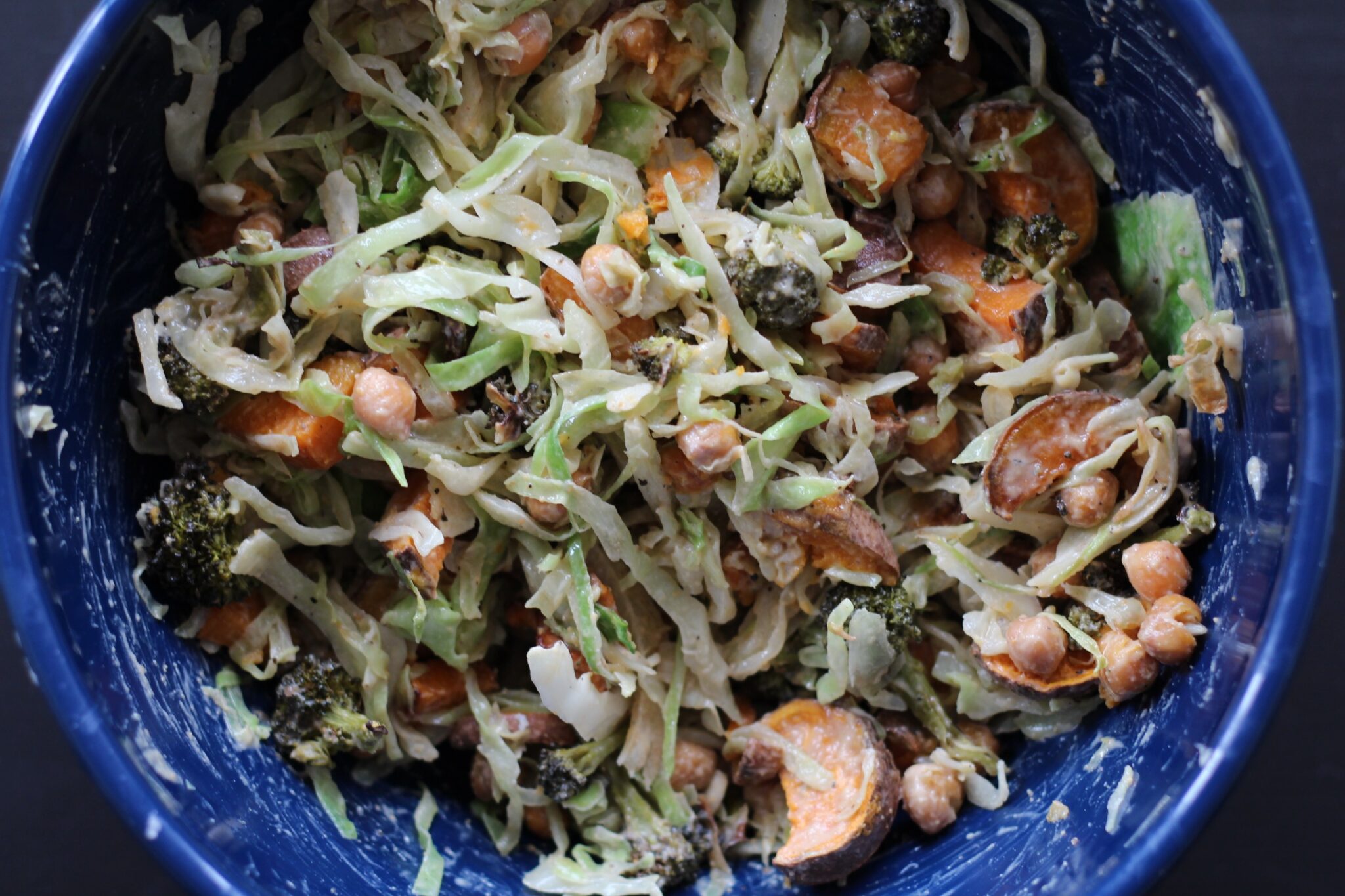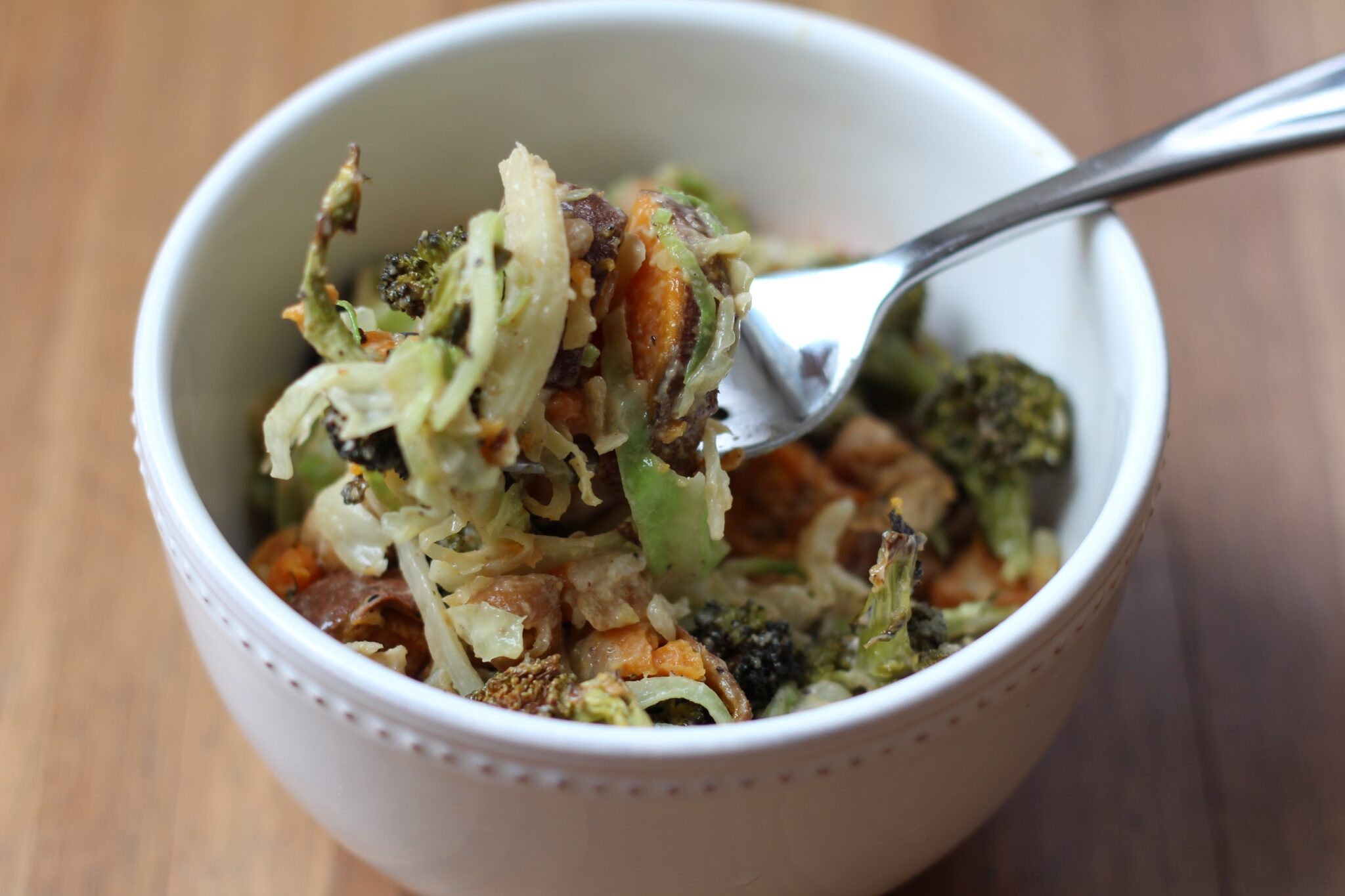 Ingredients
Bowl:
3 sweet potatoes, diced 
1 can chickpeas, drained and rinsed
1 head of broccoli, chopped into small florets  
2 tsp avocado oil 
1 bag shredded cabbage
Dash of sea salt
1 tsp black pepper
Dressing:
1/4 cup nut milk
2 clove garlic, minced
1/4 cup cashew butter 
1 Tbsp Braggs liquid aminos
1/2 lemon 
Dash of sea salt
1 tsp black pepper
Instructions
Preheat the oven to 400 F. 
Use a baking sheet and cover with parchment paper. Add the sweet potatoes, chickpeas and broccoli, spread out evenly.
Drizzle 1 tsp avocado oil on top of vegetables with a dash of salt and pepper.
Bake for a total of 40 minutes, flip the vegetables after the first 20 minutes.
While the vegetables are cooking, begin making the dressing. Add the nut milk, minced garlic, cashew butter, tamari sauce and lemon juice to a food processor and pulse until creamy.
Add 1 tsp avocado oil to a sauté pan over medium heat.
Saute one bag of cabbage for about 5 minutes over medium heat. Add another dash of salt and pepper.
Pour the cabbage in the bottom of the bowl, followed by the sweet potato, broccoli and chickpea mixture. Drizzle on the amazing dressing and you have yourself a buddha bowl!
Nutrition Facts
Brigid Buddha Bowl
Serves: 4
Amount Per Serving:
Calories
396.8kcals
% Daily Value*
Total Fat 13.6g
20.9%
Saturated Fat 2.2g
11%
Trans Fat 0g
Cholesterol 0g
0
Sodium 677.4mg
28.2%
Total Carbohydrate 58.4g
19.5%
Dietary Fiber 14.2g
56.8%
Sugars 12.6g (Added Sugar: 0 g)
Protein 15.4g
| | |
| --- | --- |
| Vitamin A 48% | Vitamin C 149% |
| Calcium 17% | Iron 20% |
* Percent Daily Values are based on a 2,000 calorie diet. Your daily values may be higher or lower depending on your calorie needs.
BeingBrigid
© 2023 Copyright BeingBrigid