Butternut Squash Paleo Breakfast Hash
Jump to recipe
Fill your bellies and hearts with this flavorful butternut squash paleo breakfast hash with veggies and eggs over easy! There is nothing that gives me a rush of excitement like a table filled with tasty brunch food paired with an occasional mimosa. This beautiful paleo breakfast hash is at the top of my brunch menu for 2017 and you'll probably want it to be on yours too! What I absolutely love is that this recipe is such an easy way to get a boatload of veggies into one meal! I also love the naturally bright crayola colors or the savory blend of flavors in this butternut squash paleo breakfast hash! Swap out the sausage and processed meats and refined toast because these fiber-rich veggies are taking over!
Paleo Breakfast Hash Goodness in 2017
I think we all need to celebrate the new year with great friends, family and this super nutritious and vibrant egg dish! Sharing meals with friends and family is one of the best ways to connect with loved ones and the food that you are eating! So make sure you're with some very special people, in a room that's buzzing with positive energy, and filling your bellies with this 5 star (I know I'm biased) dish! Savor this amazing flavor plus some fresh nutritional benefits!
Feel Full and Eat Less
Butternut squash, spinach and onions are all a good source of dietary fiber, which is a key player in feeding good bacteria in the gut and promoting weight loss. A number of studies have shown an inverse association between a higher fiber intake and body weight. So add these veggies to your brunch and get some serious fiber-bang for a healthy weight and gut!
Say Yes to a Youthful Glow
Butternut squash is a rich source of the antioxidant Vitamin C and studies show that a higher intake of this vitamin is associated with anti-aging skin–no botox needed!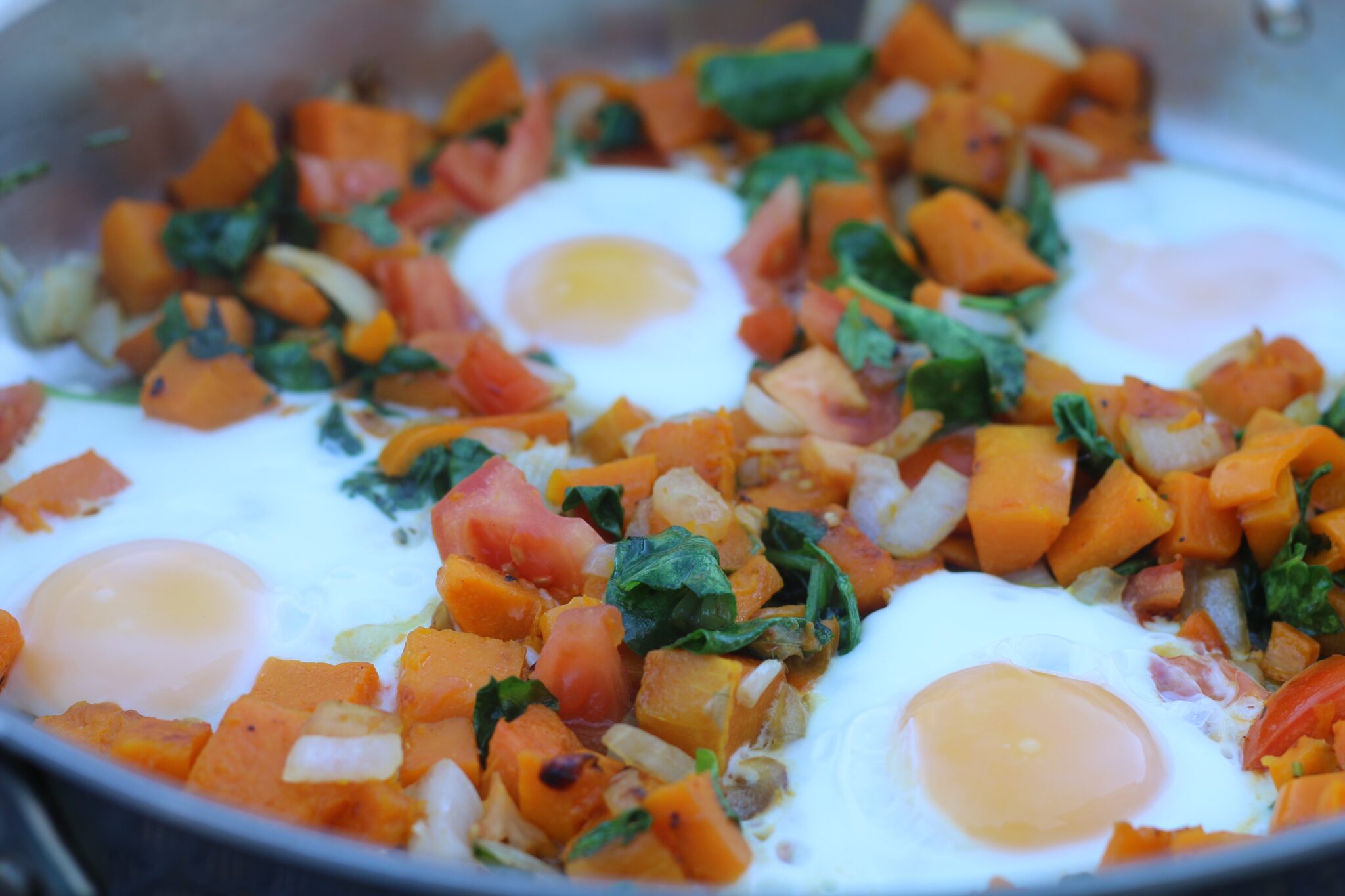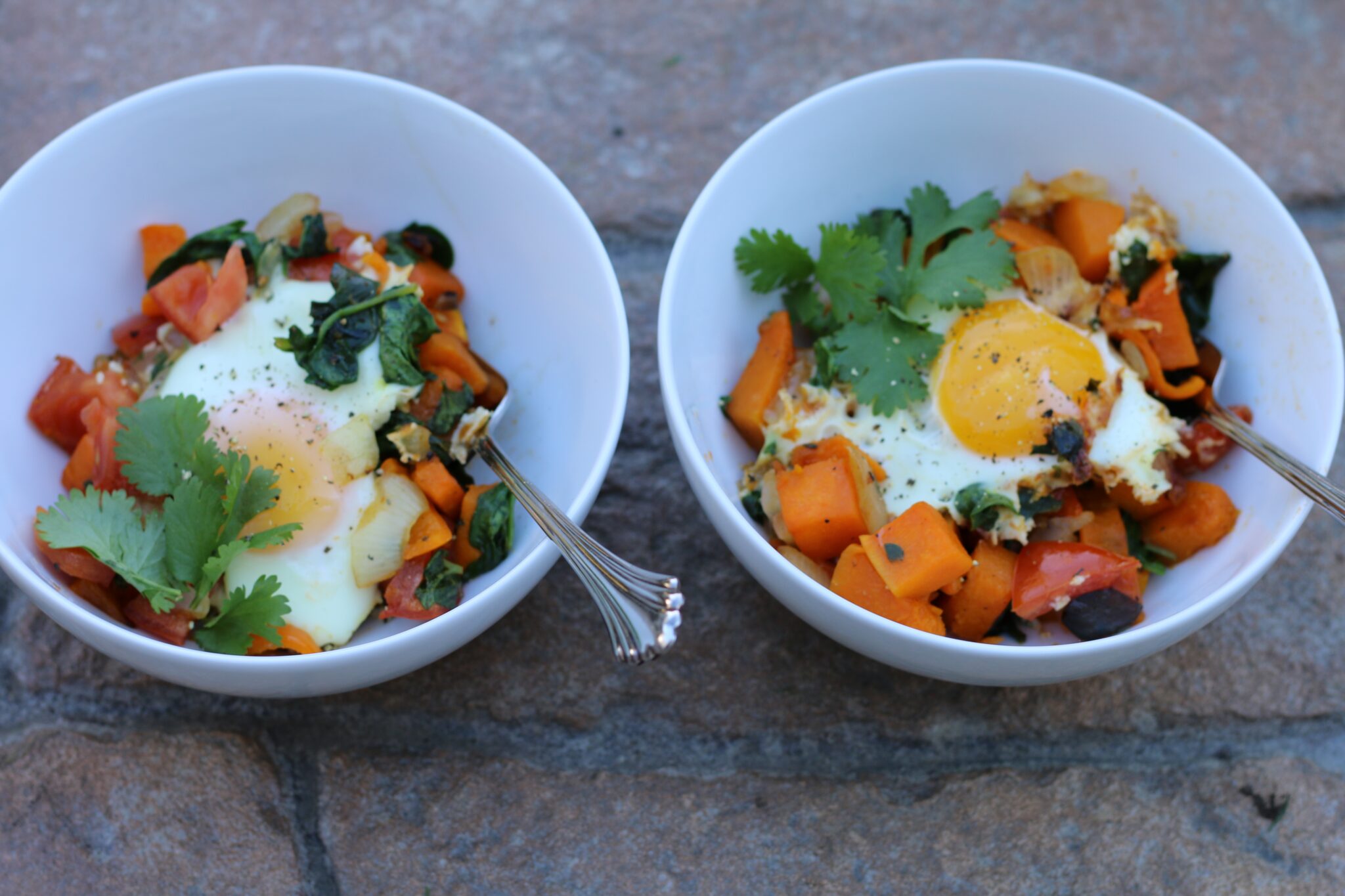 Ingredients
2 cups butternut squash (about one small squash), diced
4 eggs
2 Tbsp extra virgin olive oil
1 tsp coconut oil
1/2 yellow onion, diced
2 cups spinach
1/4 cup cilantro
1/2 bell pepper, diced
1 cup roma tomatoes, diced
Dash of sea salt
1/2 tsp ground black pepper
1 tsp garlic powder
Instructions
Preheat the oven to 425 F.
Add the butternut squash to a medium size bowl and evenly coat with extra virgin olive oil, salt, pepper, and garlic powder.
Pour the squash onto a baking sheet and spread out evenly.
Bake the butternut squash for 20-25 minutes.
In a large saute? pan heat the coconut oil over medium heat.
Add the diced onion and bell pepper to the pan and cook for about 3-5 minutes.
Remove the butternut squash from the oven and add it to the pan, in addition to the spinach, tomatoes & cilantro.
Saute? the vegetables for an additional 5 minutes, stirring frequently.
Use a spoon to create four small holes and add one egg to each hole.
Cover the pan for about five minutes or until desired doneness.
Optional Toppings: salsa, avocado slices, hot sauce, beaumonde, etc.
Nutrition Facts
Butternut Squash Hash with Eggs Over Easy
Serves: 2
Amount Per Serving:
Calories
388
% Daily Value*
Total Fat 25 g
38.5%
Saturated Fat
0
Trans Fat
Cholesterol
0
Sodium 355 mg
14.8%
Total Carbohydrate 30 g
10%
Dietary Fiber 5 g
20%
Sugars 9 g (Added Sugar: 0 g)
Protein 14 g
| | |
| --- | --- |
| Vitamin A | Vitamin C |
| Calcium | Iron |
* Percent Daily Values are based on a 2,000 calorie diet. Your daily values may be higher or lower depending on your calorie needs.
BeingBrigid
© 2022 Copyright BeingBrigid