Paleo Cauliflower Fritters
Jump to recipe
Cauliflower Fritters can be the perfect addition to any breakfast or dinner. They are very simple to make and a great way to incorporate vegetables into virtually any meal! This fresh side dish is made of ingredients loaded with healthy monounsaturated fats and lutein from the avocado plus potassium, magnesium and vitamin B6 from both the avocado and cauliflower.
If you ask me, cauliflower is one of the most fabulous and versatile vegetables ever made by nature. Try using cauliflower to make fritters, rice, mashed potatoes, pizza –the options are endless! Within the last year it seems that cauliflower rice has become a true favorite to so many, including myself. I usually rice my own cauliflower with a food processor but on weeks that I am really busy I buy it pre-riced from the grocery store. Trader Joe's and Heinen's sell cauliflower in it's riced state which can be a serious time saver! When making this recipe you can either buy the cauliflower riced or make it on your own–whatever works best for you.
Don't Forget the Avocados!
The second main ingredient, avocados, happen to be another favorite of mine. Not only are they so tasty and versatile but their nutritional benefits are also backed up by a number of different research studies. A 2013 study assessed the dietary recall of 17,567 adults and found that adults who had consumed avocado in a 24 hour period were more likely to have a lower BMI and higher nutrient intake. Avocado eaters had a higher intake of total fat, monounsaturated and polyunsaturated fats, dietary fiber, vitamins E, K, magnesium, potassium, and vitamin K. So load up on these cauliflower fritters for a burst of nutrients from two of my all-time favorites!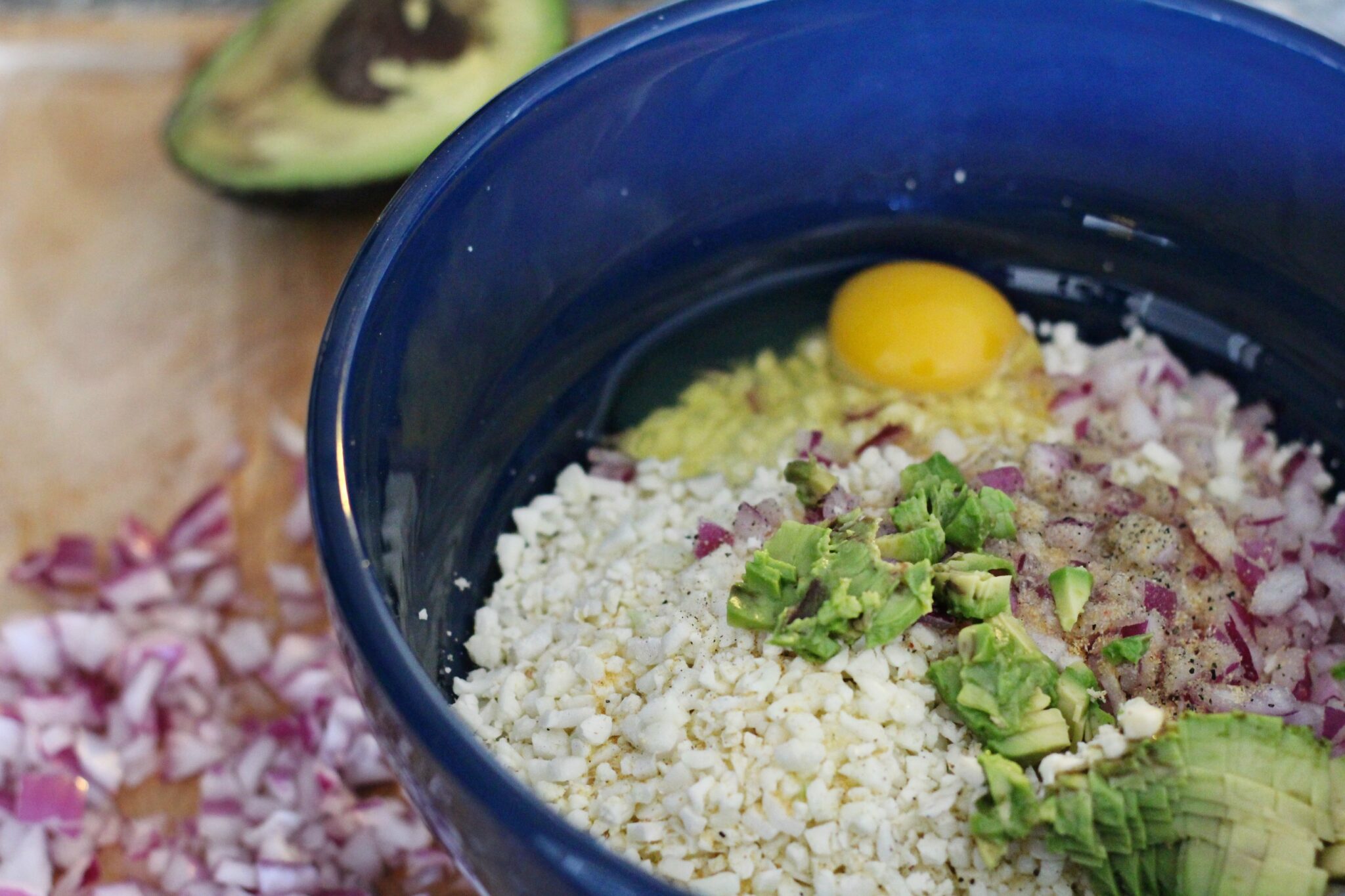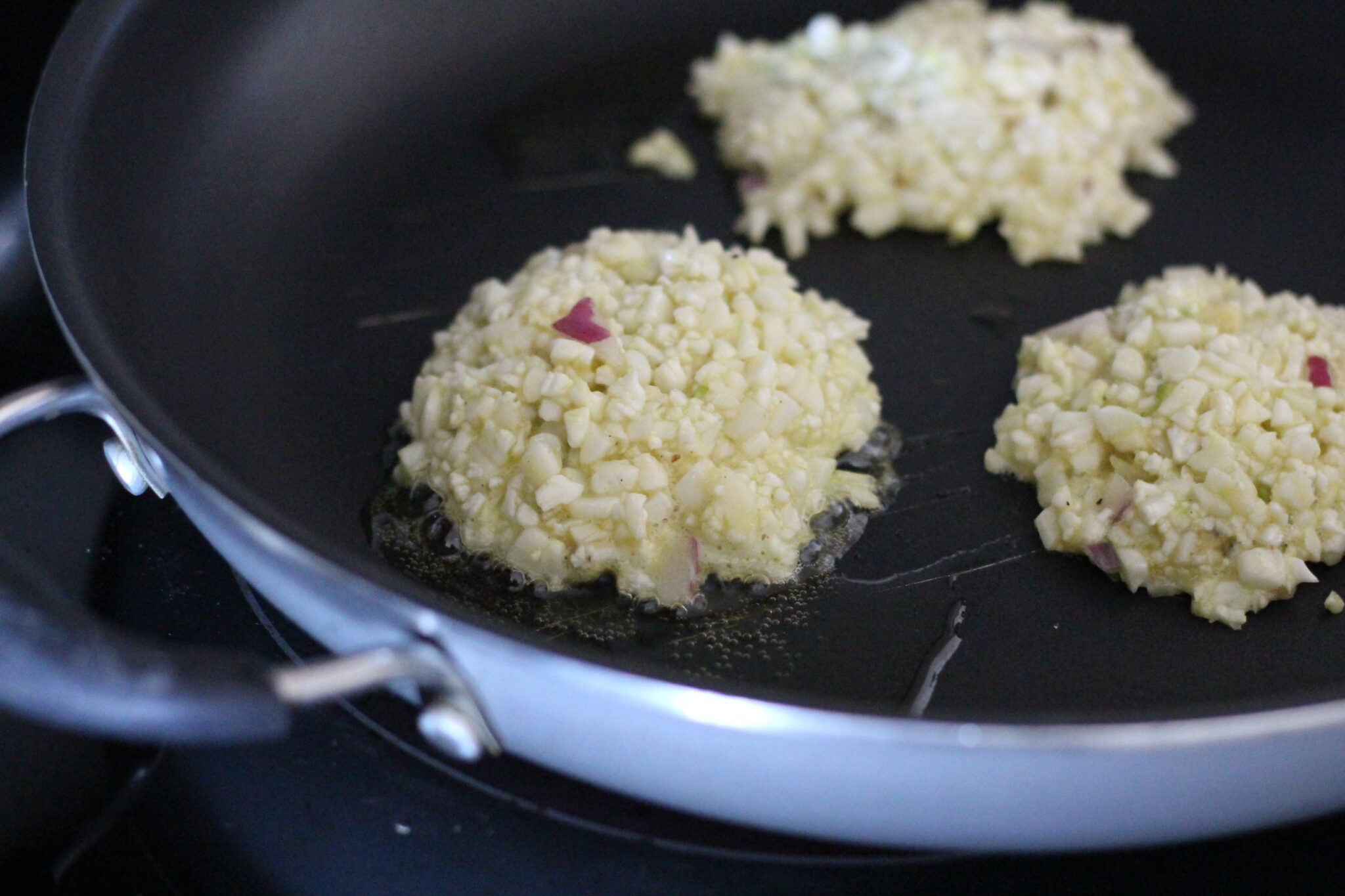 Ingredients
2 cups cauliflower, riced
1/4 cup red onion, diced
3 eggs
1/2 avocado
1 tsp sea salt
1 tsp black pepper
1 tsp garlic powder
2 Tbsp cilantro, chopped
1 Tbsp Extra Virgin Olive Oil
Instructions
In a medium sized bowl mix the riced cauliflower with diced red onion and eggs.
Cut avocado into small chunks and stir it into the cauliflower.
Add the salt, pepper, garlic powder and cilantro for seasoning and stir.
In a large skillet heat 1 Tbsp EVOO over medium heat.
Use your hands to form the cauliflower mixture into the shape of small, flat pancakes. Pat them multiple times if they feel like they will lose their shape.
Add the pancakes to the skillet and allow for it to cook for 3 minutes. At this point the cakes will stay together better.
Flip the pancake and let it cook for 3 minutes on the opposite side.
Nutrition Facts
Cauliflower Fritters
Serves: 4 servings
Amount Per Serving:
Calories
136.5
% Daily Value*
Total Fat 9.8g
15.1%
Saturated Fat 2g
10%
Trans Fat 0g
Cholesterol 138.8mg
46.3%
Sodium 653.1mg
27.2%
Total Carbohydrate 6.2g
2.1%
Dietary Fiber 2.9g
11.6%
Sugars 1.9g (Added sugar: 0g)
Protein 6.5g
| | |
| --- | --- |
| Vitamin A 5% | Vitamin C 4% |
| Calcium 4% | Iron 4% |
* Percent Daily Values are based on a 2,000 calorie diet. Your daily values may be higher or lower depending on your calorie needs.
BeingBrigid
© 2023 Copyright BeingBrigid