Chocolate Cashew Chia Pudding
Jump to recipe
Chia seed pudding is the perfect meal prep go-to for breakfasts or snacks for the week. Whip up this Chocolate Cashew Chia Pudding during your Sunday meal prep for five nutritious breakfasts, loaded with delicious ingredients such as cashew butter, full-fat coconut milk and cacao powder.
The Benefits of Chia Seeds
The base of this bad boy chia pudding is pretty obvious: chia seeds! These plant-based seeds pack in great nutritional benefits such as providing a rich source of dietary fiber, healthy omega 3 fats, plant-based protein, and antioxidants. When you soak chia seeds in water or any liquid, the seeds gelatinize and swell, leading to a rich and thick pudding. Added bonus: the gel-like fiber consistency will get your bowels moving, quickly! Pro tip: be sure to drink enough water!
What's different about this recipe compared to previous chia seed pudding recipes is the addition of cacao powder. The purpose of adding cacao was to put a chocolaty spin on a traditional chia seed pudding recipe. Cacao powder is the raw form of cocoa powder, which is 100% chocolate powder with no added milk or sugar. When eaten on it's own, cacao powder is very bitter. But thanks to the addition of the full-fat coconut milk and the cashew butter, the cacao powder in this Chocolate Cashew Chia Pudding, it tastes rich and chocolaty–no bitterness!
Adding cacao powder to any dish will help boost the polyphenol and antioxidant content. Why is this important? For many reasons. Cacao polyphenols have been found to protect against free radicals, support levels of healthy bacterial strains in the gut and protect against arterial clogging.
This Chocolate Cashew Chia Pudding tastes pretty much the same as a chocolate donut for breakfast, only better (in more ways than one!). Dive into this chia seed pudding recipe and don't forget to add the strawberries on top!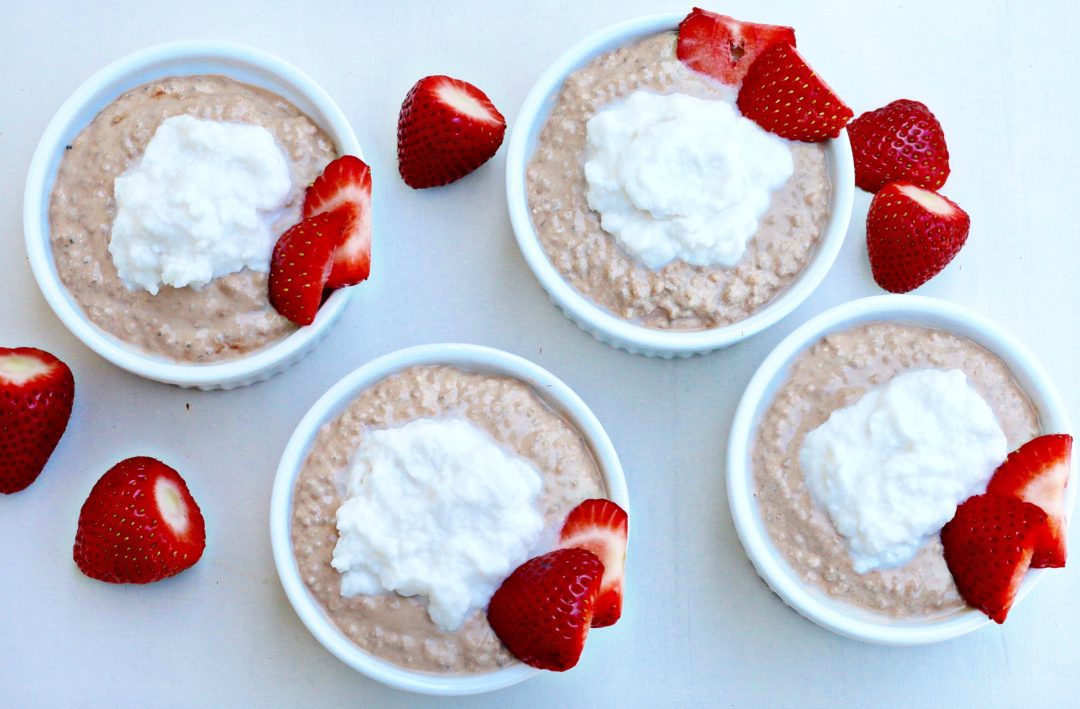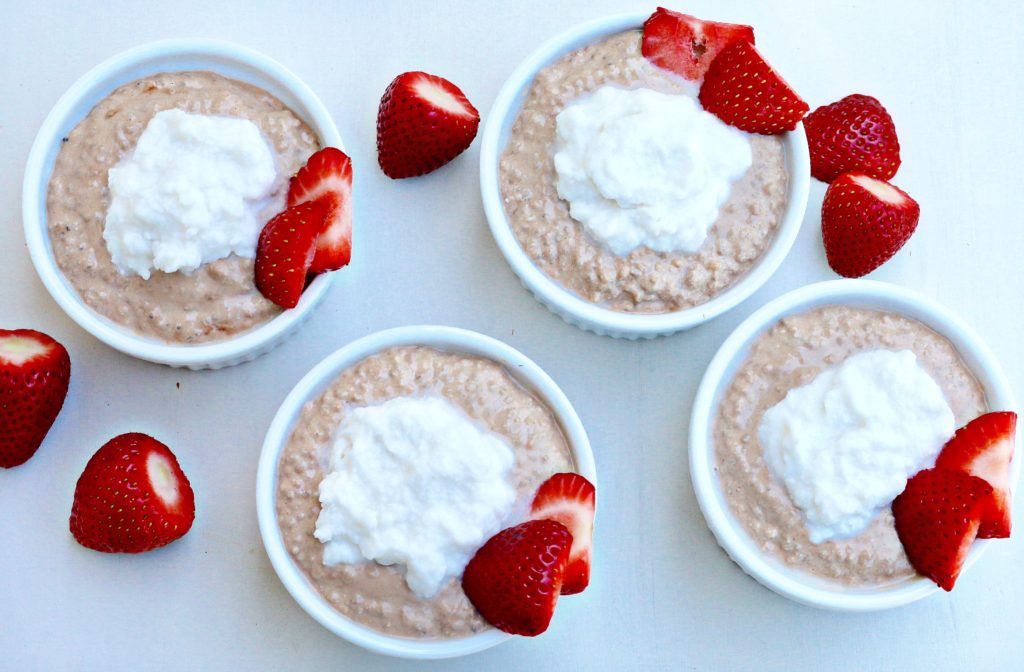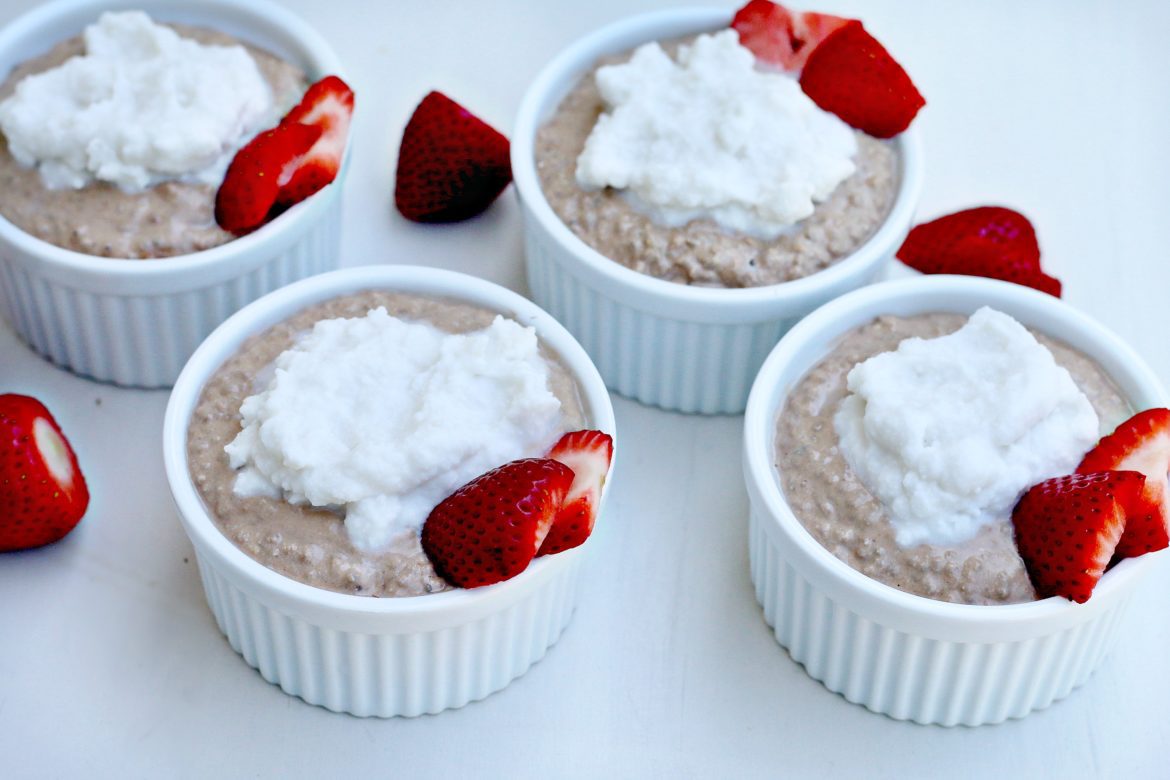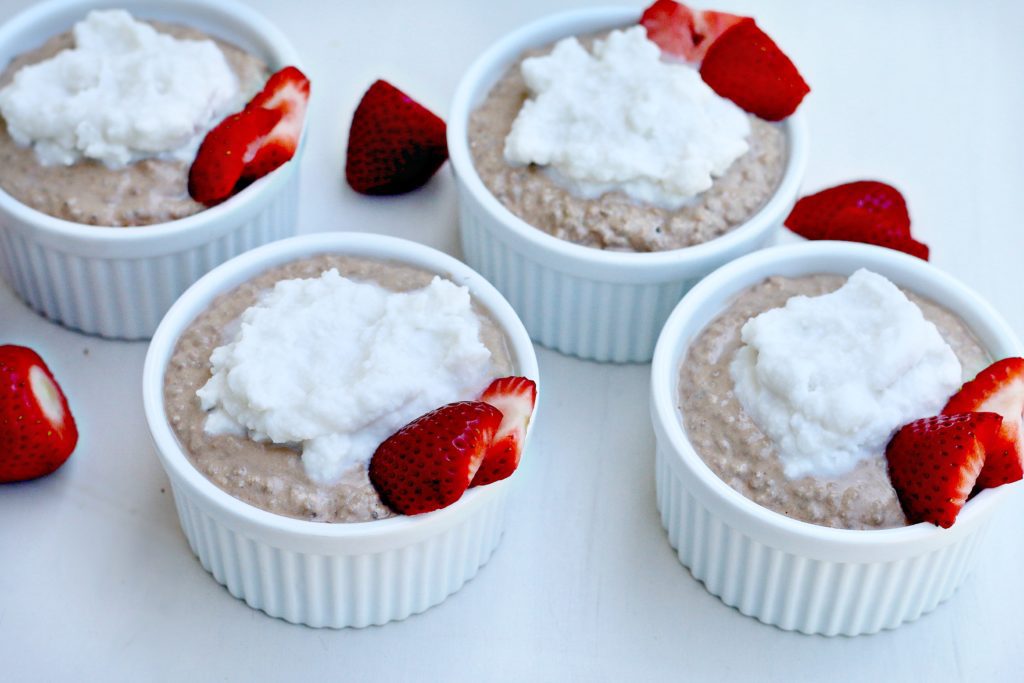 Ingredients
2 cups almond milk, unsweetened 
1/2 can full-fat coconut milk 
1/2 cup chia seeds
1 tbsp vanilla extract 
2 tbsp collagen powder
2 tbsp cacao powder 
1/4 cup cashew butter
2 cups strawberries
Instructions
In a medium size bowl mix almond milk, full-fat coconut milk, chia seeds and vanilla extract.
Whisk all ingredients together.
Mix in collagen powder and cacao powder.
Add cashew butter and continue mixing until there's a smooth consistency. 
Top with strawberries.
Nutrition Facts
Chocolate Cashew Chia Pudding
Serves: 5
Amount Per Serving:
Calories
267kcals
% Daily Value*
Total Fat 19.4g
29.8%
Saturated Fat 8.1g
40.5%
Trans Fat 0g
Cholesterol 0mg
0
Sodium 87.6mg
3.7%
Total Carbohydrate 18.9g
6.3%
Dietary Fiber 8.1g
32.4%
Sugars 5.5g
Protein 7.7g
| | |
| --- | --- |
| Vitamin A 0% | Vitamin C 60% |
| Calcium 30% | Iron 23% |
* Percent Daily Values are based on a 2,000 calorie diet. Your daily values may be higher or lower depending on your calorie needs.
BeingBrigid
© 2023 Copyright BeingBrigid
[/et_pb_text][/et_pb_column][/et_pb_row][/et_pb_section]