Creamy Fennel Kale Chicken
Jump to recipe
This dish has all the benefits of a healthy serving of daily greens wrapped up with the subtle flavors of fennel and leeks. Paired with the chicken for protein, this is a flavorful dish that comes together almost as quickly as any convenience food, and is sure to leave you feeling both nourished and satisfied.
Improved Cognitive Health
Kale is a healthy nutrient dense food that is a versatile and tasty addition to any meal. Like many leafy greens, is high in antioxidants, Vitamin K, calcium, and folate. Folate and calcium are important for normal bone health. Folate is one of several essential vitamins that plays an important role in DNA synthesis. It's presence in your diet encourages healthy cell and tissue growth. Additionally, a recent study published in Neurology, showed that consumption of 1 serving per day of green leafy vegetables was associated with slower cognitive decline.
A Note on Fats
This recipe is baked at 400 F, so choosing the right oil is important. We use avocado oil because, in addition to having a beneficial fatty acid profile, can withstand high temperatures without oxidizing. Avocado oil also has a high smoke point (485F). We are concerned with the former, while culinary professionals are concerned with the latter. The point at which an oil smokes (and thus affects the flavor of the food) and the point at which it oxidizes when exposed to heat, can be very different. Smoke point is a metric that is easy to define. Put simply, it is the point at which an oil, when exposed to heat, begins to produce smoke. Oxidation can occur at much lower temperatures. When a fat is oxidized, it produces free radicals that can be toxic and disruptive to the body.
You may have heard of unsaturated and saturated fats. This classification refers to the number of hydrogen molecules attached to a fatty acid. Saturated fats are fully saturated with hydrogen molecules, whereas, monounsaturated, polyunsaturated and unsaturated fats have several hydrogen molecules "missing". The more hydrogen molecules the fatty acid lacks, the more unstable it is, and the more susceptible it is to oxidation. Most oils are a mixture of saturated and unsaturated fatty acids, so the fatty acid profile is what we need to decipher in order to determine the suitability of a particular oils for cooking.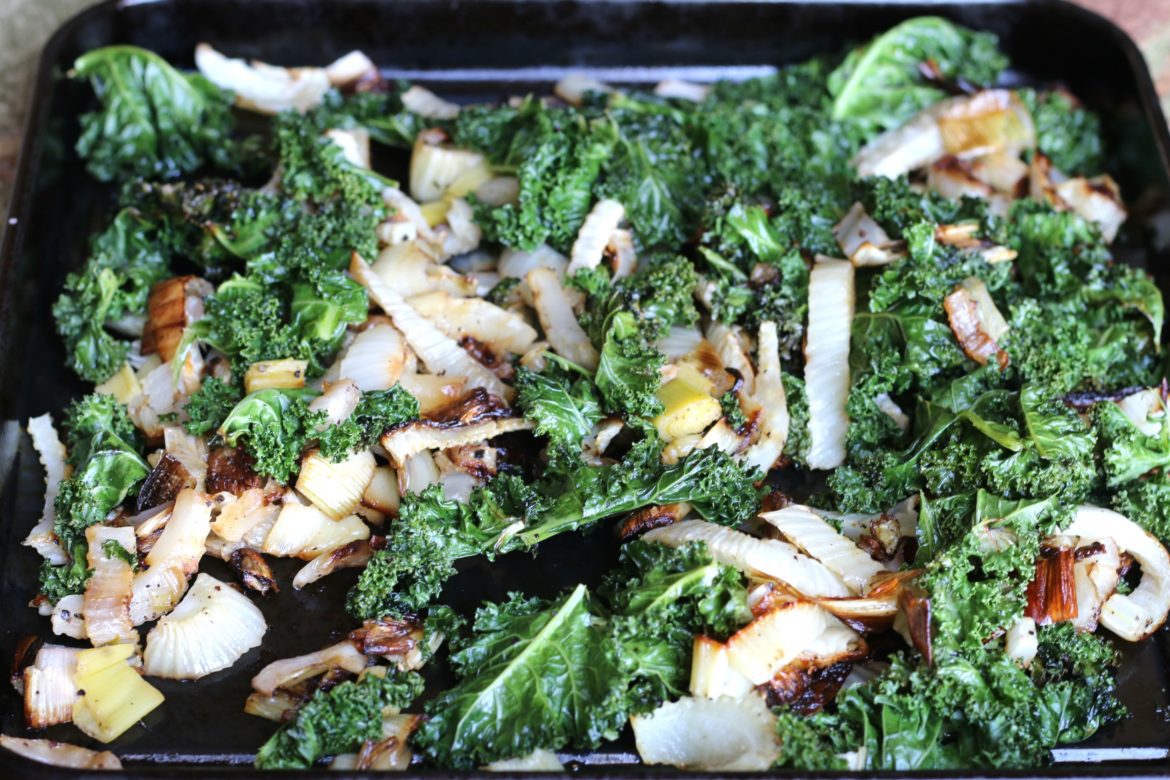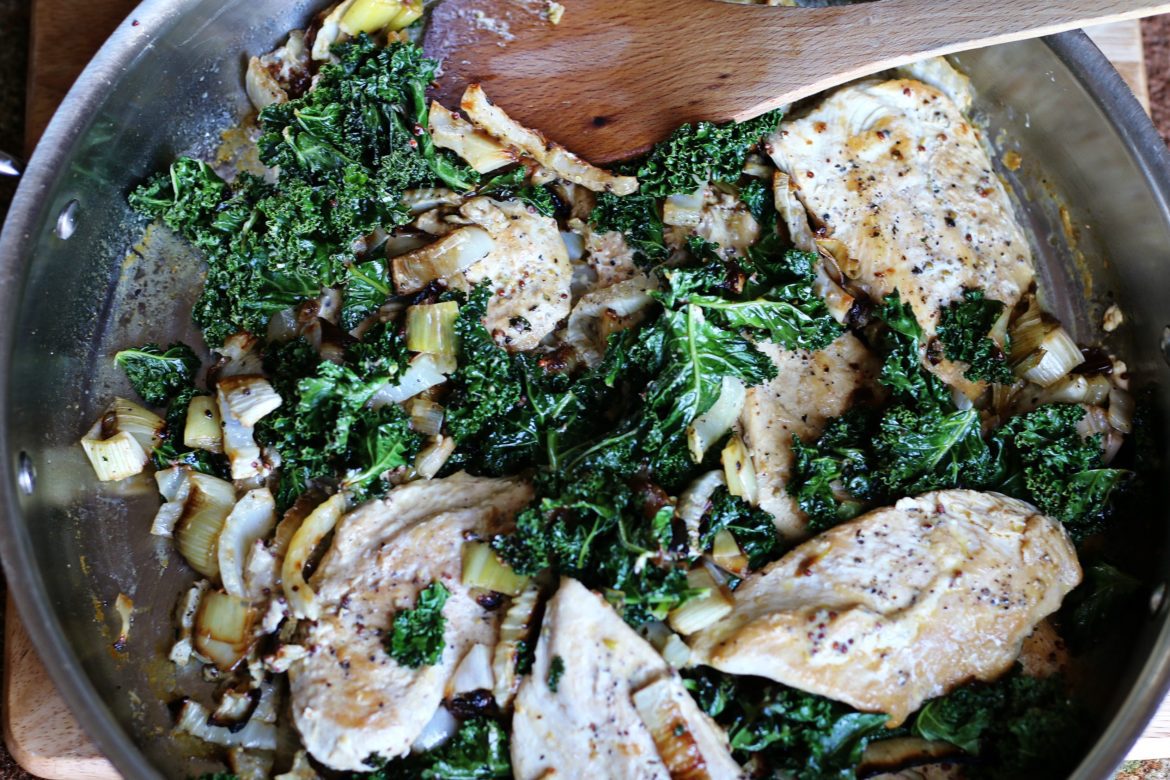 Ingredients
2 medium leeks, thinly sliced 
2 medium fennel, cored and thinly sliced
1/4 cup avocado oil  
1/4 tsp himalayan salt 
Dash black pepper
5 cups curly kale, chopped
1 lb organic chicken breast cutlets, skinless
1/2 cup organic chicken broth, low sodium 
1/4 cup almond yogurt, unsweetened
1 Tbsp whole grain mustard 
Instructions
Preheat oven to 400 F. 
On a baking sheet, place prepared fennel and leeks. 
Toss vegetables with 2 tbsp avocado oil, himalayan salt and dash black pepper. 
In a separate bowl, massage kale with 1 tbsp avocado oil, dash of salt and pepper and set the kale aside. 
Bake fennel and leeks for 40 minutes and add kale to the baking sheet for the last 10-12 minutes of baking. 
Heat 1 tbsp avocado oil in a large pan, over medium heat. 
Add chicken and sauté until lightly cooked, about 3-4 minutes per side. 
In a small bowl, mix almond yogurt, chicken broth and mustard and pour on top of chicken.
Add the roasted vegetables to pan and continue to heat for 3 minutes. 
Nutrition Facts
Creamy Kale Fennel Chicken
Serves: 4 servings
Amount Per Serving:

1 serving

Calories
434.4kcals
% Daily Value*
Total Fat 21.6g
33.2%
Saturated Fat 3.4g
17%
Trans Fat 0g
Cholesterol 97.6mg
32.5%
Sodium 227.7mg
9.5%
Total Carbohydrate 19.8g
6.6%
Dietary Fiber 7.4g
29.6%
Sugars 7.6g (added sugar: 0g)
Protein 41.4g
| | |
| --- | --- |
| Vitamin A 36% | Vitamin C 186% |
| Calcium 11% | Iron 20% |
* Percent Daily Values are based on a 2,000 calorie diet. Your daily values may be higher or lower depending on your calorie needs.
BeingBrigid
© 2023 Copyright BeingBrigid
Contributor: Rachel Gollub