Cucumber & Cashew Mint Salad
Jump to recipe
Avocado, blueberry, mint and cashews are the perfect ingredients to combine into a cucumber salad! The combination provides a burst of color and flavor that you won't want to miss out on! This crunchy and refreshing salad is gluten-free and dairy-free plus it's paleo, vegan and pegan friendly!
Eating the Rainbow
I was on a panel for an amazing women's health event last night and many of the women asked how they could lower their blood pressure, reduce their pain associated with osteoarthritis, decrease pain medications, etc. I was the only dietitian on the panel but it was amazing that all of the doctors and the pharmacist advised people to make dietary changes for a number of different problems. Obviously I always make these recommendations but it was so refreshing to see a panel of three physicians and one pharmacist respond to questions with a lifestyle medicine mindset. One of my biggest recommendations was to make half of your plate non-starchy vegetables and incorporate a lot of different colors because studies show that a variety of colors in your diet can decrease oxidative stress. Aim for getting every color of the rainbow everyday!
In this cucumber recipe, we've taken care of the yellow (lemon) green (cucumber, mint and avocado), purple (red onion), blue (blueberries), and white/tan/brown (cashews). So all you have left to incorporate are red and orange. I was eating this salad non-stop over the summer because the colors are so nutritious and aesthetically pleasing! It's perfect on salad, quinoa, ground meat–literally the options are endless. Throw the colors of this salad together in no time and taste the rainbow!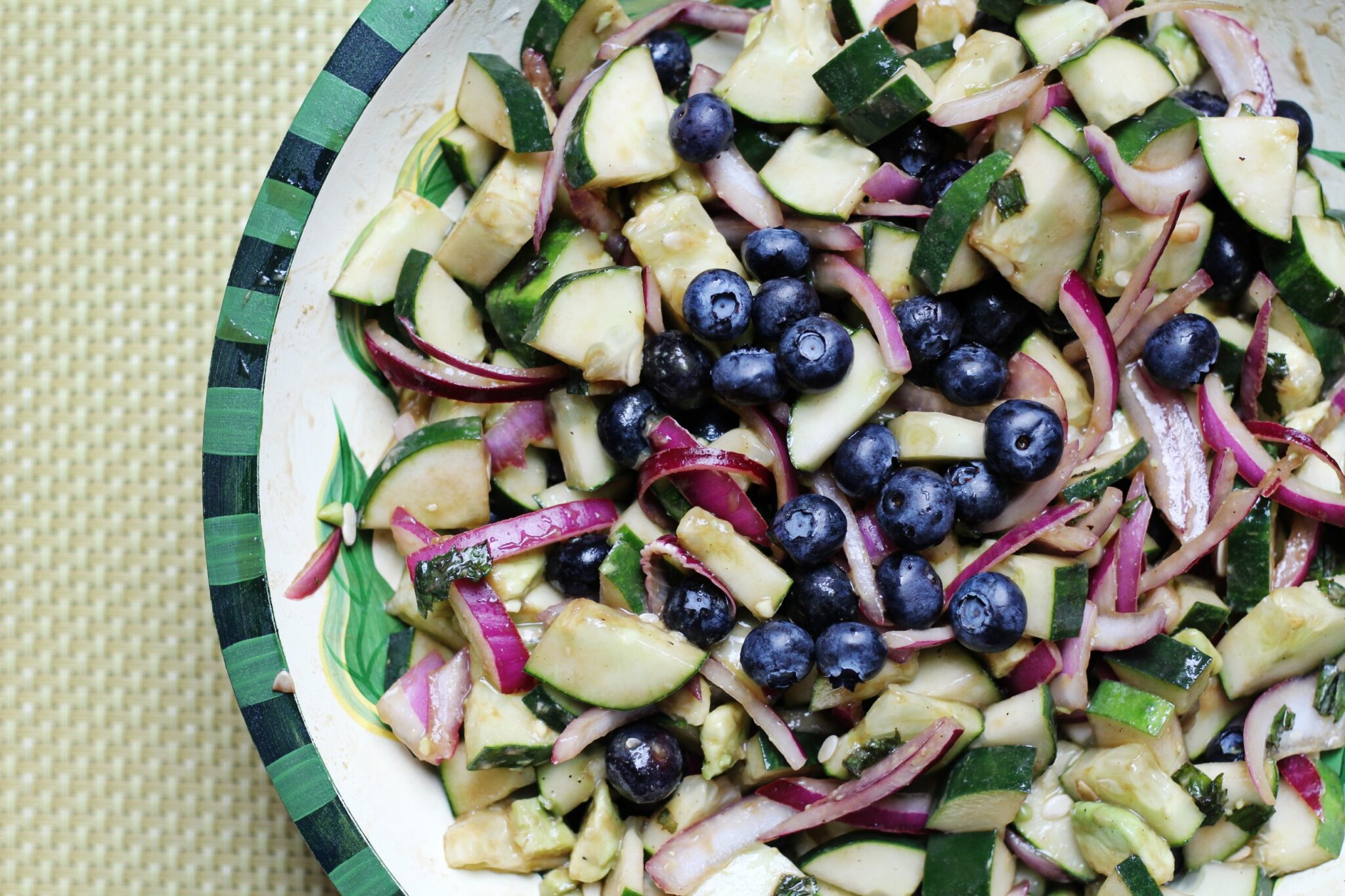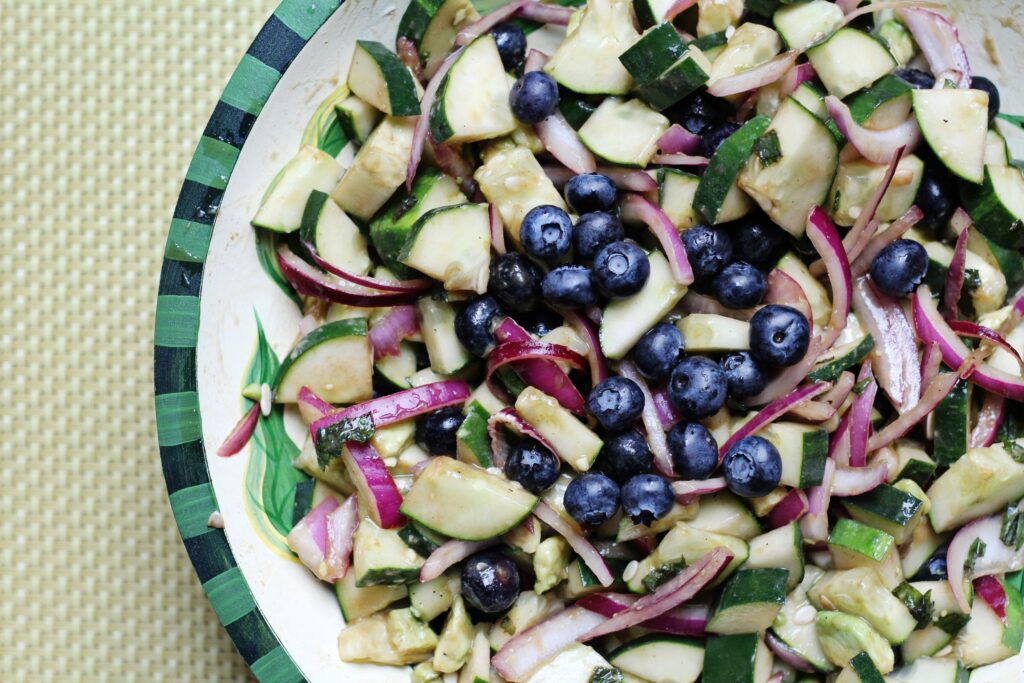 Ingredients
1 cucumber, diced
1 cup red onion, stripped
1 avocado, diced
1 cup blueberries
1/2 cup roasted cashews
1 Tbsp mint, minced
Dash of salt
1 tsp black pepper
1/2 lemon (juice)
2 Tbsp balsamic vinegar glaze
Instructions
In a large bowl mix the diced cucumber, red onion slices, blueberries, roasted cashews, avocado, and mint.
Top with lemon juice, balsamic vinegar and salt and pepper.
Mix the ingredients together and enjoy!
Nutrition Facts
Cucumber & Cashew Mint Salad
Serves: 4 servings
Amount Per Serving:
Calories
226.7kcals
% Daily Value*
Total Fat 13.3g
20.5%
Saturated Fat 2.3g
11.5%
Trans Fat 0g
Cholesterol 0mg
0
Sodium 47.9mg
2%
Total Carbohydrate 25.4g
8.5%
Dietary Fiber 5.6g
22.4%
Sugars 11.6
Protein 4.6g
| | |
| --- | --- |
| Vitamin A 0% | Vitamin C 22% |
| Calcium 4% | Iron 11% |
* Percent Daily Values are based on a 2,000 calorie diet. Your daily values may be higher or lower depending on your calorie needs.
BeingBrigid
© 2023 Copyright BeingBrigid