Cupid's Dark Chocolate Grain-free Brownies
Jump to recipe
This recipe is the perfect blend of eggs, avocados, black beans, and coconut oil–and no we aren't making omelettes! We're serving up brownies that will meet all of your chocolate-loving needs while still keeping it nutritious! Whether you are making brownies for yourself or your lover on Valentine's Day or celebrating an amazing four weeks of the HealthySelf Reset, this chocolaty chocolate brownie recipe will provide you full-fledged joy and happiness! The only added sugar comes from the dark chocolate chips–no other source in the entire recipe! Enjoy this nutrient-dense treat that is gluten-free, dairy-free and grain-free.
Dark Chocolate vs. Milk Chocolate
Dark chocolate has amazing health benefits due to a high flavonoid content in raw cacao (the unprocessed version of chocolate). The biggest perks involve improved heart health and gut health. In order to get the most nutritional bang for your buck you'll want to make sure that you eat chocolate with the highest cacao/cocoa content. Higher cacao content and less processing/fermenting means more flavanols or antioxidants. In order to get 200 mg of flavanols from chocolate, you could eat 1 ¾ tbsp. cocoa powder (20 calories) or 10.5 oz of milk chocolate (1,580 calories). In other words, always aim for raw cacao powder, cocoa powder or chocolate bars that are >70% cacao. The more cacao and less sugar means greater health benefits for fewer calories! Get excited about these additional benefits of dark chocolate:
Contains Polyphenols that Promote Growth of Good Gut Bacteria
Want a healthy gut? Start eating more dark chocolate. Consumption of dark chocolate has been shown to lead to higher levels of lactobacilli and bifidobacteria (aka the good guys) and less growth of pathogens (aka the bad guys). Throw that cacao powder in your smoothie for some extra gut-healthy benefits! Or chow down on cupid's dark chocolate brownies!
Quenches Inflammation
The antioxidants in dark chocolate can literally decrease inflammation! Not only will it bring you comfort but researchalso shows that dark chocolate scavenges free radicals and can lower a marker of inflammation called NF-kB.
Decreases Blood Pressure
Get your blood flowing by eating some flavanol-rich dark chocolate and it might even help lower your blood pressure! Research has shown that dark chocolate can help reduce blood pressure in patients with hypertension. Load up on your potassium rich foods and a few squares of >70% dark chocolate for healthier blood pressure levels!
Improves Cholesterol Levels
Not only do the polyphenols in dark chocolate improve your blood flow but research shows it can also help lower bad cholesterol that increases risk of atherosclerosis (LDL cholesterol levels). It has also been shown to increase good cholesterol (HDL) which further reduces risk of Cardiovascular Disease.
Enjoy these amazing benefits of cacao/cocoa, in addition to the incredible taste of these grain-free brownies! Wishing you a happy and love-filled Valentine's Day!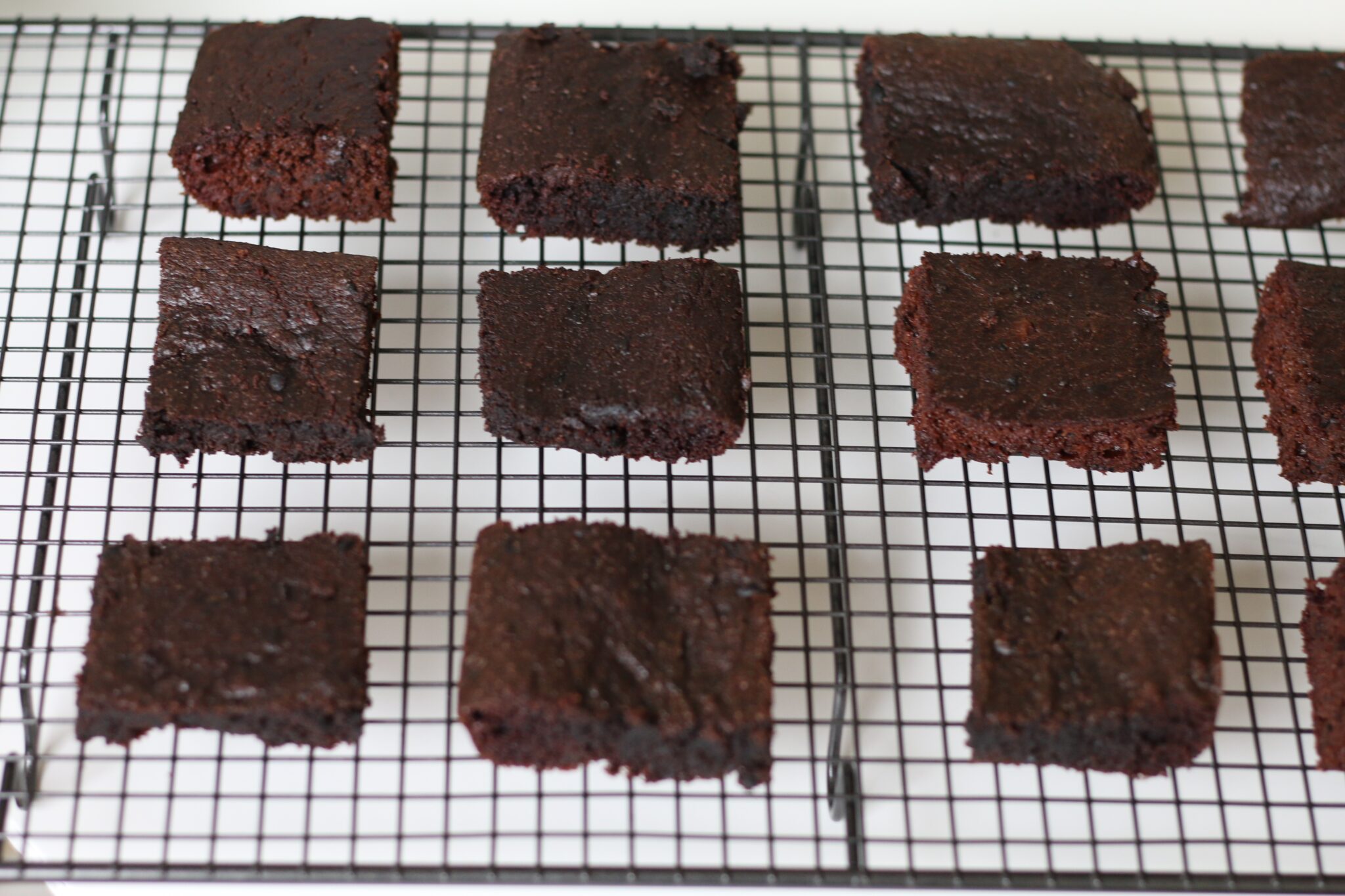 Ingredients
1 cup dark chocolate chips, melted (use dairy-free chips for those avoiding dairy)
3 eggs 
1/2 tsp vanilla extract 
1 cup almond flour
1/4 cup coconut oil
1 tsp baking soda
1/2 tsp sea salt
1/3 avocado
1 tsp coconut oil
½ cup black beans
Instructions
Preheat the oven to 350 F. 
In a small bowl add the black beans and avocado and mash with a fork until smooth.
Melt the dark chocolate chips in the microwave. After they've melted, mix in coconut oil.
In a separate mixing bowl add the eggs, vanilla extract, mashed avocado/black beans.
Pour the melted chocolate chips and coconut oil into the egg mixture and stir well. 
In a large mixing bowl, combine almond flour, baking soda and sea salt. 
Pour the wet ingredients in the large bowl of dry ingredients and stir well. 
Grease an 8x8 pan with 1 tsp coconut oil and pour the batter into the pan. 
Bake for 20-25 minutes. 
Nutrition Facts
Cupid's Dark Chocolate Grain-free Brownies
Serves: 12 Brownies
Amount Per Serving:

1 Brownie

Calories
227.2kcals
% Daily Value*
Total Fat 19.6g
30.2%
Saturated Fat 10.1g
50.5%
Trans Fat 0g
Cholesterol 46.3mg
15.4%
Sodium 248.7mg
10.4%
Total Carbohydrate 14.7g
4.9%
Dietary Fiber 4.7g
18.8%
Sugars 7.1 g
Protein 5.4g
| | |
| --- | --- |
| Vitamin A 2% | Vitamin C 1% |
| Calcium 3% | Iron 24% |
* Percent Daily Values are based on a 2,000 calorie diet. Your daily values may be higher or lower depending on your calorie needs.
BeingBrigid
© 2023 Copyright BeingBrigid