Green Pea & Chicken Casserole
Jump to recipe
This Green Pea & Chicken Casserole is my Mom's delicious recipe that she makes for our family. It is perfect for a Sunday meal prep that provides balanced meals for the rest of the week. The base of the recipe is chicken and brown rice (but you can sub cauliflower rice too) topped with vegetables and a flavorful, creamy lemon sauce. It's topped with slivered roasted almonds that add crunchiness and a nutty flavor. Add this gluten-free, dairy-free recipe to your family's meal prep routine!
My Food Environment As a Child
This recipe comes from my Mom who is a true master in the kitchen. Growing up she always made delicious homemade meals that were nutrient-dense and filled with color. We ate 90% of our meals at home and even to this day, it's rare for her to miss a night of making dinner. My mom was busy raising three kids and working but never too busy to skip out on making a homemade meal. Growing up we ate dinner as a family every night of the week. As a young kid I developed a diverse palette because my Dad would never allow us to get up from the table until we finished dinner, especially our vegetables. I never had as much of a problem getting excused from the table as my siblings did. There were nights that my rebellious sister would sit at the table for hours!
Raising Healthy Eaters
My parents did two specific things that helped my brother and sister and I become healthy eaters. The first was that they created a routine of eating meals at home most nights. A 2013 study found that eating at fast food and full-service restaurants leads to increased caloric intake and decreased diet quality (more sugar, total fat and saturated fat). The next was that they made time for family meals. Research shows that sitting down for meals as a family is associated with more healthful dietary patterns in children and adolescents, including preference for fruits and vegetables. The impact of eating family meals seems to serve children into early adulthood. A 2015 study found that eating family meals during adolescents is associated with a decreased risk of becoming overweight or obese in young adulthood.
As a parent who is trying to teach their kids to eat healthy, the first place to start is to model the behavior and help your kids develop a positive relationship with food. Research shows that a Mom's eating habits/body image can significantly impact her children. My mom never counted calories or followed diets/restricted ways of eating. We never even owned a scale growing out. She eats a nutrient-rich diet, enjoys vegetables, cooks amazing dinners, eats a lot of whole foods, has a vegetable garden, packs her lunch everyday, makes ice cream cakes for our birthdays, eats 70% dark chocolate after dinner and watches the cooking channel for recipe inspiration. She has a very balanced and healthy relationship with food which she graciously passed down to us. When raising kids there's a very fine line between teaching them how to eat healthy and not instilling food fears or disordered eating patterns.
Focus more on encouraging kids to eat colorful diets and try new foods while also incorporating family meals into your schedule. My Mom's delicious Green Pea & Chicken Casserole recipe is perfect for busy families because you can prepare it on a Sunday and serve throughout the week. If your family is anything like ours, Martha's casserole will be a huge hit!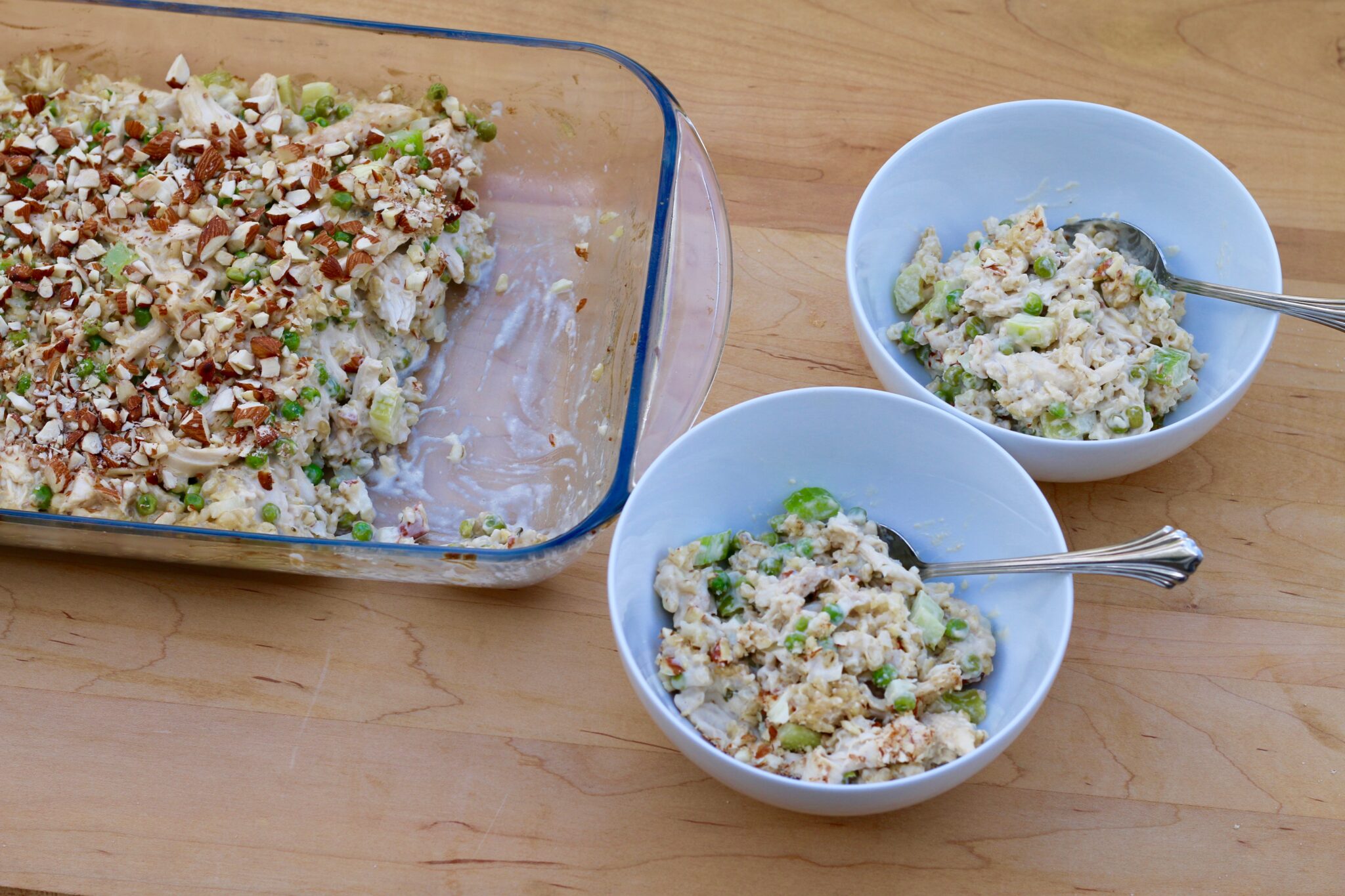 Ingredients
4 split chicken breasts, bone in and skin on
1-2 Tbsp extra virgin olive oil
1 cup uncooked brown rice
2 tsp cilantro, chopped
3 tsp garlic, minced
1 cup low sodium chicken broth
1 cup water
1 1/2 cups celery, diced
1 1/2 cups peas
1 1/2 cup avocado oil mayonnaise
3 Tbsp lemon juice
2 Tbsp onion, minced
2 T gluten-free worcestershire sauce
2 tsp dijon mustard
1/2 cup almonds slivers, roasted
Salt
Pepper
Instructions
Preheat the oven to 375 F.
Place 4 split chicken on a baking sheet.
Drizzle extra virgin olive oil over the top of the chicken and add salt and pepper.
Bake the for 30 minutes.
Once the chicken has cooled, remove the skin and cut the chicken into small pieces.
In a medium size pot add 1 cup of water and 1 cup chicken broth.
Place on high heat and bring to a boil.
Add 1 cup of uncooked brown rice and reduce heat to simmer.
Cook the brown rice for 30 minutes.
Add garlic and cilantro and cook for an additional 7 minutes or until all water is absorbed.
Preheat oven to 375 F.
In a casserole dish mix the chicken, cooked brown rice, celery, and peas.
In a separate bowl add mayonnaise, lemon juice, onion, Worcestershire sauce, dijon mustard, salt and pepper.
Mix ingredients together and pour on top of the chicken and brown rice mixture.
Thoroughly mix all ingredients in the casserole dish.
Top with roasted almond slivers.
Bake for 20 minutes.
Nutrition Facts
Green Pea & Chicken Casserole
Serves: 10 servings
Amount Per Serving:
Calories
486.9kcals
% Daily Value*
Total Fat 40.6g
62.5%
Saturated Fat 5.9g
29.5%
Trans Fat 0g
Cholesterol 72mg
24%
Sodium 462.2mg
19.3%
Total Carbohydrate 20.3g
6.8%
Dietary Fiber 2.9g
11.6%
Sugars 2.5g (Added Sugar: 0 g)
Protein 16g
| | |
| --- | --- |
| Vitamin A 2% | Vitamin C 17% |
| Calcium 6% | Iron 9% |
* Percent Daily Values are based on a 2,000 calorie diet. Your daily values may be higher or lower depending on your calorie needs.
BeingBrigid
© 2023 Copyright BeingBrigid