Homemade Nut Butter by Christina
Jump to recipe
Nut butter lovers unite! Whether you're team peanut butter, almond butter, sunflower seed butter, or any other nut or seed butter out there, we can all agree there's a hefty price associated with the packaging of our favorite products. On top of being costly, there's a lot of other "stuff" that often comes with our beloved nuts or seeds. This "stuff" may include added sugars, sweeteners, oils (hydrogenated and partially hydrogenated), salt, amongst many others. If you haven't heard this yet, hear me now: the only ingredient in your nut butter SHOULD BE NUTS (maybe some salt and maybe a little ground flax seed if you're like me)! There are some great products and options in the grocery store that follow this "rule," but there are also many that do not. The beauty is that you can control the ingredients and the cost by making your own nut butter heaven!
Benefits of Almonds
As a proud member of team almond butter, my homemade nut butter always contains almonds. Studies show consumption of almonds reduces the risk of heart disease by keeping blood vessels healthy and just one handful a day can boost your overall diet health. It's not just almonds–consumption of any nut has immense health benefits. Nut consumption is also associated with reduced risk of some types of cancers  and lower mortality rates. So next time you are looking for a quick, simple, and nutrient dense snack, grab yourself a handful of nuts or, better yet, a serving of homemade nut butter to pair with your favorite fruit, veggie, or whole grain. Buy your favorite nuts or use whatever you've got in your pantry, throw them in a high-speed blender or food processor, sprinkle in some extra flavor and nutritional boost (like ground flax seeds, chia seeds, coconut shavings, cinnamon, cacao powder, etc.), press the "on" button, and enjoy!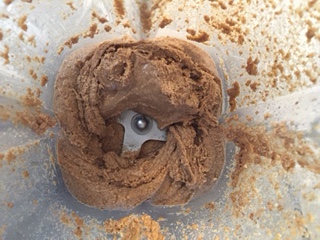 Ingredients
1.5 cups of dry roasted, unsalted almonds
1 cup of raw hazelnuts
¼ cup of ground flax seeds (optional)
Instructions
Place all ingredients in a high-speed blender (I love my Vitamix!)
Blend for approximately 2 minutes or until smooth and creamy, slowly increasing the speed and scraping down the sides as needed
Enjoy a taste of the warm, smooth, and creamy nut butter DO NOT SKIP THIS STEP!
Store in airtight container(s)
Nutrition Facts
Homemade Nut Butter by Christina
Serves: 2 1/2 cups
Amount Per Serving:

2 tablespoons

Calories
108.7kcals
% Daily Value*
Total Fat 9.8g
15.1%
Saturated Fat .8g
4%
Trans Fat 0g
Cholesterol 0mg
0
Sodium .3mg
0%
Total Carbohydrate 3.6g
1.2%
Dietary Fiber 2.1g
8.4%
Sugars .8g
Protein 3.5g
| | |
| --- | --- |
| Vitamin A 0% | Vitamin C 1% |
| Calcium 4% | Iron 4% |
* Percent Daily Values are based on a 2,000 calorie diet. Your daily values may be higher or lower depending on your calorie needs.
BeingBrigid
© 2023 Copyright BeingBrigid
Christina Palmisano
After graduating with an undergraduate degree in Accounting and a MBA from John Carroll University, becoming a CPA, and working for Ernst & Young, LLP for 3 years, Christina took a leap towards a career more focused on wellness and nutrition, her true passion. After working with Kristin Kirkpatrick, MS, RD, LD, Manager of Wellness Nutrition Services at the Cleveland Clinic Wellness Institute, and others in the Center for Lifestyle Medicine, Christina was inspired to go back to school to become a Registered Dietitian Nutritionist. While taking prerequisite courses in 2015, Christina completed her yoga teacher training through Cleveland Yoga and began working as a Health and Wellness Analyst and Wellness Coordinator for The Fedeli Group. Christina began the M.S. in Nutrition program at Case Western Reserve University in August 2016 and plans to begin her dietetic internship training in 2018. As a future Dietitian Nutritionist, her goal is to help individuals prevent and reverse disease and enhance their quality of life through diet and lifestyle changes. Christina is a well-being enthusiast who enjoys grocery shopping, cooking plant-based meals in her kitchen, being active and sweating daily, teaching yoga at Flow Yoga Studio, and enjoying the beauty of life with her loved ones.