Kale Pear & Lemon Chicken Salad
Jump to recipe
This Kale Pear & Lemon Chicken Salad is one of the best kale salads that I've ever eaten. This is my go to side dish for every party and I never leave without at least a handful of people asking for the recipe, claiming that they thought they never liked salads made from kale.
How you fuel your body is one of the most important decisions you will make for your health. Kale is hands down one of the most nutritious foods but sometimes too bitter for people to enjoy. This salad recipe is the perfect way to deliver those healing nutrients to your body while also keeping it tasty. This green leafy gem is a cruciferous vegetable, which means that it contains sulforaphane, a sulfur based compound that boosts kale's anti-cancer potential and detox-enhancing benefits. This super green is also loaded with amazing nutrients like vitamin A, vitamin K, vitamin C, magnesium and more.
The recipe specifically calls for curly kale. When making the kale salad, it's recommended to massage the avocado into the kale, using your hands. Continue massaging it for several minutes until the kale is evenly coated in avocado. The act of massaging avocado into kale helps to make the consistency softer and the taste less bitter.
Here's why this kale salad is my go to side dish for parties: 1) it ensures that I will have something to eat at an event if the other dishes are filled with processed foods and gluten 2) it could not be easier (especially if you omit the chicken and just opt for the plant-based version of this recipe) and 3) because people become so excited about their newly discovered love for kale. I call that a win-win-win.
See for yourself why all of my friends and colleagues love this kale salad! It's a very easy way to get a lot of nutrients, love your food and optimize your health!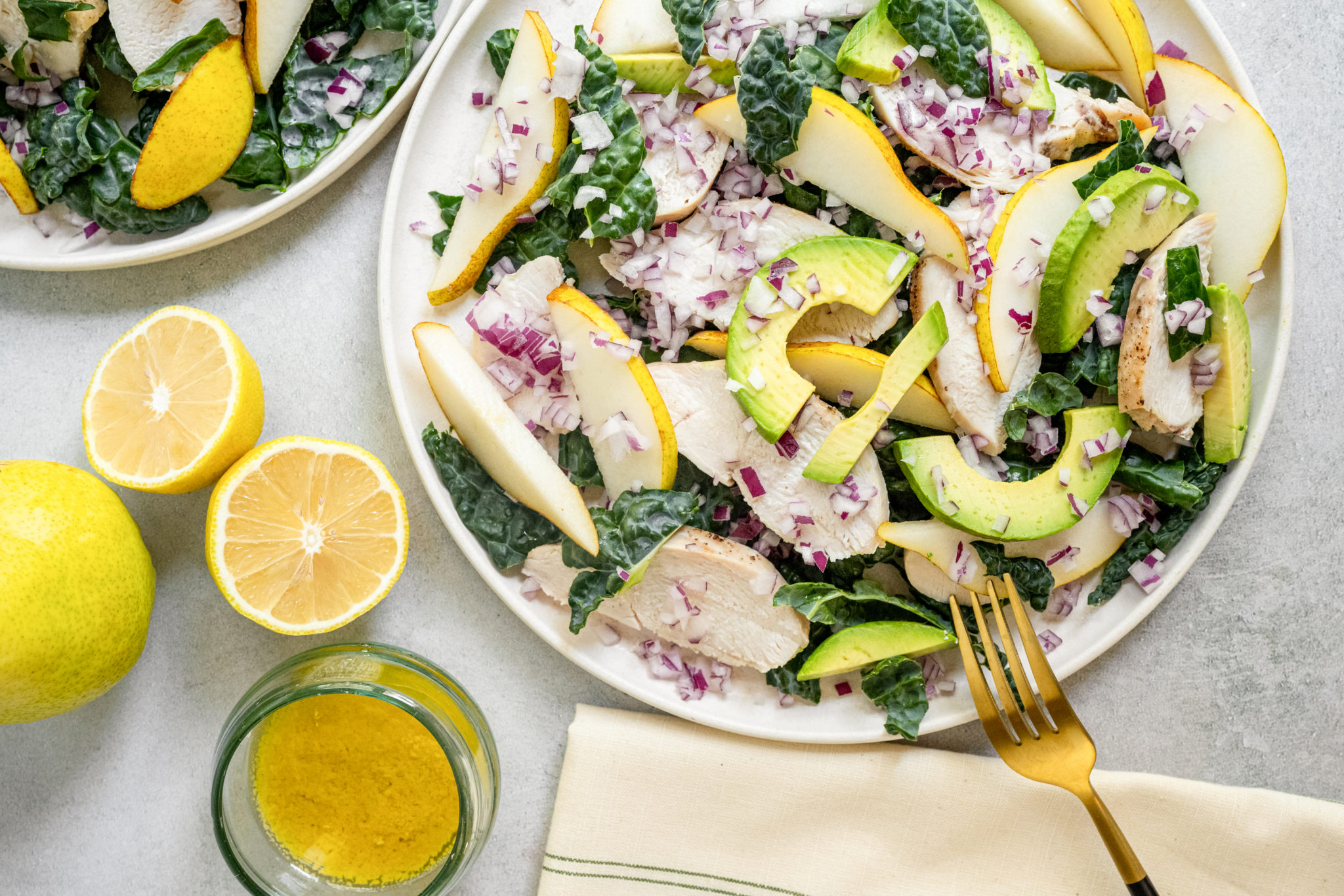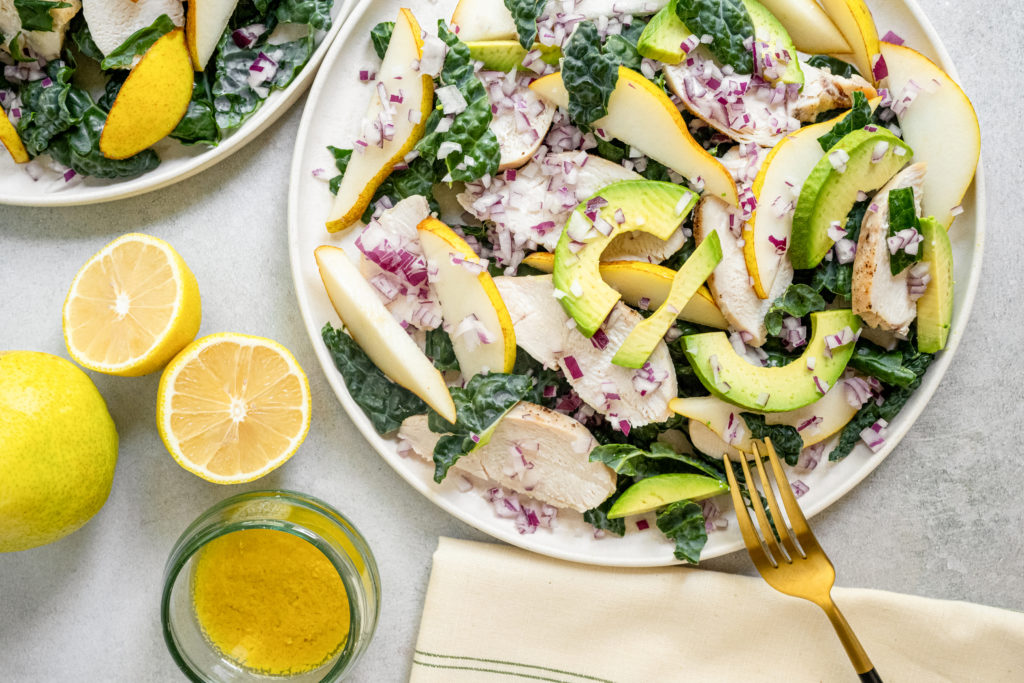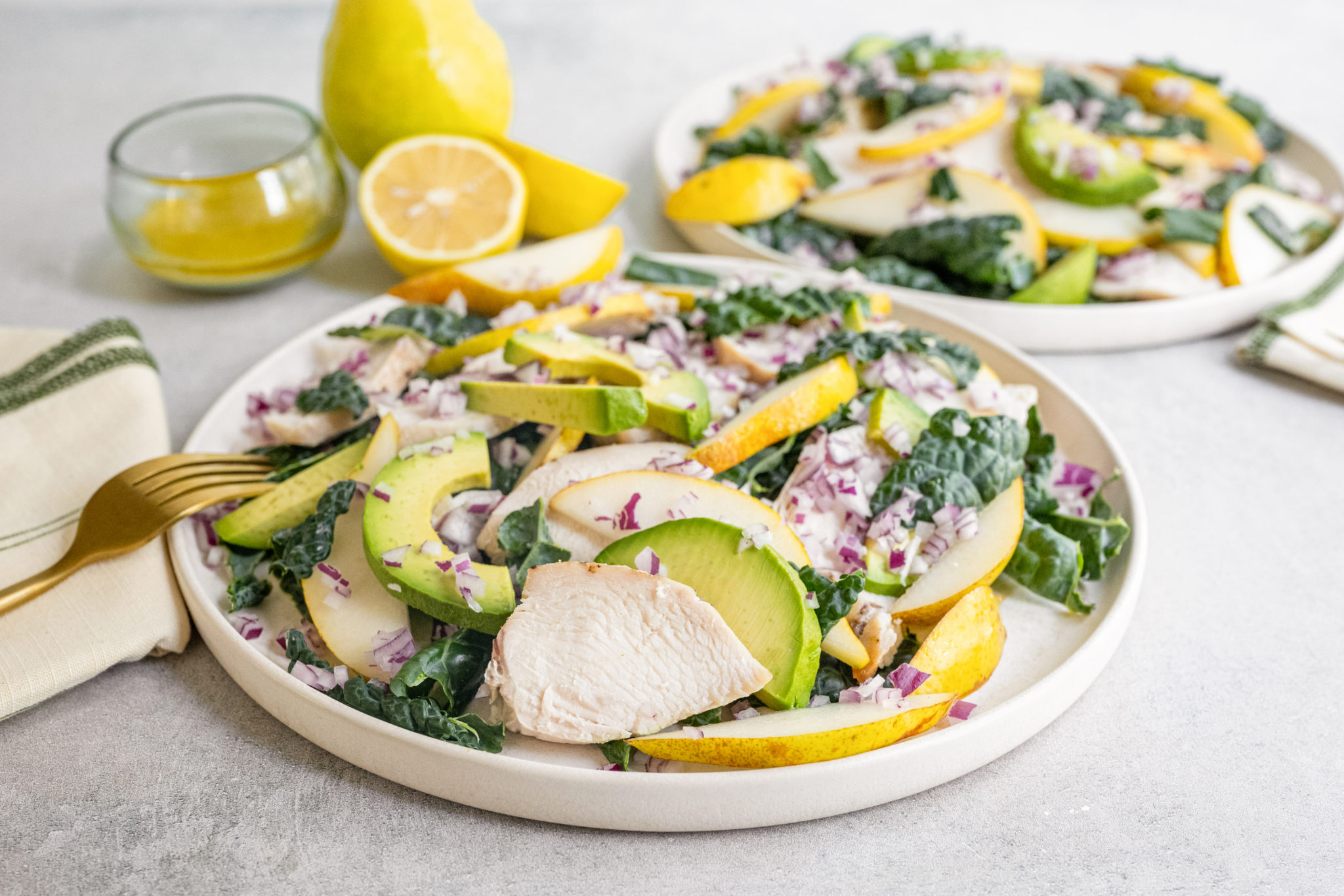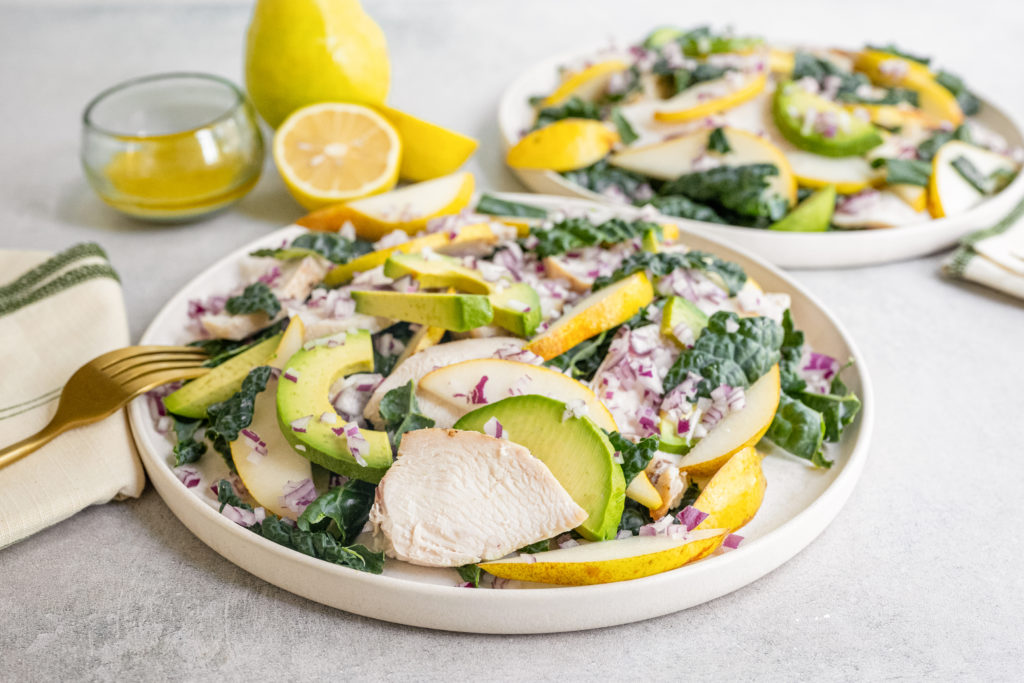 Ingredients
For Salad
1 head green curly kale, rinsed and dried
2 pears, halved and cubed
1 medium avocado, diced
1/2 red onion, chopped
1 cup cooked quinoa
Juice from 1/2 lemon
2 tbsp raw, organic apple cider vinegar
2 tbsp extra virgin olive oil
2 tbsp dijon mustard
For Chicken
4 - 6 oz boneless, skinless chicken breast
1/4 cup avocado oil
1 Tbsp fresh lemon juice
1 Tbsp fresh lime juice
2 garlic cloves, minced
Pinch of sea salt
Pinch of black pepper
Instructions
Cut chicken breast into strips and spread across a large tupperware.
In small bowl, whisk together all additional ingredients for chicken and pour over the chicken strips.
Place the chicken in the refrigerator to marinade for about an hour.
Preheat the oven to 350 F.
Transfer chicken to a baking sheet and bake for 20-25 minutes.
Tear kale into small pieces and place leaves in a large salad bowl.
Add diced avocado to salad bowl and gently massage it into the kale, with your hands.
Add pear, red onion and quinoa to kale salad.
Drizzle apple cider vinegar and extra virgin olive oil over salad. Add juice from 1/2 lemon and dijon mustard. Mix well.
After the chicken has cooled, cut into smaller pieces and add to the top of the salad.
Nutrition Facts
Kale Pear & Lemon Chicken Salad
Serves: 6
Amount Per Serving:
Calories
281.3kcals
% Daily Value*
Total Fat 19.3g
29.7%
Saturated Fat 2.6g
13%
Trans Fat 0g
Cholesterol 20.1mg
6.7%
Sodium 228.4mg
9.5%
Total Carbohydrate 18.7g
6.2%
Dietary Fiber 4.9g
19.6%
Sugars 5.8g (Added): 0g
Protein 10g
| | |
| --- | --- |
| Vitamin A 3% | Vitamin C 36% |
| Calcium 6% | Iron 8% |
* Percent Daily Values are based on a 2,000 calorie diet. Your daily values may be higher or lower depending on your calorie needs.
BeingBrigid
© 2023 Copyright BeingBrigid