Pegan Pumpkin Mousse with Almond Walnut Crust
Jump to recipe
This year, I am thankful for the opportunity to share recipes and beautiful food pictures with you and that includes this Paleo Pumpkin Mousse & Almond Crust! I love this recipe because it's the perfect solution for enjoying a pumpkin dessert without loading your system with refined sugar and high glycemic carbohydrates. The pumpkin mousse and crust contain only 2 total tbsp of added sugar, natural sweeteners like bananas and dates, and organic grass-fed ghee from Pure Indian Foods. This holiday pumpkin treat is gluten-free, dairy-free, egg-free, paleo and pegan friendly, and low in added sugar.
Dive in and enjoy this delectable paleo pumpkin dessert!
Nourish Your Body Without Too Much Restriction
It may surprise you but there you can still enjoy the holidays without sinking into the apple pie with 2 cups of sugar and ice cream and getting in bed feeling like your digestive system is going to explode.
This pegan pumpkin mousse with almond crust is the perfect grey zone option. The treat includes a small amount of added sugar (1 tbsp brown sugar in the crust and 1 tbsp maple syrup in the filling) and includes very nourishing ingredients. Dig into this pumpkin mousse and enjoy the subtle sweetness that makes you feel like you're eating a holiday treat. For people that typically eat a higher sugar diet, your taste buds are probably a little less sensitive to sweetness so I would recommend adding a little extra maple syrup!
Enjoy the holiday season, relax, celebrate your friends and family and try to nourish your body to the best of your ability. Let go of the need to eat perfect because there's no such thing as perfectionism—especially around the holidays.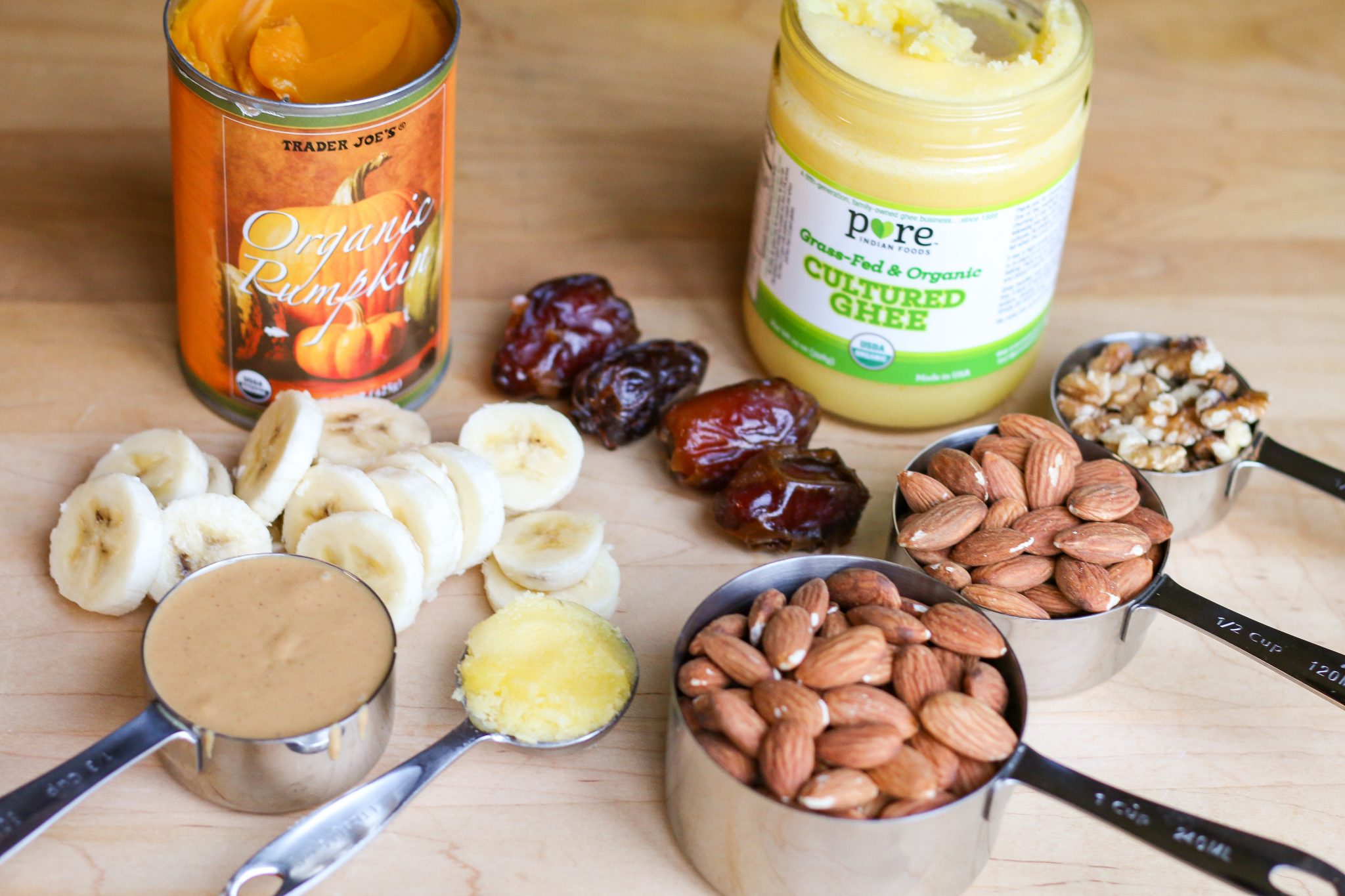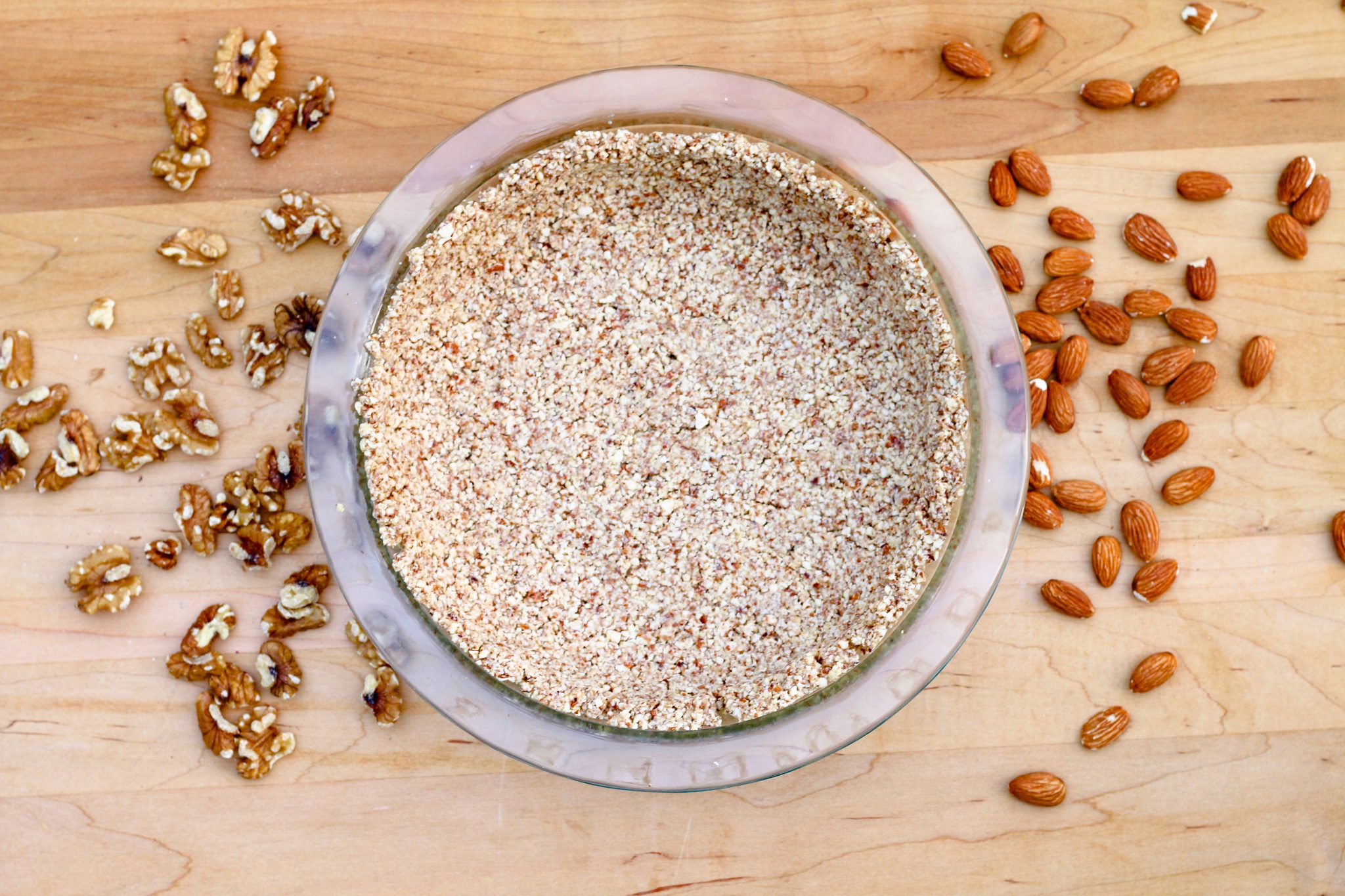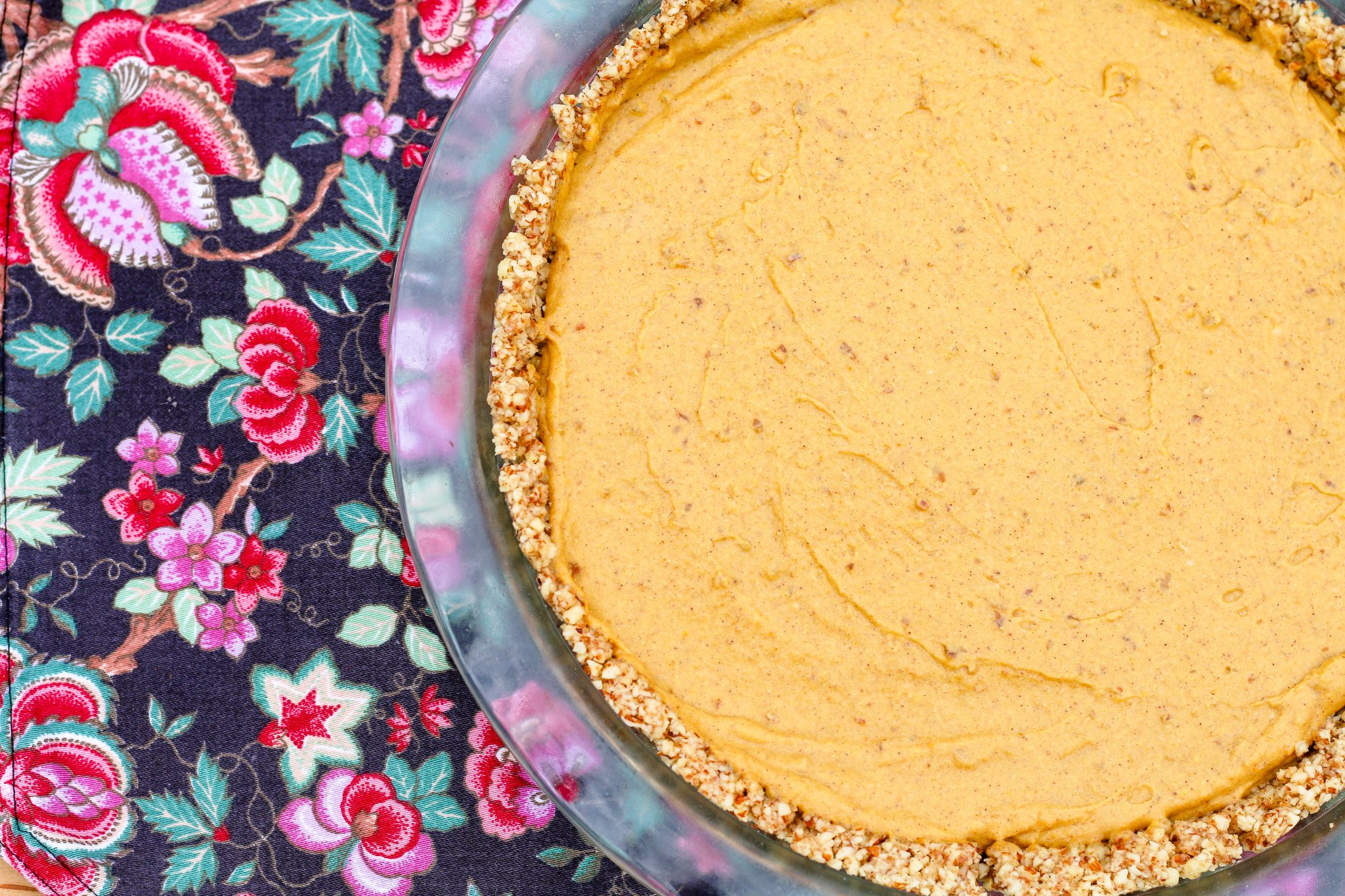 Ingredients
1 1/2 cups raw almonds
1/4 cup raw walnuts 
4 Tbsp grass-fed organic ghee 
1 Tbsp packed brown sugar 
1/2 tsp kosher salt 
1 can pumpkin 
1 cup full-fat coconut milk, unsweetened
1 overripe banana
1 1/2 tsp pumpkin pie spice
2 tsp vanilla extract
1 tsp cinnamon 
1 Tbsp maple syrup 
1/3 cup cashew butter, unsweetened
4 medjool dates
Instructions
Preheat the oven to 350 F.
Add the almonds, walnuts, brown sugar and salt to a food processor. Pulse until finely ground.
Stir in the melted ghee. 
Use your hands to press the nut mixture into a 9" pie plate (shallow pans work better), forming the crust of the pie. Be sure to evenly distribute the nut mixture across the pie plate.
Bake for 10 minutes. Allow the crust to cool.
In the food processor add canned pumpkin, full-fat coconut milk, banana, pumpkin pie spice, vanilla extract, cinnamon, maple syrup, cashew butter and dates. Pulse ingredients until smooth.
Pour the pumpkin mousse into the center of the crust until it is filled.
Place the pie in the refrigerator for at least three hours to allow it to harden.
Nutrition Facts
Pegan Pumpkin Mousse with Almond Crust
Serves: 8 servings
Amount Per Serving:
Calories
422.7
% Daily Value*
Total Fat 31.9g
49.1%
Saturated Fat 11.4g
57%
Trans Fat 0mg
Cholesterol 15mg
5%
Sodium 90.1mg
3.8%
Total Carbohydrate 30.7g
10.2%
Dietary Fiber 6.5g
26%
Sugars 17.4g
Protein 9.1g
| | |
| --- | --- |
| Vitamin A 33% | Vitamin C 6% |
| Calcium 10% | Iron 14% |
* Percent Daily Values are based on a 2,000 calorie diet. Your daily values may be higher or lower depending on your calorie needs.
BeingBrigid
© 2023 Copyright BeingBrigid