PB&J Paleo Pancakes
Jump to recipe
Holy Cow! These PB&J Pancakes are a heavenly combination of fluffy pancakes and creamy PB&J sandwiches. The best part is that they are a million times healthier than Aunt Jemima Pancakes and your classic PB&J! Start your morning off fueling your body with high quality calories by incorporating these delectable gluten-free, dairy-free, grain-free, added sugar-free pancakes into breakfast. The only thing they aren't free of is nutritious ingredients!
Pass on the Enriched Bleached Flour
Aunt Jemima may have had the secret to fluffy pancakes but was clueless about nutrition. A traditional pancake mix from Aunt Jemima is loaded with Enriched Bleached Flour (aka the worst flour for your health). This is another way of saying refined wheat flour which is when whole wheat flour is stripped of it's nutrient-dense layers, leaving only the starchy layer intact. Refined grains such as Aunt Jemima pancakes have more sugar, a high glycemic index and very little fiber compared to a pancake made out of almond flour.
Say Yes to Gluten-free
You don't necessarily have to have celiac disease to benefit from a gluten-free diet. I do not have celiac disease but have personally benefited from a gluten-free lifestyle throughout the last 12 years. Removing gluten from my diet as a young teenager completely changed my life. My g-free lifestyle has helped control the mini seizures that I used to experience about 30 times per day in middle school and significantly reduced my fatigue.
A recent study found that individuals diagnosed with a wheat sensitivity, who tested negative for celiac disease experienced profound improvements in their health after removing gluten. Those that had a wheat sensitivity (without celiac disease) and still ate gluten had elevated markers of epithelial cell damage. This cell damage was correlated with an immune response to microbial products after eating gluten aka it ticked off the immune system.
Pour on the Berries for Brain Power
As indicated by the dark blue/purple pigment of berries, these fruits are rich in the antioxidant called anthocyanins. Recent research suggests that anthocyanins may help treat inflammatory and neurodegenerative diseases. And berries specifically have been shown to help preserve brain function and decrease cognitive decline. So berries are pretty much the perfect topping for your PB&J pancakes!
Dig into these creamy, berry pancakes for an amazing start to your weekend!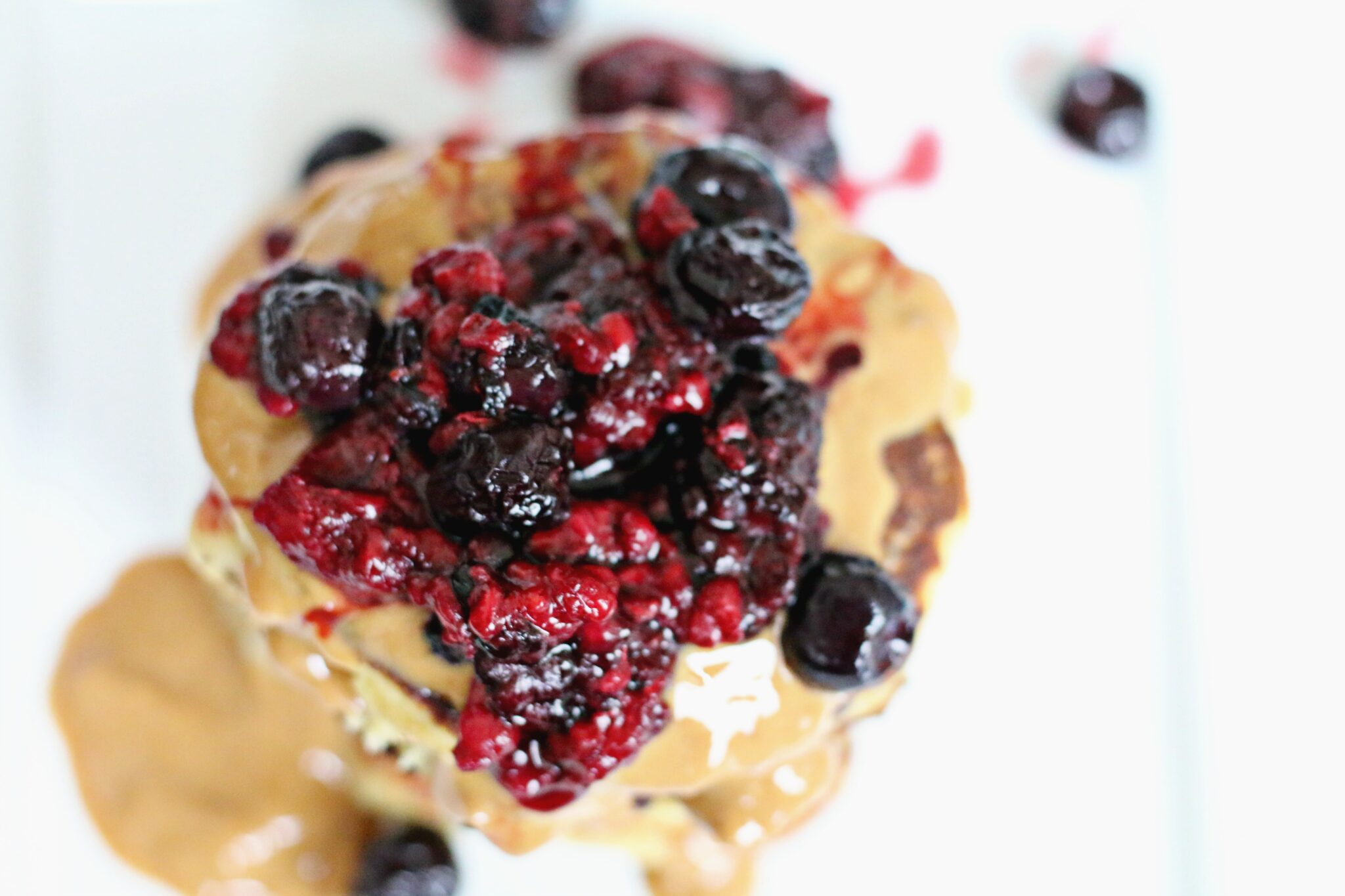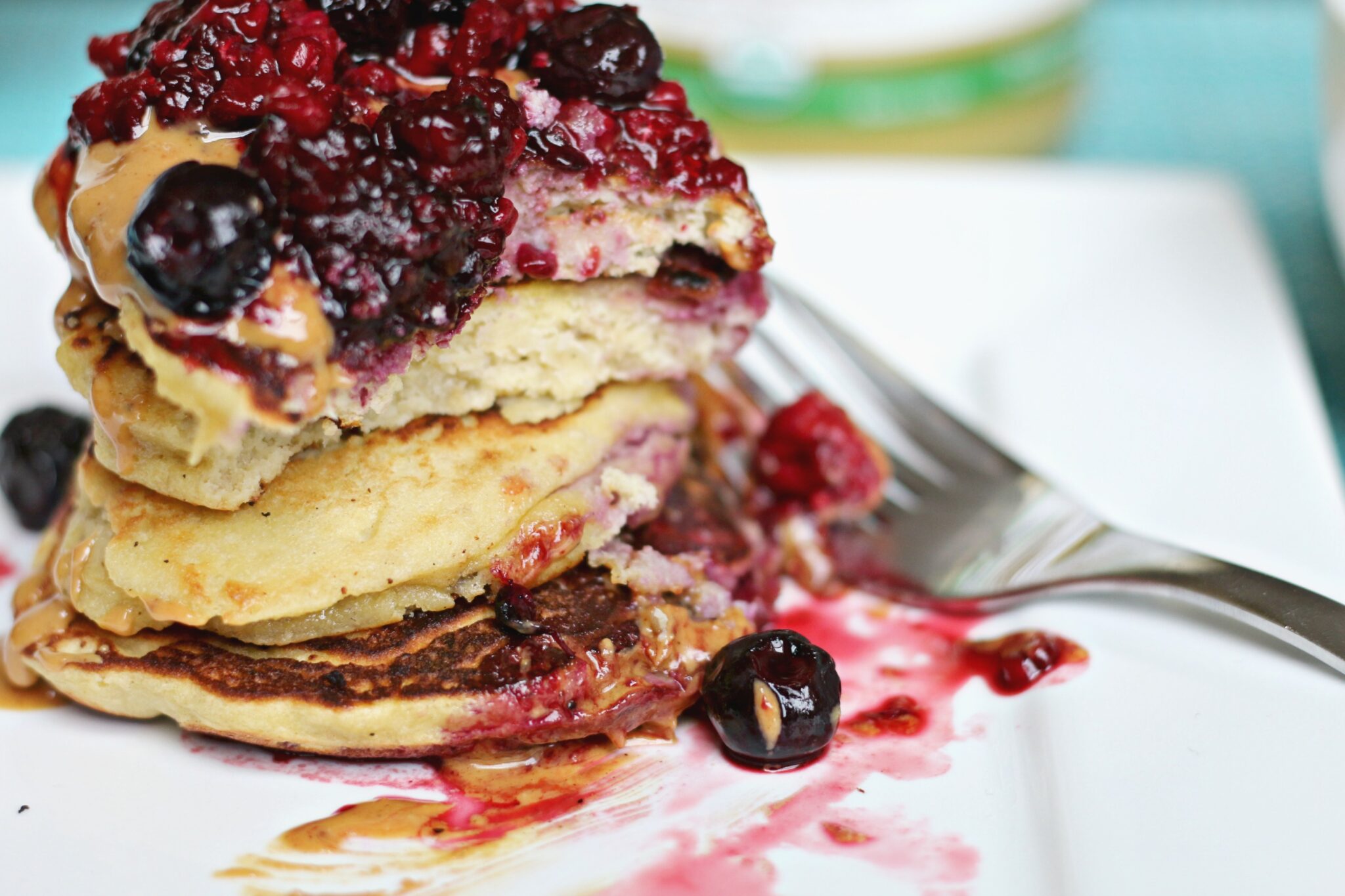 Ingredients
2 bananas, mashed
4 eggs
1/2 cup almond flour
1 tsp baking soda
1 tsp grass-fed ghee
1 cup cashew butter
2 cups frozen berries
Instructions
In a medium bowl whisk together the mashed bananas and eggs. Try to reduce small lumps as much as possible.
Add the dry ingredients to the egg mixture and stir.
In a large skillet, heat ghee over medium heat.
Spoon 3 tablespoons of batter per pancake and heat in pan.
Cook the pancakes for about 45 seconds on each side or until golden brown.
Remove the pancakes from heat.
Place frozen berries in the microwave for 1-2 minutes or until warm.
Top each serving of pancakes with 1/4 cup nut butter and 1/2 cup warm berries.
Nutrition Facts
PB&J Paleo Pancakes
Serves: 4
Amount Per Serving:

1 Pancake

Calories
631.4
% Daily Value*
Total Fat 45g
69.2%
Saturated Fat 9.1g
45.5%
Trans Fat 0g
Cholesterol 187.5mg
62.5%
Sodium 403.9mg
16.8%
Total Carbohydrate 44.4g
14.8%
Dietary Fiber 6.1g
24.4%
Sugars 18.4g (Added Sugar: 0 g)
Protein 21.4
| | |
| --- | --- |
| Vitamin A 8% | Vitamin C 205 |
| Calcium 12% | Iron 28% |
* Percent Daily Values are based on a 2,000 calorie diet. Your daily values may be higher or lower depending on your calorie needs.
BeingBrigid
© 2023 Copyright BeingBrigid