Root Vegetable Medley
Jump to recipe
You can't beat this splash of phytonutrients and rich source of gut-healthy fiber, topped off with anti-inflammatory omega 3 fats in this Root Vegetable Medley. My Grandpa prepared this vibrant vegetable dish the day after Thanksgiving for some post holiday deliciousness. The base of the dish is acorn squash and sweet potatoes and they are topped with onions, rome apples, walnuts and kale! The sweet potatoes, squash and apples make for a sweet flavor that balances perfectly with the nutty flavor from the roasted walnuts. Pair this with dish with a protein-rich entree to help decrease spikes in blood sugar levels from the acorn squash and sweet potatoes, which are starchy vegetables meaning that they are higher in carbohydrates compared to leafy greens. Enjoy the best that fall produce has to offer!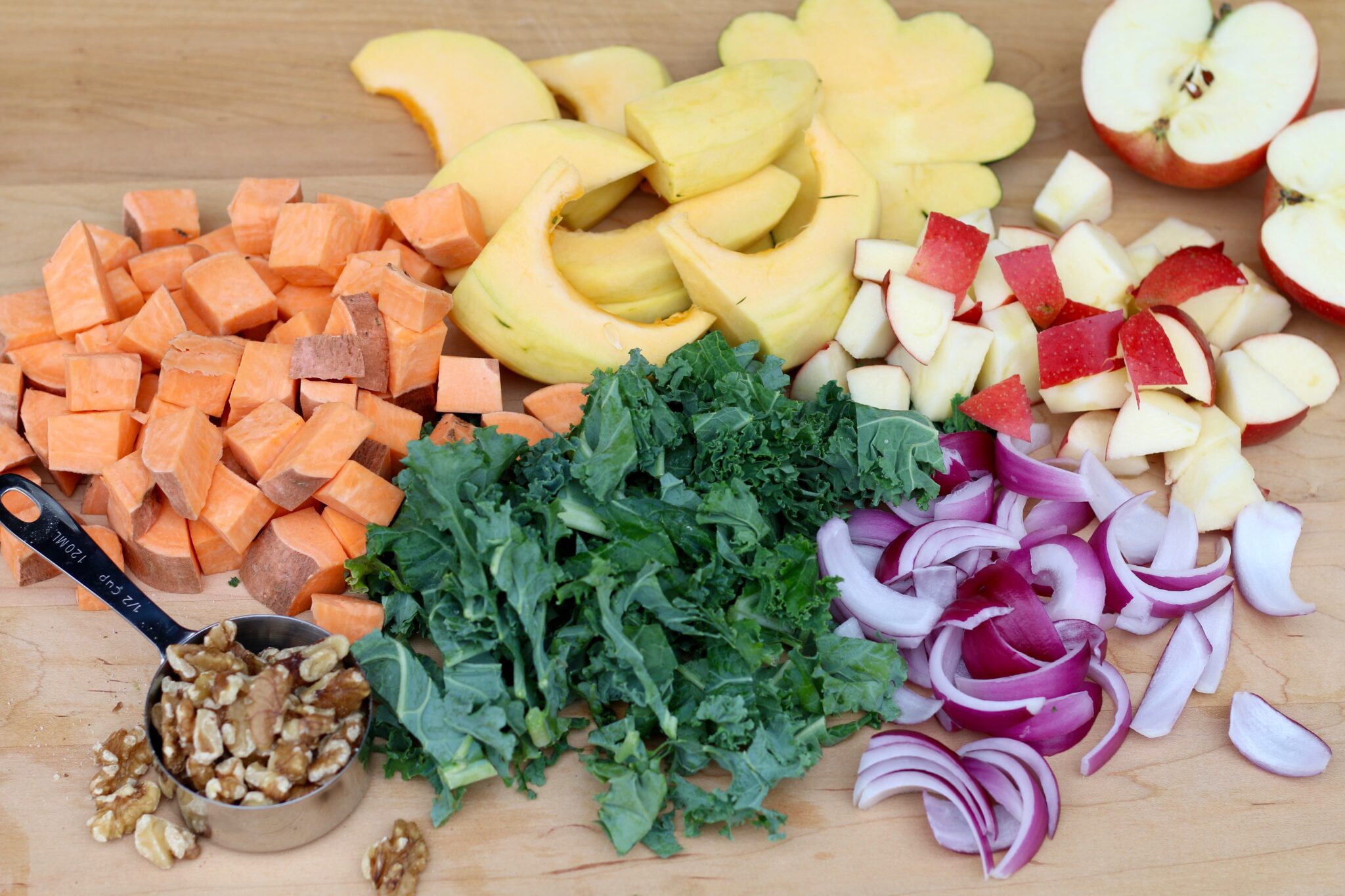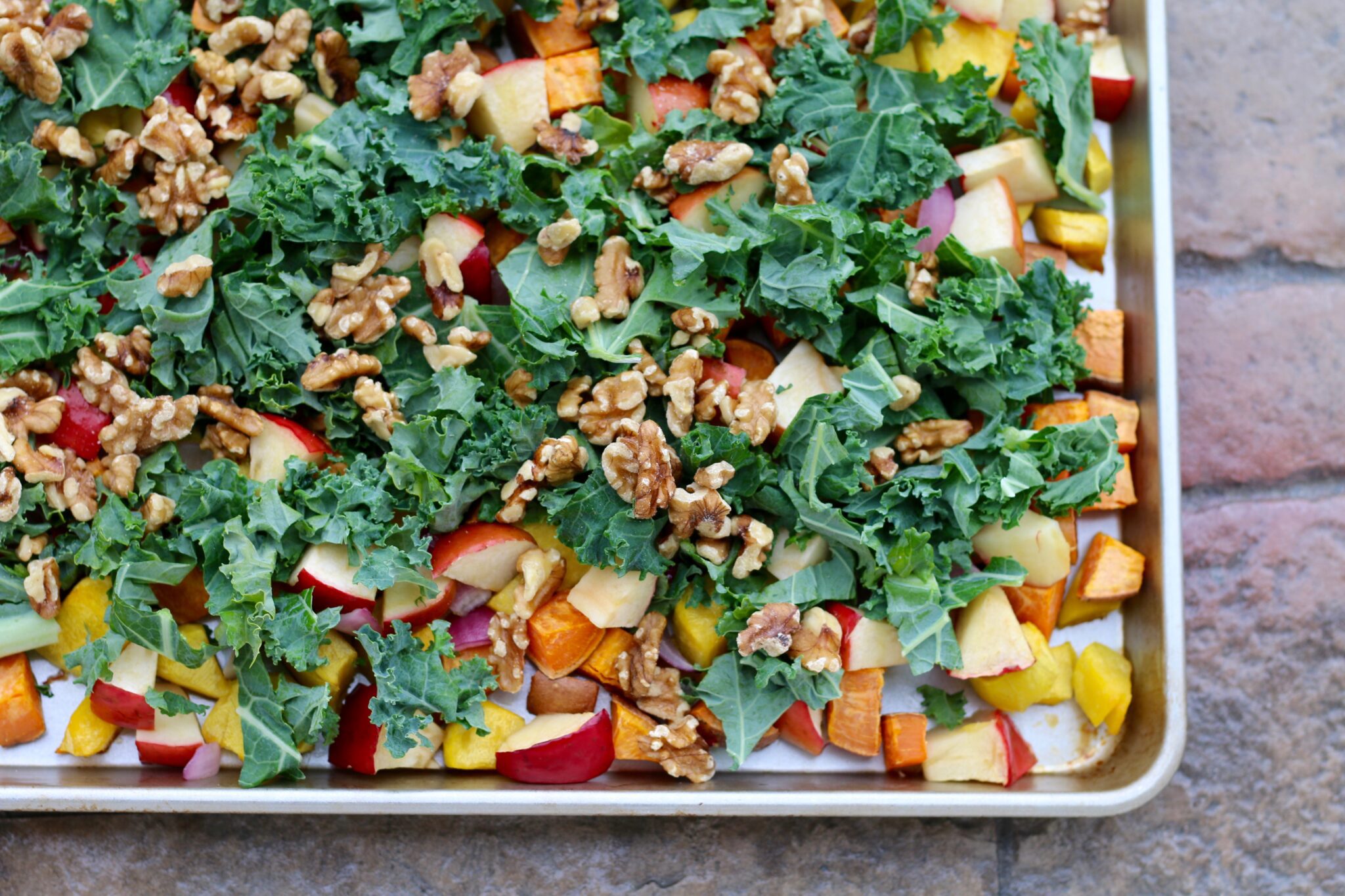 Ingredients
1 large acorn squash
1 large sweet potato
2 rome red apples, diced
1/2 cup walnuts
2 cups kale, chopped
1/2 small red onion, diced
4 tbsp extra virgin olive oil
Instructions
Preheat the oven to 375 F.
Cut off the stem of the acorn squash and cut it in half from the stem to the bottom.
Use a spoon to remove the seeds.
In each valley of the acorn squash, cut into pie sections.
Use a peeler to remove the skin from each section of the acorn squash and cut into 3/4 inch cubes.
Rinse the sweet potato and dice into 3/4 inch cubes.
Add the acorn squash and sweet potato to a baking sheet and spread out evenly.
Drizzle 2 tbsp of extra virgin olive oil over the root vegetables and coat evenly.
Place the baking sheet in the oven for 30 minutes.
Add the diced onion and apple with 1 tbsp of extra virgin olive oil to the baking sheet, coating evenly.
Put the baking sheet back in the oven and cook for an additional 20 minutes.
When the timer goes off add the kale, walnuts, and 1 tbsp extra virgin olive oil to the baking sheet and cook for the last 10 minutes.
Remove the baking sheet from the oven and top with salt and pepper.
Nutrition Facts
Grandpa's Root Vegetable Medley
Serves: 4 servings
Amount Per Serving:
Calories
392.9
% Daily Value*
Total Fat 24g
36.9%
Saturated Fat 2.9g
14.5%
Trans Fat 0g
Cholesterol 0mg
0
Sodium 41.3mg
1.7%
Total Carbohydrate 44g
14.7%
Dietary Fiber 10.1g
40.4%
Sugars 17.5g (Added sugar: 0g)
Protein 5.4g
| | |
| --- | --- |
| Vitamin A 76% | Vitamin C 55% |
| Calcium 12% | Iron 10% |
* Percent Daily Values are based on a 2,000 calorie diet. Your daily values may be higher or lower depending on your calorie needs.
BeingBrigid
© 2023 Copyright BeingBrigid