Turmeric Shots, Shots, Shots!
Jump to recipe
When life gives you turmeric, make turmeric shots! Get a powerful kickstart to your day with a round of turmeric shots for you and your family. Turmeric has been shown in research to improve many inflammatory conditions and autoimmune diseases. Throw back this anti-inflammatory shot as a way to reduce inflammation in your system and help you feel good! 
Turmeric Shots for Lowering Inflammation
Eating a diet rich in whole foods and color is a great way to decrease inflammation. Once you create that healthy foundation there are simple ways to optimize your nutritional intake and further reduce inflammation. This is where turmeric shots come in. Turmeric shots are the perfect way to get the anti-inflammatory party started in your body! Turmeric has been shown to improve symptoms associated with rheumatoid arthritis, inflammatory bowel disease and osteoarthritis.
The Benefits of Curcumin
Turmeric is one of the most anti-inflammatory foods available in the food supply. This powerful spice packs in polyphenols called curcuminoids or curcumin. Curcumin contains over 100 molecular targets for the body. This means that curcumin helps decrease inflammation through a number of different routes. Curcumin has the ability to modify genomics and cell signaling pathways, down regulating inflammation via pathways such as NFkB and COX while also decreasing production of pro-inflammatory cytokines. Research shows that the magic also comes from curcumin's ability to up-regulate the anti-inflammatory signaling pathway called Nrf2. Nrf2 is a promising target for the prevention of cancer, cardiovascular diseases, neurodegenerative diseases and pulmonary injury. So in other words, turmeric helps increase signaling of Nrf2 which helps protect against oxidative damage and the onset of chronic disease.
A High Inflammatory Effects Score
A 2014 study published in the Journal of Public Health Nutrition reviewed thousands of research studies on various food parameters that may help reduce inflammation. The researchers assigned an inflammatory effects score to various food components based on the weight of the published research and the demonstrated effectiveness in decreasing inflammation. There were 814 published research papers documenting the anti-inflammatory benefits of turmeric. The results demonstrated that turmeric was the most likely to lower inflammation in the body, followed by fiber, flavones, isoflavones, and green/black tea.
Other Tips for Adding Turmeric
The benefits of taking turmeric shots is that it's a fast and easy way to add this anti-inflammatory spice to your diet. But there are plenty of other ways to do this! You can add turmeric to any of your meals like eggs, salads, stir-fries, soups, golden milk, etc. If you are adding turmeric to meals then try using raw turmeric root (pictured below next to the ground turmeric) because it has a higher level of potency. No matter which form you are consuming, it's important to add black pepper to help increase turmeric's absorption. Some people may even require a turmeric supplement for a higher dose of curcumin. The good news is that there are plenty of options!
Enjoy adding these shots to your morning or nighttime routine and be sure to play around with adding other forms of turmeric to your diet!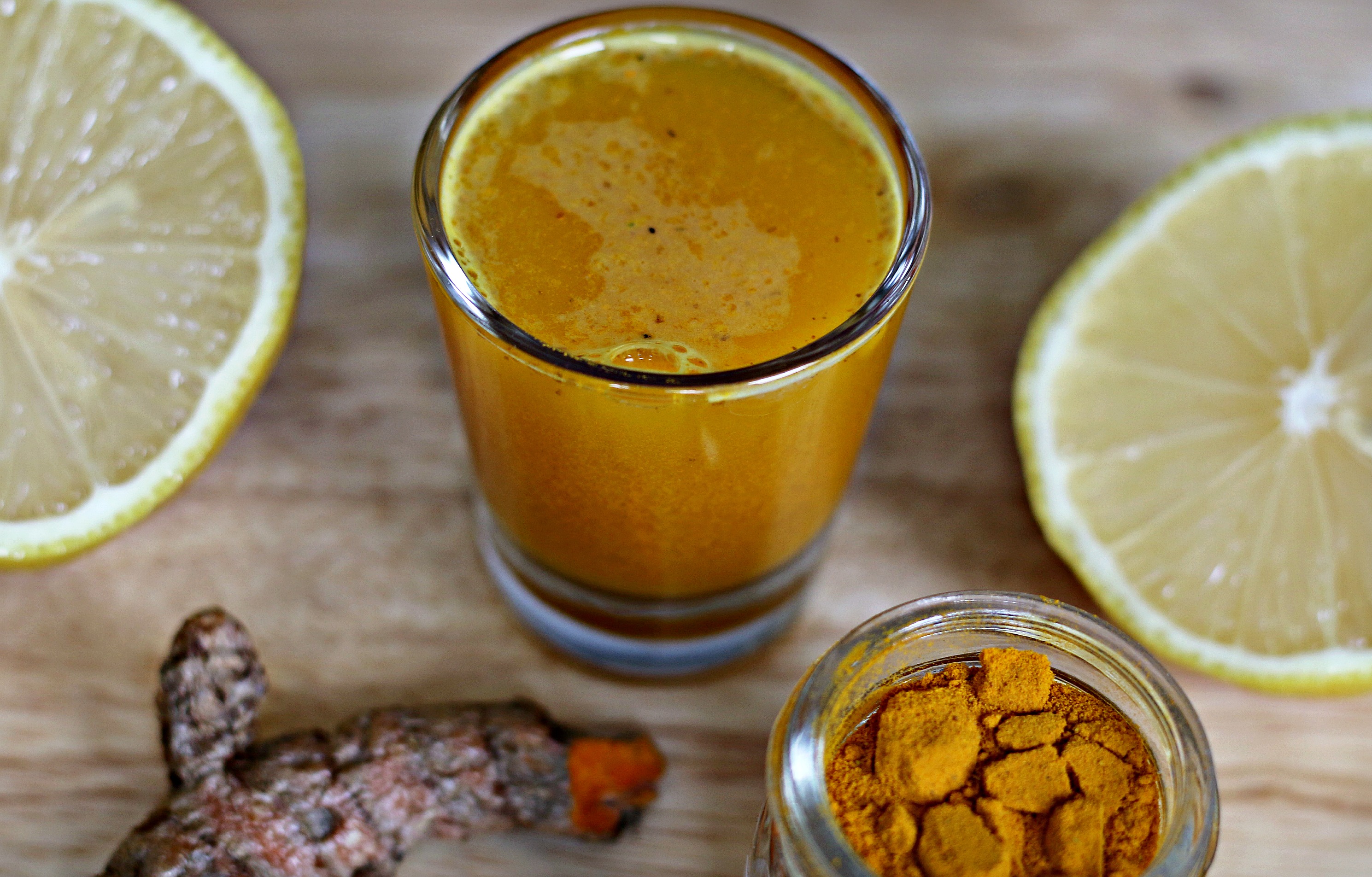 Notes
Shake the shaker bottle and then pour the shot. Take the shot immediately after it's poured to prevent excess turmeric sticking to the bottom of the shot glass.

Ingredients
1 1/2 cups unsweetened coconut water
Juice from 1 lemon
2 Tbsp turmeric, ground
1 Tbsp black pepper
Instructions
Pour coconut water into a shaker cup/blender bottle.
Squeeze the juice from one lemon and add to shaker cup.
Add turmeric and black pepper.
Shake it all up and take your shot!
Store leftovers in shaker bottle in the refrigerator and pour 1-2 shots each day.
Nutrition Facts
Turmeric Shots, Shots, Shots
Serves: 8 shots
Amount Per Serving:

1 shot

Calories
20.3
% Daily Value*
Total Fat 0g
0
Saturated Fat 0g
0
Trans Fat 0g
Cholesterol 0mg
0
Sodium 12.9mg
0.5%
Total Carbohydrate 4.5g
1.5%
Dietary Fiber 1.5g
6%
Sugars 1.5g (Added sugar: 0g)
Protein .7g
| | |
| --- | --- |
| Vitamin A 0% | Vitamin C 7% |
| Calcium 1% | Iron 8% |
* Percent Daily Values are based on a 2,000 calorie diet. Your daily values may be higher or lower depending on your calorie needs.
BeingBrigid
© 2023 Copyright BeingBrigid