Paleo Seafood Gumbo
Jump to recipe
This paleo seafood gumbo is to die for! Try the recipe to increase your body's intake of cancer-preventing ingredients such as lycopene in the diced tomatoes and glucosinolates in cauliflower. This perfectly balanced meal is gluten-free, dairy-free, paleo, pegan, added sugar free and amazing!
The recipe inspiration came from my roommate, Rebecca and her boyfriend, Brandon. If you're wondering if it's common for me to be third wheeling it with my roommate and her boyfriend, the answer is yes (they adopted me a few months ago)! Typically Brandon and I do the cooking and Rebecca does the instructing/bossing. It's just a fun little three's company!
Rebecca recently transitioned from her lifelong vegetarian life to a pescatarian/pegan lifestyle. As a result, we have been exploring new fish recipes to open up her pescatarian world! We threw the dish together on a Sunday afternoon and it was super quick and easy. Patients often tell me that they don't cook fish because they don't know how. The nice thing about this recipe is that you don't have to know any fancy techniques–just throw everything into a pot! It doesn't get any easier than that!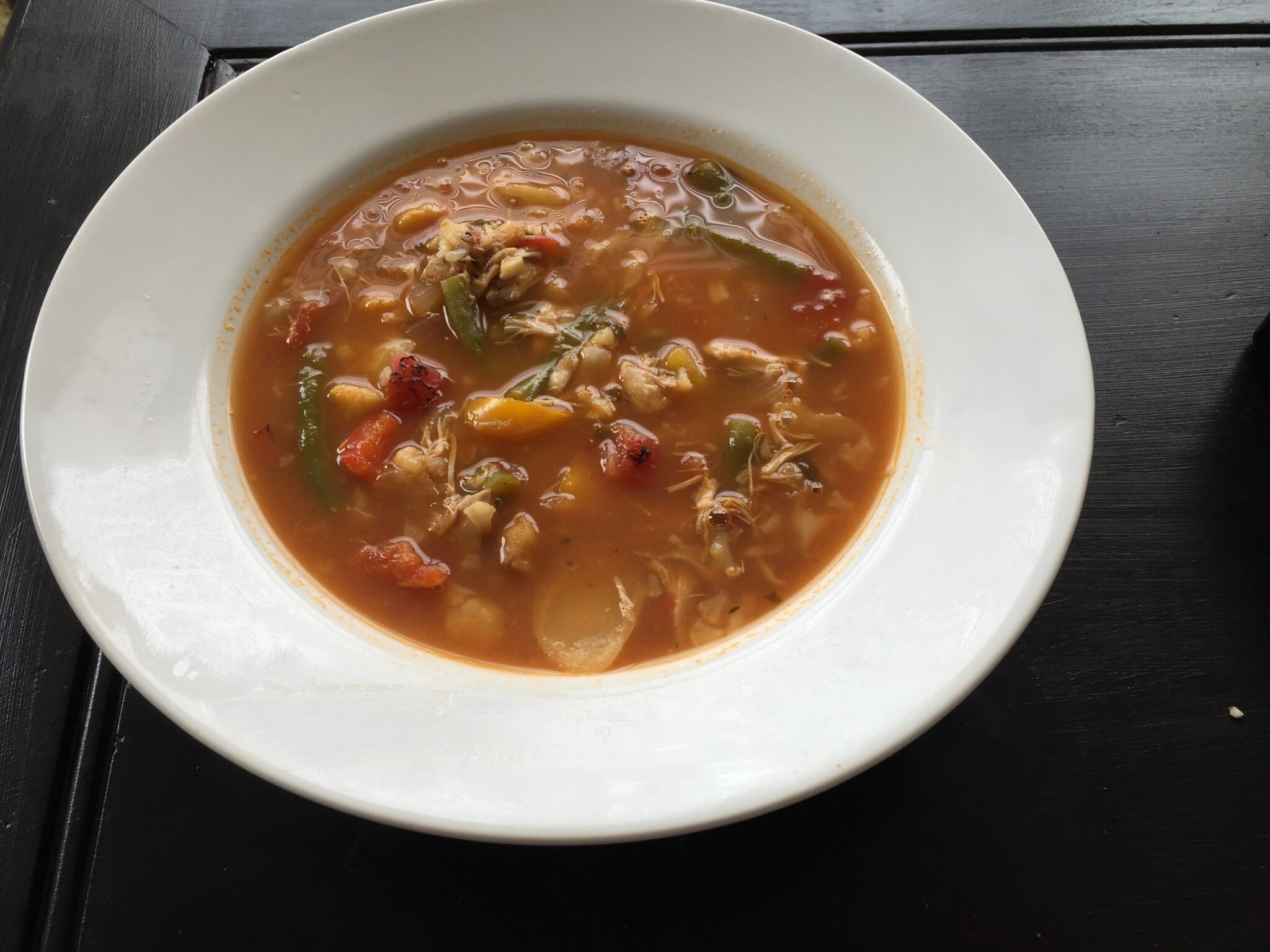 Ingredients
1/4 cup coconut oil
3 green bell peppers, sliced
1 large yellow onion, diced
8 cloves of garlic, minced
1 head of cauliflower, chopped into florets
12 oz bag of green beans, stemmed and chopped
4 cans (5 oz) of clams
2 cans (12 oz) of diced tomatoes
6 cups vegetable broth
1 pound lump crabmeat
12 oz shrimp
1 tsp thyme
1 tsp rosemary
1 tsp basil
2 tsp garlic powder
1 tsp black pepper
Instructions
Add 1/4 cup coconut oil to a large soup pot over medium heat.
After the coconut oil melts add the garlic, onion and peppers and sauté for 5-7 minutes.
Once the vegetables have browned add the can of clams, crabmeat, shrimp, diced tomatoes, thyme, rosemary, basil, garlic powder and black pepper. Stir and allow them to cook for 5 additional minutes.
Pour in the vegetable broth.
Simmer on low heat for 45 minutes with the lid on.
Mix in the cauliflower florets and green beans.
Let the soup cook for 15 additional minutes with the lid cracked.
Nutrition Facts
Paleo Seafood Gumbo
Serves: 8
Amount Per Serving:
Calories
321.4
% Daily Value*
Total Fat 9g
13.8%
Saturated Fat 6.9g
34.5%
Trans Fat 0g
Cholesterol 177.7mg
59.2%
Sodium 938.4mg
39.1%
Total Carbohydrate 22.7g
7.6%
Dietary Fiber 5.3g
21.2%
Sugars 8.1g (Added Sugar: 0 g)
Protein 38.2g
| | |
| --- | --- |
| Vitamin A 9% | Vitamin C 131% |
| Calcium 21% | Iron 23% |
* Percent Daily Values are based on a 2,000 calorie diet. Your daily values may be higher or lower depending on your calorie needs.
BeingBrigid
© 2023 Copyright BeingBrigid